Biden loses ground with working-class Black, Latino voters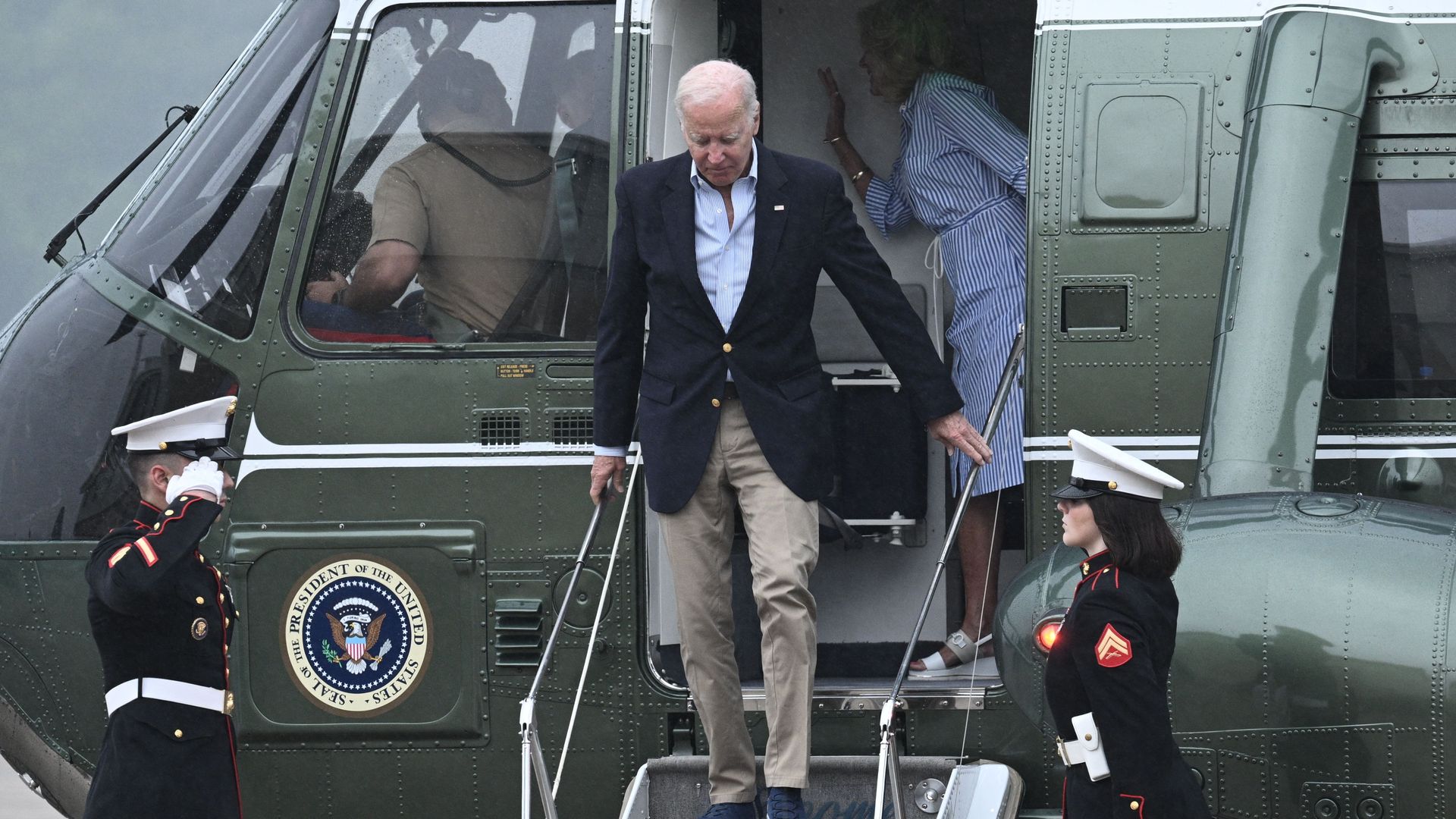 One of the main reasons President Biden is struggling in polls against former President Trump is his glaring underperformance with a constituency that has long been overwhelmingly Democratic: non-white voters without a college degree.
Why it matters: As Democrats have made major gains with suburban and upper-middle-class voters since Trump's political ascendance, they've been losing support among blue-collar voters.
Pundits have focused heavily in recent years on white, working-class voters who changed their allegiances from former President Obama to Trump — and have made up a key part of the new GOP coalition.
But Democrats have lost significant ground among their non-white counterparts as well, turning a political weakness into a major headache heading into 2024.
The slippage is occurring even as Trump, the GOP's standard bearer, is facing an unprecedented trifecta of indictments in the run-up to the 2024 election.
By the numbers: In the New York Times/Siena poll released last week, Biden failed to win majority support from non-white voters who hadn't graduated from college.
His lead over Trump with this once-heavily Democratic constituency is just 16 points (49%–33%).
In 2020, Biden dominated Trump with these voters, winning by an overwhelming 48-point margin, according to an analysis by the Democratic data firm Catalist.
Obama won non-white working-class voters by a whopping 67-point margin in 2012.
Between the lines: Many of these voters are moderates, not progressives — especially when it comes to the polarizing cultural issues that Republicans are increasingly focused on.
Biden, who ran as a pragmatist in the 2020 presidential race, understood the importance of the non-white moderate vote.
In 2020, he struggled badly in the nation's first two nominating contests in Iowa and New Hampshire, where most of the Democratic voters were white progressives. His comeback began in South Carolina, a state with many Black moderate voters.
Go deeper: Ruy Teixeira, an elections analyst at the American Enterprise Institute, flagged several key issues dragging down Democratic support with non-white working-class voters, based on recent polling.
Teixeira notes that the progressive worldview that racism is systemic in our society, rather than coming from individuals with racist views, is broadly unpopular among the non-white working class. He adds that debates over transgender rights also divide Democrats along class and educational lines.
Crime is another major factor: Working-class non-white voters feel the impact of crime in their communities most directly and favor more punitive policies than their left-wing counterparts.
Non-white working-class voters are not satisfied with the state of the economy, despite some clear signs of improvement. Opposition to Biden's environmental agenda — the view that Democrats are pushing the transition from fossil fuels to renewable energy too quickly — is a consistent theme with working-class voters of all backgrounds.
What they're saying: "In 2020, very few Democrats thought their support against the hated and presumably toxic Trump could possibly slip among nonwhite working-class voters. But it did. I wouldn't be so sure it couldn't happen again," Teixeira wrote.
"Possibly none of this will matter if Trump's third indictment makes a bigger dent in his standing than his first and second indictments did. But I would not count on it."
Reality check: Democrats held many of these same vulnerabilities heading into the 2022 midterms yet overperformed expectations last year.
One of the party's biggest concerns in 2022 was a feared further slippage of support among Hispanics. Yet Democrats managed to win 62% of the Hispanic vote, according to a Catalist analysis, the same share of the vote Biden received in 2020.
The bottom line: The fact that Biden's political fortunes aren't improving with a healthier economy is a sign that social and cultural issues still matter a lot in our politics.
Go deeper