Experts warn the U.S. lacks COVID resources as cases tick up again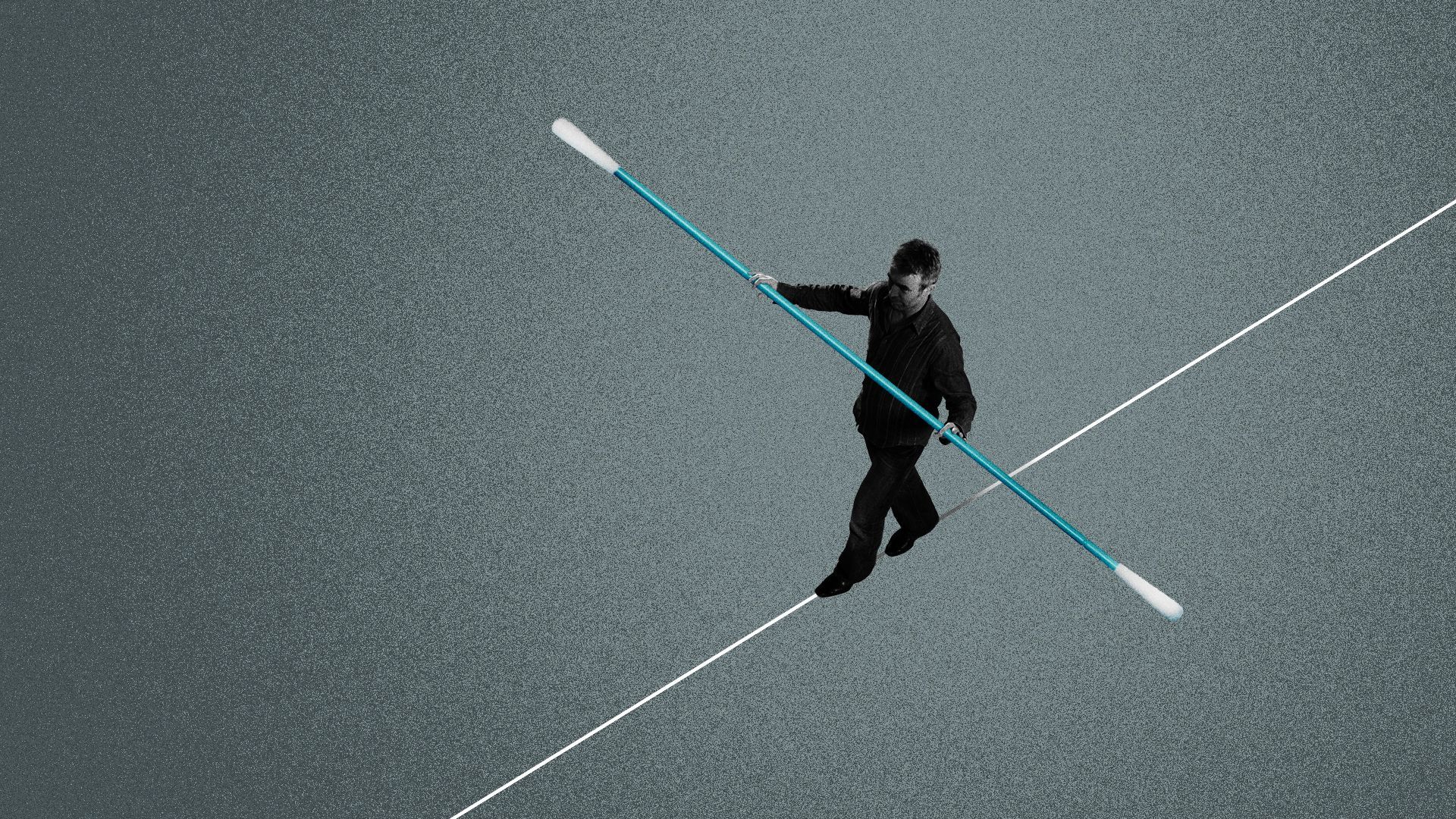 A recent uptick in COVID-19 cases and hospitalizations is hinting at how the virus will keep raising a predictable seasonal threat. But experts warn the U.S. is lacking critical tools to help manage future waves.
The big picture: Infection levels are still relatively low, and immunity from prior infections and vaccinations means the virus is unlikely to reach the same high levels seen during past fall and winter waves.
Still, "We don't have the resources now to combat it like we did and we don't have the political will to even push for those resources," said Michael Mina, an epidemiologist and chief scientific officer for at-home testing company eMed.
This is in part due to the expiration of the public health emergency, leaving Americans with less access to free COVID tests and treatments for the first time since the pandemic began.
"It's going to leave already pretty strained health systems sort of naked out there on the street just trying to figure out what to do," he said.
Driving the news: COVID hospitalizations, testing positivity rates and emergency room visits have all risen slowly since mid-July, per the latest data from the Centers for Disease Control and Prevention.
COVID deaths, a lagging indicator to community spread, remain at an all-time low.
"The Biden-Harris administration has made historic progress on our nation's ability to manage COVID-19 so that it no longer meaningfully disrupts the way we live our lives," a White House spokesperson told Axios.
Yes, but: Tracking the virus' spread has become more challenging with the end of the public health emergency, which cut off a regular stream of COVID data.
Hospitalizations are the most stable metric, but "it may be the tip of the iceberg in terms of community activity," said Michael Stevens, a system healthcare epidemiologist at West Virginia University.
Stevens added that there's also "a lot we don't fully understand yet" about what the rise in infections means for risk of long COVID, which has disabled millions of Americans.
CDC information highlights the groups at an overall high risk for severe illness, and people can check hospital data by county. However, the limited data can make determining individual risk complicated.
"We know immunity wanes," Stevens said. "And we know it's hard to predict exactly who's going to have problems."
Between the lines: Public health messaging around the virus has also largely disappeared. That has left people "almost entirely to their own devices to ask Google or sign up on ChatGPT" for potentially outdated information, Mina said.
The result is "a populace who's very confused," Mina said. "They don't know what to do, and in the event that you don't know what to do and you're not hearing much about it, you just do nothing."
The dearth of reliable information could affect vulnerable people the most, said Jill Foster, division director of pediatric infectious diseases at the University of Minnesota.
"It's kind of Russian roulette if you have a medical issue," Foster told Axios. "I worry that people, for their own risk perception, have decided that it's really not such a big deal."
What we're watching: It's not yet clear if we're facing down another tripledemic of COVID, flu and RSV come fall, but Foster said that hospitals are already starting to "gear up" as respiratory virus season approaches.
Go deeper