How to save America's downtowns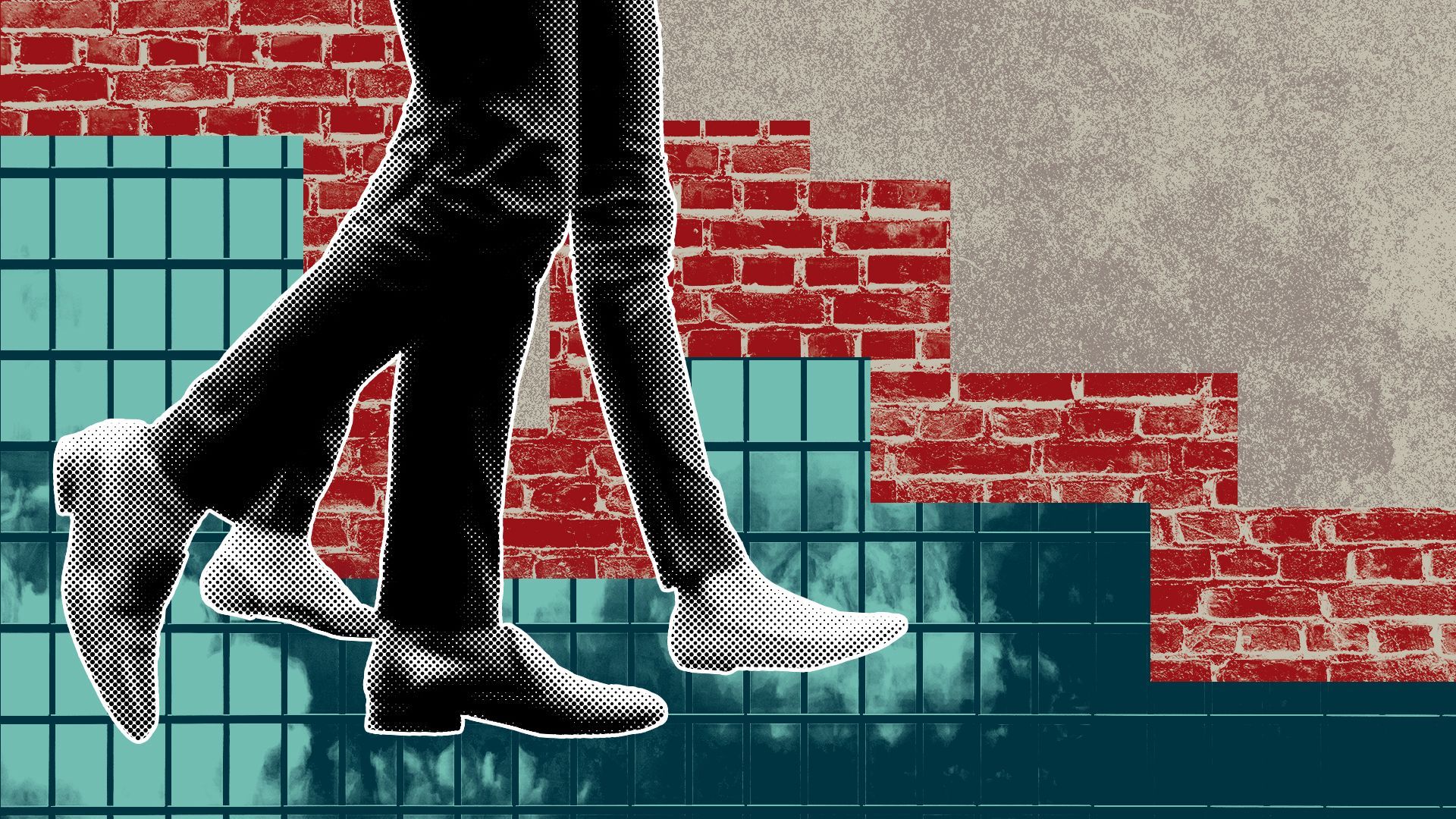 The post-pandemic future of the great American downtown is coming into focus.
Why it matters: Downtowns are typically the beating economic heart of a city, funneling revenue into city coffers via taxes and more.
More fundamentally, they're also the spiritual core of a given city. If a city's downtown is (or perceived to be) flailing, that tends to dictate the city's overall vibes.
Driving the news: Several cities with diverse downtowns — meaning, a healthy mixture of office space, housing, attractions and so on — have nearly returned to (or even exceeded) their pre-pandemic foot traffic rates.
That's based on anonymized mobile phone activity analyzed by the School of Cities at the University of Toronto. (Read more about their methodology here.)
San Diego, for example, is at 88% of its pre-pandemic foot traffic. That's partially because the city's downtown has long been diversified, and partially because tourism has rebounded, says William Fulton, UC San Diego Design Lab visiting policy designer.
Cities with downtowns that almost exclusively catered to office workers are struggling mightily to recover in the remote and hybrid work era. New York is at 67% of pre-pandemic foot traffic, and San Francisco is at a measly 31.9%.
What's happening: It's increasingly clear that if cities in the latter group want vibrant downtowns moving forward, they need to transform those neighborhoods into something resembling those in the former.
Such efforts are underway in many major American cities, fueled in part by big incentives for local developers willing to play ball.
Office-to-residential conversions are particularly hot — though successful projects require time, money and far more effort than simply swapping desks for beds.
Zoom in: Salt Lake City's post-pandemic foot traffic rate — nearly 140%, meaning it's grown even beyond 2019 levels — is particularly remarkable.
Dee Brewer, executive director of the local Downtown Alliance, said the area's rapid population growth and Utah's strong economy have helped the downtown thrive.
"I've seen a huge relocation from coastal cities and other areas, and I think that's a credit to the livability and the economy here," Brewer told Axios Salt Lake City's Kim Bojórquez.
Brewer estimates Salt Lake City's downtown population will double to 10,000 people by mid-2025.
One of the boldest post-pandemic downtown revival plans yet comes out of Boston, where officials are offering tax breaks of up to a staggering 75% to developers who transform office space into residential housing.
"This program will help us take advantage of the opportunity we have to rethink downtown as a space where people from all over come together to collaborate, create, live and play," Boston Mayor Michelle Wu said in a statement.
It's too early to say whether Boston's plan will work; applications won't even open until this fall. But it's at least a sign that officials there recognize that workers probably aren't coming back downtown en masse, as some had once hoped.
Between the lines: Mobile phone data can't distinguish among devices owned by downtown residents, transient workers or visitors — meaning it's best understood in context with other information.
Case in point, via Karen Chapple, director of the School of Cities and professor of geography and planning, University of Toronto: "New York is a little bit of a deceptive case because the visitor activity is overwhelming office activity. So New York may be in more trouble than we know."
"We're seeing those office vacancy rates creep up, which is an indicator that there's a fundamental weakness there."
What they're saying: "One of our biggest surprises of this year has been seeing the flattening of recovery trajectories," Chapple says.
"I was saying, 'Oh, gosh, we're coming back. We're trending up. We're going up like 10, 15, 20% a year, and we'll be back. You know, most of these cities that have been hovering around 40 or 50% are going to be back at 70%.' And I was really wrong."
What we're watching: Whether people actually want to live downtown.
Is it a case of "build it and they will come," or have people largely settled into their new lives centered around cities' outer neighborhoods — or the suburbs proper?
The answer will likely be different city to city. Living in downtown San Diego, for instance, is attractive in ways that living in Midtown Manhattan will never be. (Snow? What snow?)
Companies' efforts to entice or force employees back into the office have found mixed results at best; many workers now seek out remote work as an important perk.
Housing affordability is also a key factor.
Reality check: Simply offering more (and more affordable) housing is only one piece of the picture.
Vibrant residential communities also need attractions, amenities, green space, walkability, good public transit, safety... the list goes on.
"Many downtowns were reborn in the 1980s as gigantic office centers, and that's just not going to work anymore," says UCSD's Fulton. "Downtown has to have a tremendous diversity of activities in order to succeed from now on."
Climate resilience further complicates the problem. How do you attract residents to a neighborhood that might be many degrees hotter than the suburbs — or even one day entirely underwater?
The bottom line: Struggling cities know what they have to do. The question is: Can they do it quickly and effectively enough to make a difference?
— With reporting from Kim Bojórquez/Salt Lake City, Utah.
Go deeper