The potential downsides of new blockbuster obesity drugs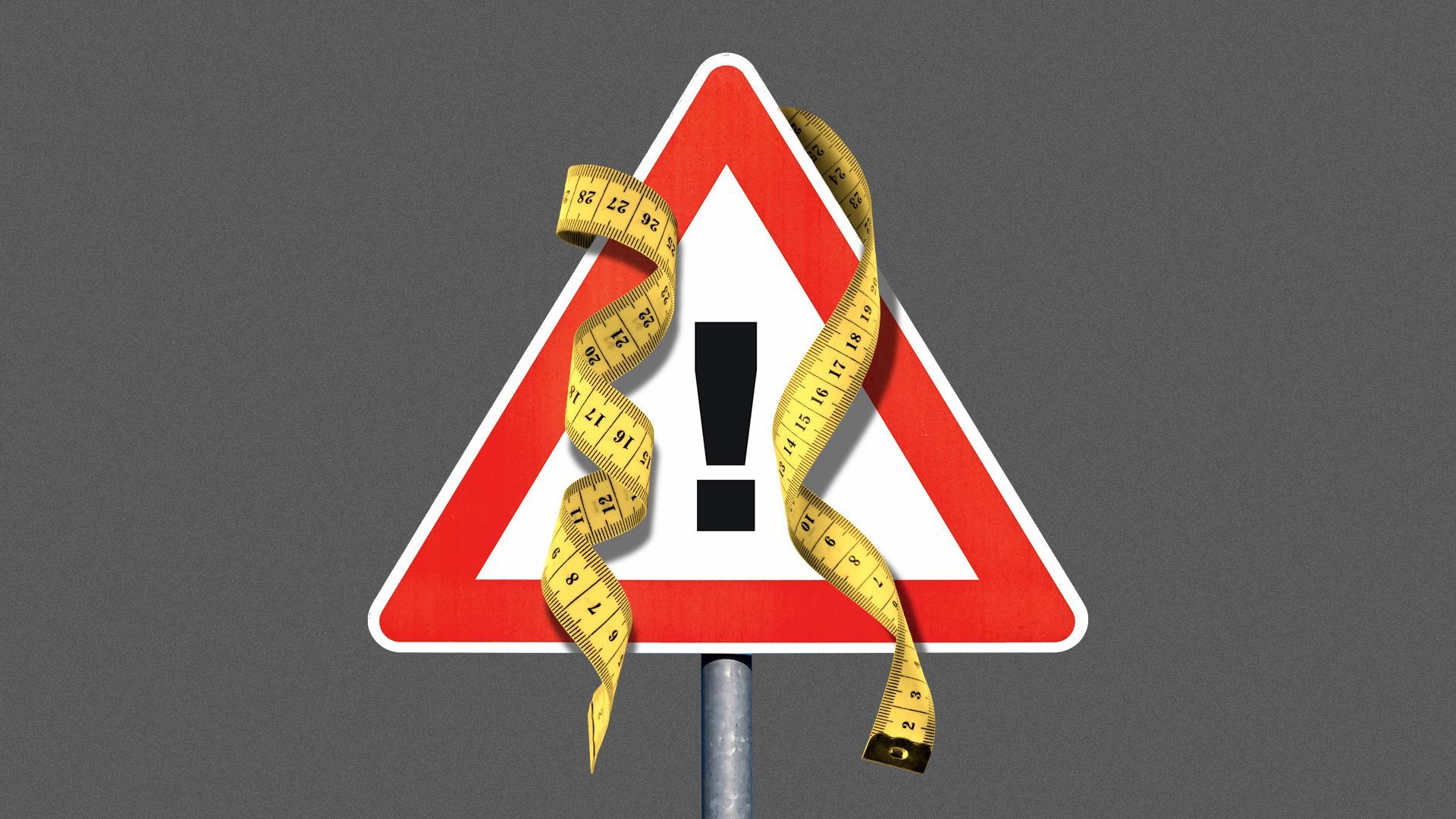 Even as encouraging data fuels hype around a new class of obesity drugs, regulators and experts are racing to better understand possible health risks that are still emerging in a market projected to be worth tens of billions of dollars.
Why it matters: Weight-loss drugs like Ozempic have quickly become a cultural phenomenon and a source of hope for people with obesity and related health conditions. But recent reports of potential side effects, including suicidal thoughts, have raised concerns.
Driving the news: Eli Lilly said last week that its weight-loss drug candidate, tirzepatide, helped people lose, on average, up to about 26% of their body weight over two late-stage clinical trials.
The drug is already approved as Mounjar0 for treatment of Type 2 diabetes, as are other drugs in the class, known as glucagon-like peptide agonists, or GLP-1s. But only one, Novo Nordisks's Wegovy, has been recently approved for weight management.
Ozempic, which has the same active ingredient as Wegovy, is often used off-label for weight loss, and several other rival treatments are under development.
Analysts have estimated the obesity drug industry could be worth tens or even hundreds of billions of dollars within a decade. Meanwhile, Medicare and employers are grappling with whether or how to cover the drugs.
Yes, but: Experts caution that there still isn't enough data about how these drugs work long term and in certain populations, which could ultimately affect the market for them.
Just last week, the U.K.'s Medicines and Healthcare products Regulatory Agency told Reuters that it's reviewing safety data on the drug class after patients reported suicidal or self-harming thoughts. The European Medicines Agency announced a similar review earlier this month.
The FDA told Axios in a statement: "The FDA regularly communicates with other regulatory agencies and is aware of these developments." The agency noted that the two drugs in the class that are approved for weight management include a warning for suicidal behavior and ideation, and that clinical trial data didn't warrant a similar label for those approved for diabetes treatment.
Experts have also flagged concerns around older adults taking the drugs, particularly because the drugs could cause them to lose too much muscle mass, per the NYT.
Clinical trials for the drugs haven't included significant numbers of people 65 and older, KFF Health News' Judith Graham reports.
Gastrointestinal issues are also a commonly cited side effect with these drugs.
Between the lines: Nearly every drug on the market comes with some kind of risk or tradeoff, and obesity itself clearly presents serious health risks.
But drugs like Ozempic and Mounjaro have apparently become popular among people who aren't obese but simply want to lose weight.
That presents a different risk-benefit calculation than the one faced by obese or overweight people. At the same time, it invites more questions for those concerned with preventing wasteful spending in the health care system.
The bottom line: Early success around the new class of drugs has raised patients' hopes and spurred a pharmaceutical arms race to capture a potentially lucrative market. However, it will take some time to learn about the drugs' long-term effects.
If the long-term implications are troubling, that could influence one of the biggest outstanding question around these drugs — whether Medicare reverses its policy against covering drugs for weight loss or if it holds firm.
Go deeper