The best part of BMW's new flagship electric sedan? The back seat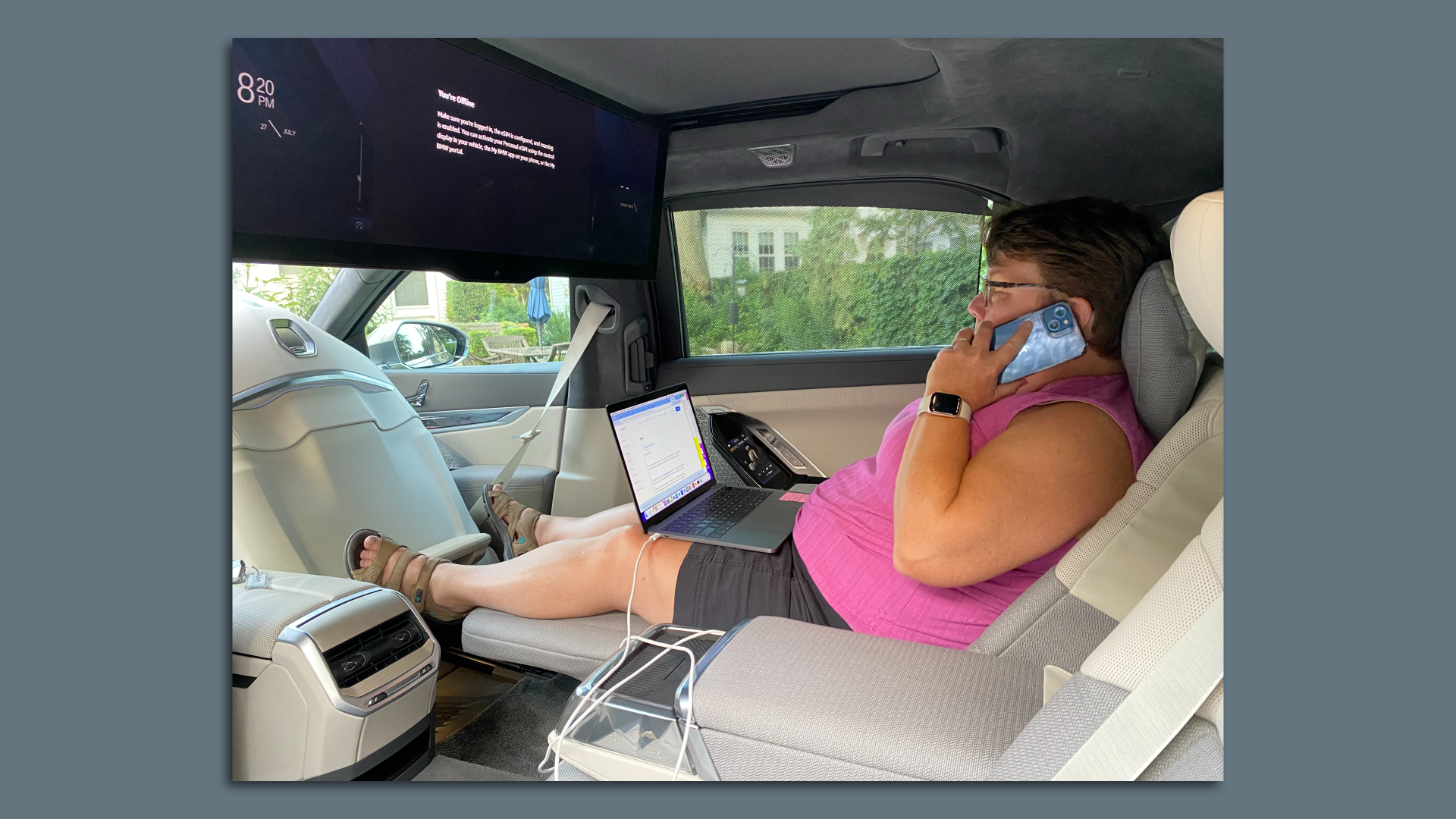 You don't have to wait for self-driving cars to arrive in order to relax, work or watch a movie on the road.
You can already do most of that in the rear seat of the BMW i7, the German automaker's flagship electric sedan.
The $151,000-as-tested electric BMW was particularly useful, and comfortable, as a mobile office when I needed to find a place to work during a recent power outage.
The big picture: Cars used to be defined by their styling, or their engine and performance.
What's happening: BMW has taken that trend to the ultimate max, turning the i7 into a rolling cinema with a massive, 31-inch fold-down screen that spans nearly the width of the car.
With built-in Amazon Fire TV and 5G connectivity, passengers can stream movies or watch live sports, play video games, listen to music or get the news via subscription apps like Amazon Prime, Max, Hulu, Netflix and YouTube.
Rear seat passengers can even start a show at home and pick up where they left off in the car.
An optional 36-speaker 4D sound system with built-in seat shakers lets passengers feel the action, too.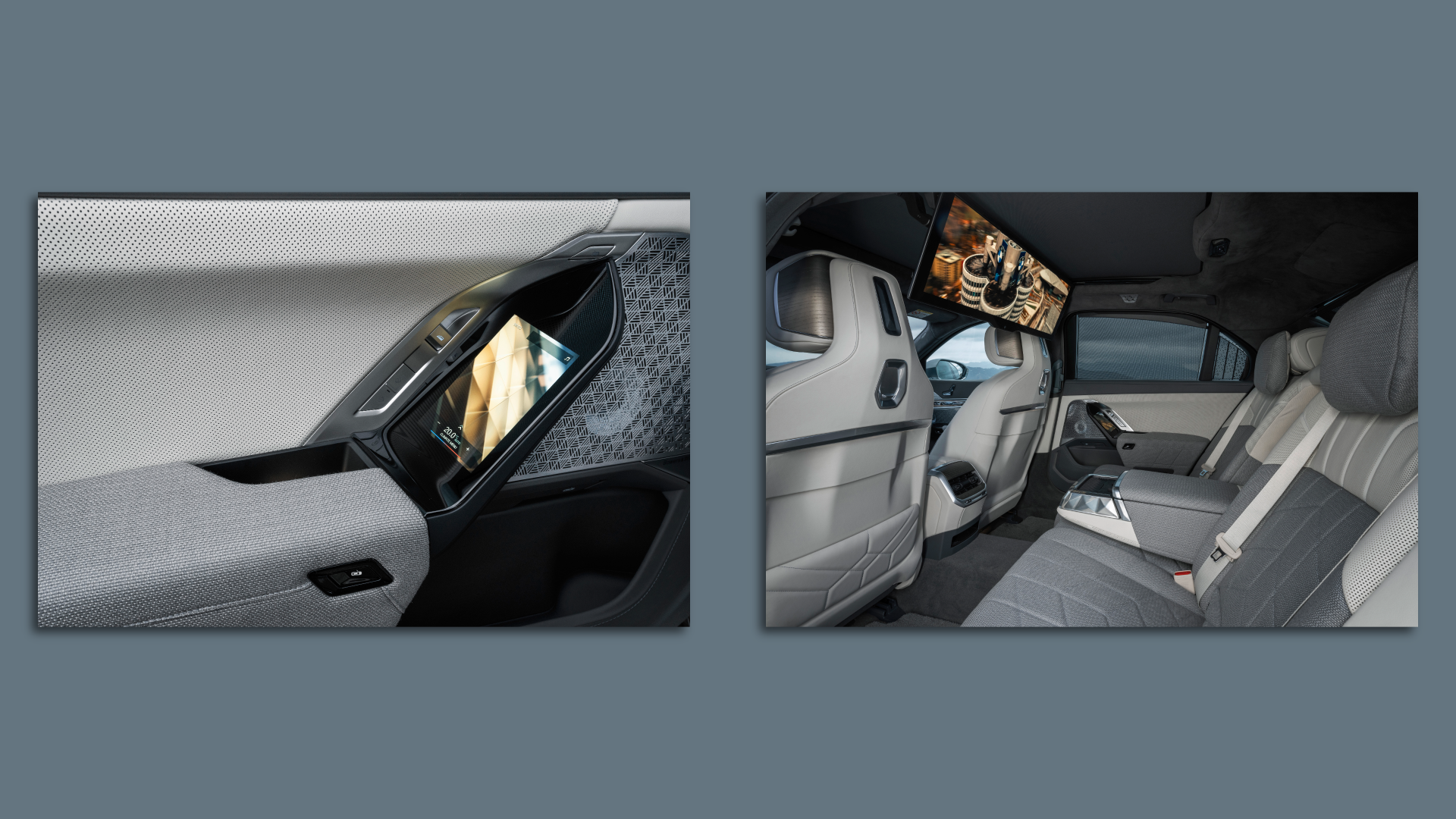 How it works: Everything's controlled by a pair of smartphone-size touchscreens embedded into the door armrests.
Or, you can ask the BMW Intelligent Personal Assistant to "activate Theater Mode."
That's when the sunshades for the rear windows and panoramic sunroof automatically close, the lights dim and the massive screen folds down from the roof.
To really kick back, you can activate the optional "Executive Lounge" feature: The front passenger seat folds and moves forward while the rear seat reclines, revealing an extended calf support as well as a heel rest on the back of the folded front seat.
Yes, but: Like everything these days, you need a subscription to get full access to Theater Mode.
First, you need to add your car as an additional "device" with your mobile provider, like Verizon or T-Mobile.
Plus, you'll need subscriptions to individual streaming services to access shows on Netflix or Hulu, for example.
Unfortunately, the car BMW loaned me for the week didn't have a mobile plan, so I couldn't try out Theater Mode on my own.
You can also plug an HDMI cable into the back of the screen as you would a TV if you want to play games or watch downloaded content on your laptop.
💬 Joann's thought bubble: The cashmere upholstery and full-body massage function in the $7,250 Executive Lounge Rear Seating package made me want to move into the i7, especially after my home lost power last week.
I was able to charge my phone and laptop off the BMW's 102-kWh battery.
Unfortunately, it's not equipped with two-way charging capability to keep the lights on and the food safe during an outage.
Still, it was air-conditioned, relaxing and a great place to get some work done. In other words, a real home away from home.
Go deeper