Hospitals are in the hotseat for their billing practices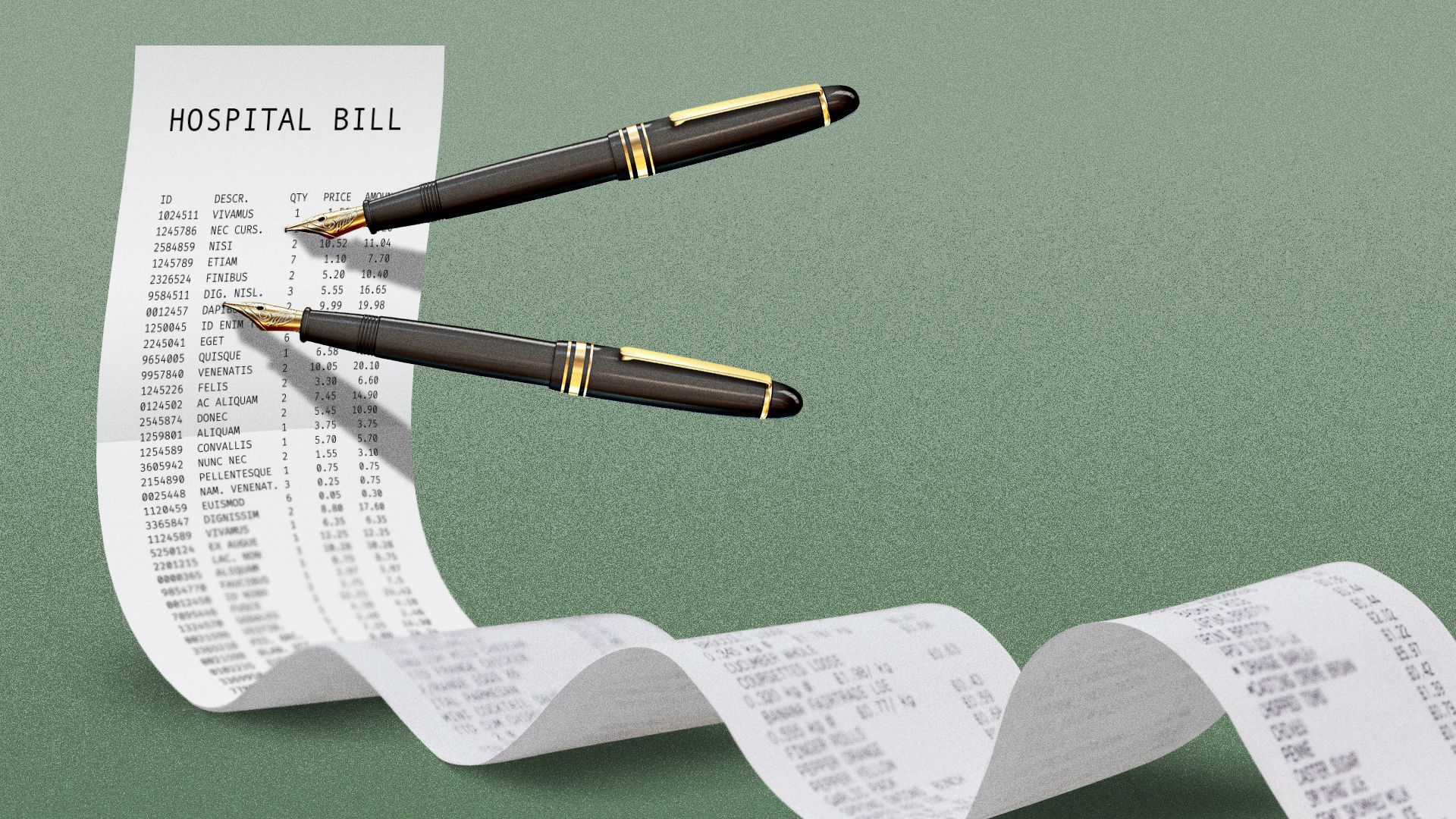 Mounting frustration with hospitals' billing practices are stirring reform efforts in Congress, state legislatures and within the Biden administration. But not everyone agrees on where to start.
Why it matters: Some measures under discussion could cost hospitals hundreds of billions of dollars, by paring payments that critics say are excessive and costing taxpayers and patients.
Driving the news: States are increasingly passing laws to address "facility fees" that hospitals tack on for services provided to commercially insured patients in clinics they own, according to a recent report from the Georgetown University Center on Health Insurance Reforms.
Changes to Medicare hospital billing rules have also emerged as a potential rallying point, despite Congress' deep partisan divisions and the public blowback to other Medicare proposals that made headlines earlier this year.
Transparency is another overriding focus: President Biden recently announced a crack-down on hidden fees, with new guidance clarifying that providers must make information about facility and other fees publicly available to consumers.
The big picture: Health care costs have been steadily rising for years, with particularly high price growth in the commercial market. Some experts argue that hospitals' acquisition of doctors offices has contributed to that growth, since hospitals often are paid more for care at those locations than physician-owned offices are.
Private insurers often pay hospitals rates that are several times greater than what Medicare pays for the same services. The insurers' costs are then passed onto patients through higher premiums and out-of-pocket costs or, economists argue, through lower wages.
Many experts argue that Medicare pricing is also out of whack, particularly when the program pays different amounts for the same services based on where those services are performed. And seniors with traditional Medicare coverage are still on the hook for premiums and copays, which some struggle to afford.
Patients vote, which is why their economic pain is starting to translate into legislative proposals. And the fact some of the biggest for-profit hospital chains have shaken off pandemic slumps makes them tempting targets.
While Congress is actively considering hospital billing reforms mostly within Medicare, states have been much more active within the commercial market. As of June, nine states had laws regulating facility fees, according to advocacy group United States of Care, ranging from disclosure requirements to outright bans.
"In states, what we've really seen is success and momentum in addressing hospital billing and hospital prices with a frame of protecting consumers and shielding people from unjustified out-of-pocket costs," said Lisa Hunter, senior director for policy and external affairs at USofCare.
Between the lines: Site-neutral payment policies, "dishonest billing" regulations and facility fee reforms are all policy responses to hospital billing practices, but the details of these policies can vary.
Requiring site-neutral payments within Medicare could save the federal government billions of dollars over a decade, or hundreds of billions of dollars.
The other side: Hospitals disagree with the premise that they're unfairly charging patients and have warned that the proposals being considered could be disastrous for the industry.
American Hospital Association president Rick Pollack penned an op-ed earlier this month on the flaws of site-neutral Medicare payment policy, and the organization has also defended the need for facility fees to finance hospital operations.
What we're watching: Although the hospital lobby is fighting back, fee transparency and site-neutral payment momentum doesn't seem to be going away, said Mark Miller, executive vice president of health care at Arnold Ventures.
"Not all hospitals are in financially good shape, and I think what you're going to see more and more is a dynamic within the hospital industry ... [with] some of the less fortunate hospitals beginning to point fingers at the more fortunate hospitals," Miller said.
Go deeper