UPS reaches deal with Teamsters, likely averting strike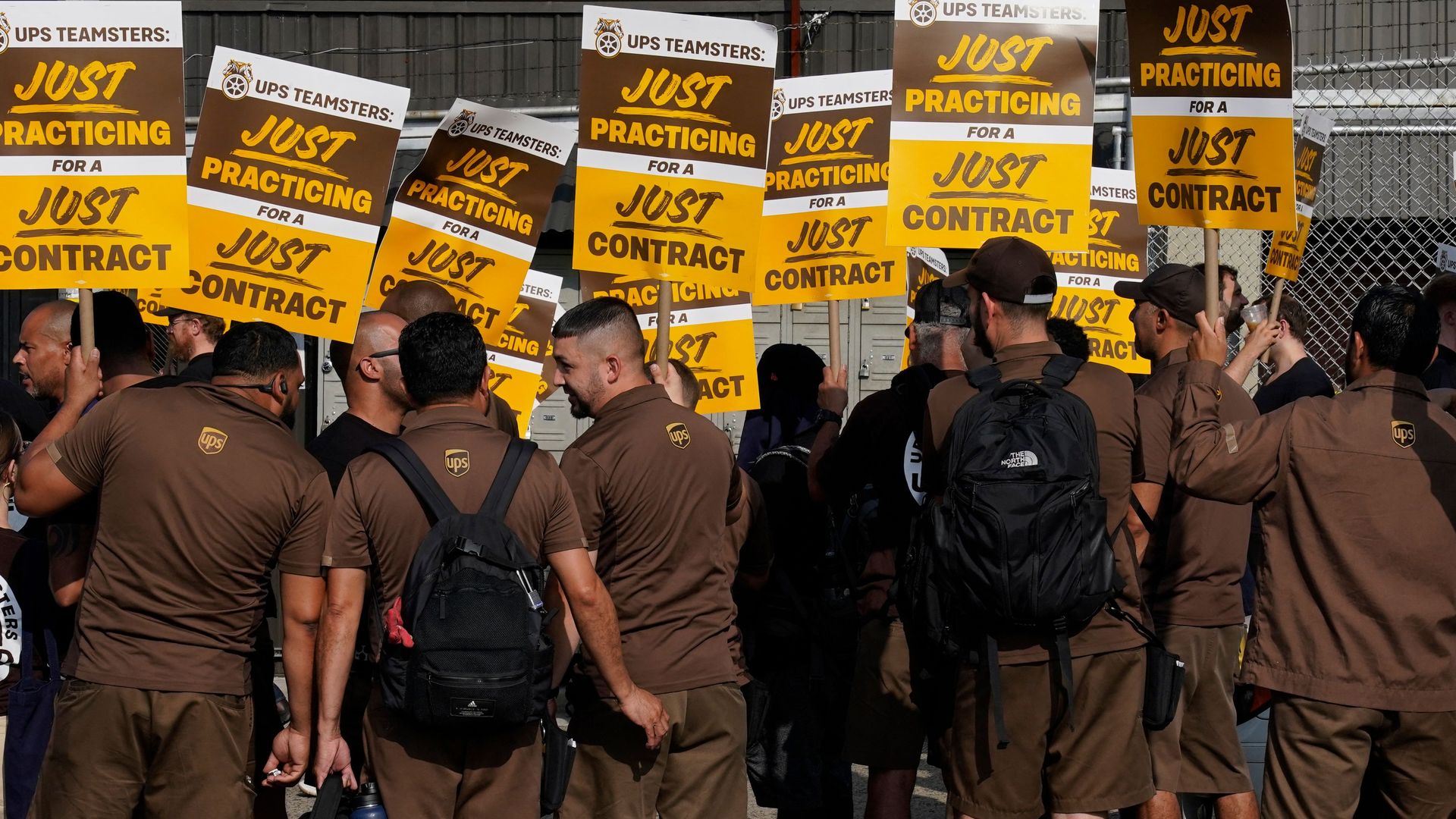 UPS reached a tentative deal with its union on Tuesday, averting a much-feared strike.
Why it matters: The tentative deal comes just days before the date that the union, representing 340,000 workers, would have walked off the job. Such a massive work stoppage would've had a destabilizing impact on the economy.
The deal was touted as a big win by the Teamsters, which represents UPS workers.
"UPS has put $30 billion in new money on the table as a direct result of these negotiations," Teamsters General President Sean O'Brien said in a statement. "We've changed the game. This contract sets a new standard in the labor movement and raises the bar for all workers."
UPS CEO Carol Tomé called the deal a "win, win, win agreement."
"This agreement continues to reward UPS's full- and part-time employees with industry-leading pay and benefits while retaining the flexibility we need to stay competitive, serve our customers and keep our business strong," she said.
Details: The deal raises wages for all workers, "creates more full-time jobs, and includes dozens of workplace protection and improvements," the Teamsters said in a release. The union included details on the agreement but UPS did not yet confirm those:
Wage increases for full-timers will bring their average top rate to $49 per hour — making them the highest-paid delivery drivers in the U.S., the union said.
New part-time hires at UPS would start at $21 per hour, up from $15 in the previous contract.
Notably, the agreement ends a much-hated two-tier worker classification system where some were paid less for doing essentially the same work.
Teamsters will get Martin Luther King Jr. Day as a holiday for the first time.
The contract also ends forced overtime.
Big picture: The UPS union contract is the largest in North America, and is highly influential. Observers worried that a massive strike would've spurred more stoppages in other sectors.
That the union walked away with what it's framing as a big win will likely inspire other unions as they head to the bargaining table. The auto workers are headed that way in the fall.
What's next: The union rank-and-file will vote on the tentative agreement starting on Aug. 3.
UPS is in a quiet period ahead of its second-quarter earnings report on Aug. 8. The company said it will have numbers on the cost of the agreement then.
Go deeper