How AI could help detect wildfires earlier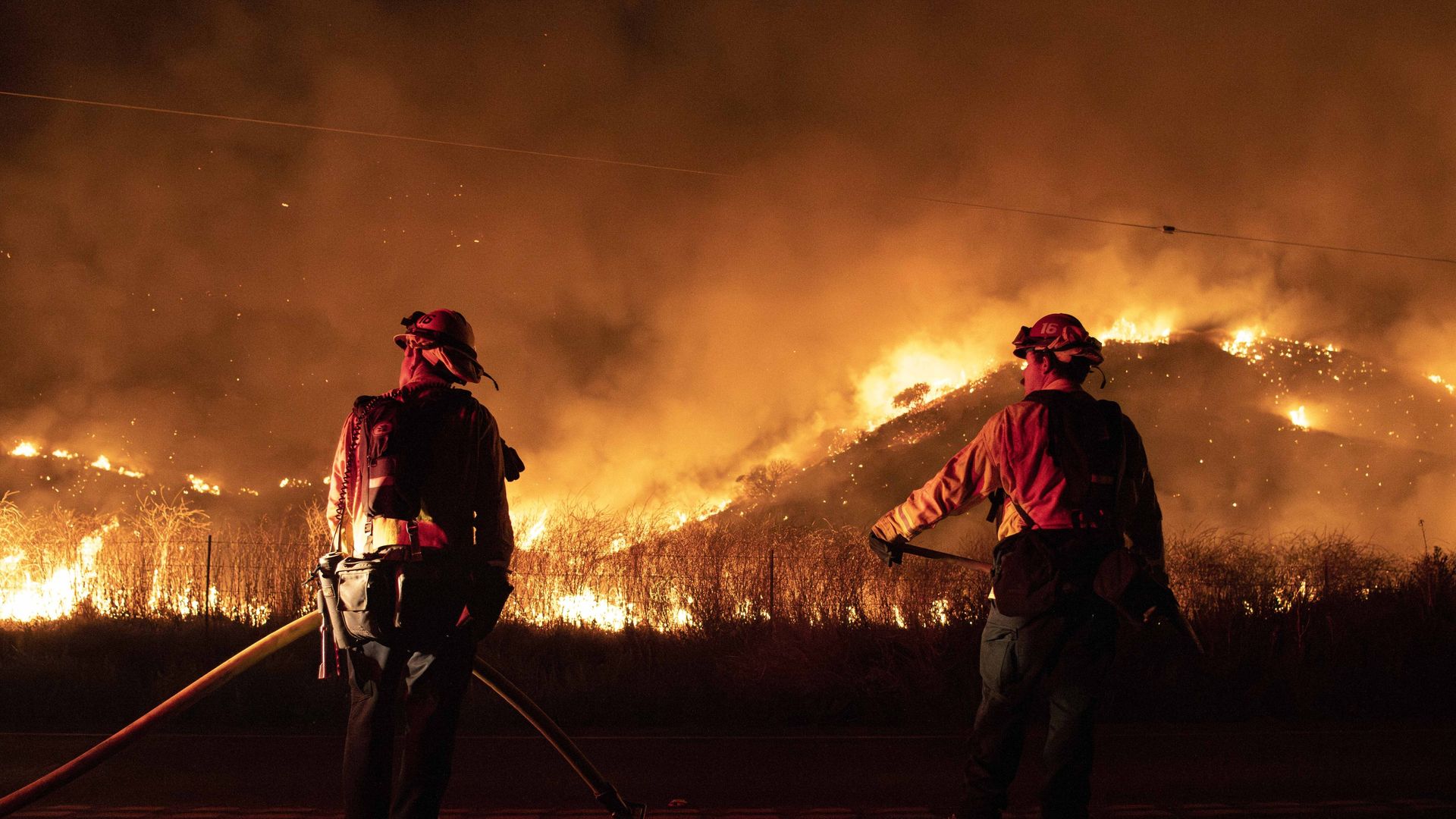 Several states are piloting AI-powered systems to detect wildfires faster than traditional bystander reporting systems allow.
Why it matters: Wildfires are burning longer and more frequently because of climate change. Stopping them sooner could save lives and reduce massive costs.
The big picture: Currently, at least seven states use AI detection to monitor wildfires, including California's Department of Forestry and Fire Protection (CalFire) and Arizona's Salt River Project.
The AI helps lowers the workload for first responders and is able to accomplish these tasks much quicker than humans could, Neal Driscoll, principal investigator for ALERTCalifornia, told Axios.
Traditionally, responding agencies have had to rely on bystanders to call in and report a fire, with no guarantee of how long it might take for fire to be first spotted.
One of the benefits of the pilot program is that the cameras can be placed in remote areas where there may be few people or limited cell service to facilitate fire reporting, Robert Foxworthy, a spokesman for Cal Fire, told Axios.
"The cameras are always there," he said. "We can't always guarantee that there's going to be a person with a cell phone there."
How it works: Wildfire security systems are comprised of high-definition cameras that use AI to monitor feeds, picking up on aberrations or shading that can signal smoke.
The AI sends an alert to emergency command centers and first responders, so humans can review the footage quickly and confirm the presence of a fire.
The AI is also able to triangulate the location of the fire and provide location coordinates.
Between the lines: "It's all about keeping the fire small," said Thomas Kyle-Milward, a spokesperson for Washington's Department of Natural Resources, which earlier this year launched a pilot partnership with Pano AI, a startup specializing in AI-monitored security systems for wildfires.
Only 5% of bystander 911 calls are actually vegetation fires, but each call needs to be verified by dispatching a firefighting truck to conduct a smoke investigation, Sonia Kastner, CEO of Pano AI, told Axios.
"You can't start an aggressive suppression response based on just a 911 call, and the smoke investigation step can take hours," she added.
Of note: In the three fire seasons it's been active, the San Francisco-based Pano AI has detected 50,000 fires, though not all are vegetation fires, Kastner said. Fire agencies have also used Pano's system to monitor prescribed burns.
But, but, but: There are some limits to the AI monitoring systems.
The AI learns as it goes, so it can sometimes confuse smoke with dust or clouds.
The system is also limited when there's low visibility, like during the recent spread of Canadian wildfire smoke around the U.S., Driscoll said.
That's when responding agencies need to start relying on other sensors to detect fires that might be there, he added.
Zoom out: "Wildfires are becoming an existential threat to our life, as Californians," Kastner said, adding that the disruption is spreading to other U.S. regions that weren't previously fire prone.
Paired with other mitigation strategies, early detection with the help of AI can be a "really significant part of the solution" to rolling back wildfires, she added.
The bottom line: AI-monitored cameras are a tool for firefighters, giving them "a little quicker confirmation, situational awareness and data that drives decisions," Driscoll said.
Go deeper