GOP's whistleblower fireworks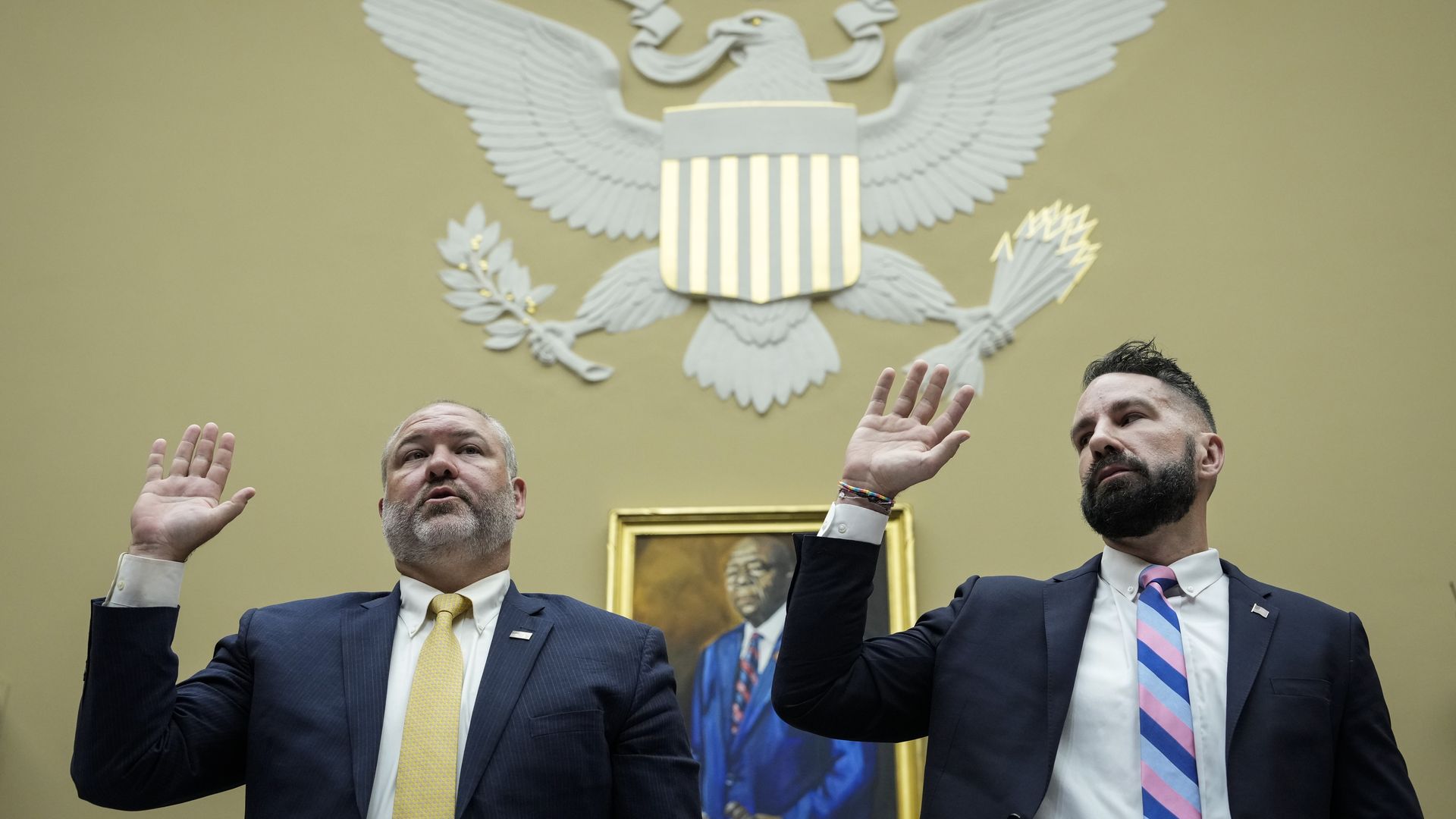 A pair of IRS whistleblowers testified to Congress that the Justice Department slow-walked its investigation into Hunter Biden and ignored recommendations to file felony tax charges, instead striking a plea deal that will allow the president's son to avoid prison time.
Why it matters: With former President Trump on the verge of being indicted for the third time, Republicans' strategy for defending the GOP front-runner depends largely on convincing the public that President Biden has politicized the DOJ.
House Republicans have invested major time and resources into the Hunter Biden investigation, bringing together three separate committees Wednesday for a blockbuster hearing focused on the IRS allegations.
The GOP-led hearing gave Republicans a welcome distraction from news that Trump soon could be charged for his efforts to overturn the 2020 election. But it fell short of producing any evidence of wrongdoing by Biden himself.
Driving the news: IRS agents Gary Shapley and Joseph Ziegler alleged that U.S. Attorney David Weiss, the Trump-appointed prosecutor leading the Hunter Biden probe, was prevented from bringing charges in jurisdictions outside Delaware.
Ziegler, a self-described gay Democrat whose identity was kept anonymous until Wednesday, testified that prosecutors from DOJ's tax division drafted a 99-page memo in August 2022 recommending both felony and misdemeanor tax charges against Hunter Biden.
Those recommendations ultimately were not adopted — one of several instances of what Ziegler described as "abnormal" decision-making and resistance from political appointees at DOJ.
The other side: Weiss has told Congress that he was granted "ultimate authority" over "where, when and whether to file charges" in the Hunter Biden case — a point Democrats repeatedly made throughout the hearing.
Weiss also has disputed Shapley's allegation that he sought special counsel status and was turned down — which Attorney General Merrick Garland also has denied — and suggested Shapley may have misunderstood him.
Key to Democrats' defense is the argument that disagreements between prosecutors and investigators are routine — and that several of the episodes occurred during the Trump administration, undermining allegations of political bias.
The intrigue: Like virtually every House Oversight hearing in the post-Trump era, the session featured theatrics from members of both parties:
Rep. Marjorie Taylor Greene (R-Ga.) displayed sexually explicit images from Hunter Biden's laptop — forcing Fox News to blur its broadcast — while accusing him of violating laws against transporting prostitutes.
While pointing out that former Rudy Giuliani associate Lev Parnas has refuted allegations of Biden family corruption in Ukraine, Rep. Robert Garcia (D-Calif.) displayed a poster-sized image of Giuliani with dark hair dye dripping down his face.
Between the lines: House Republicans' investigations into the Biden family have thus far failed to convince a skeptical public, often plagued by unreliable witnesses and appearances of overt partisanship.
But Wednesday's sworn testimony by Shapley and Ziegler — two career, nonpartisan officials with no obvious axe to grind — raised serious allegations that so far have gone unanswered by the Justice Department.
Weiss has offered to testify after Hunter Biden's plea hearing next week, while Garland's scheduled Sept. 20 testimony could be accelerated by the GOP's threats to impeach the attorney general.
What they're saying: "Instead of wasting time on politically motivated attacks on a Trump-appointed U.S. attorney, the rule of law, and the independence of our justice system, House Republicans should join President Biden to focus on the issues most important to the American people like continuing to lower inflation, create jobs, and strengthen health care," White House spokesman Ian Sams said in a statement.
Go deeper