Schumer, humbled by AI, crafts crash course for Senate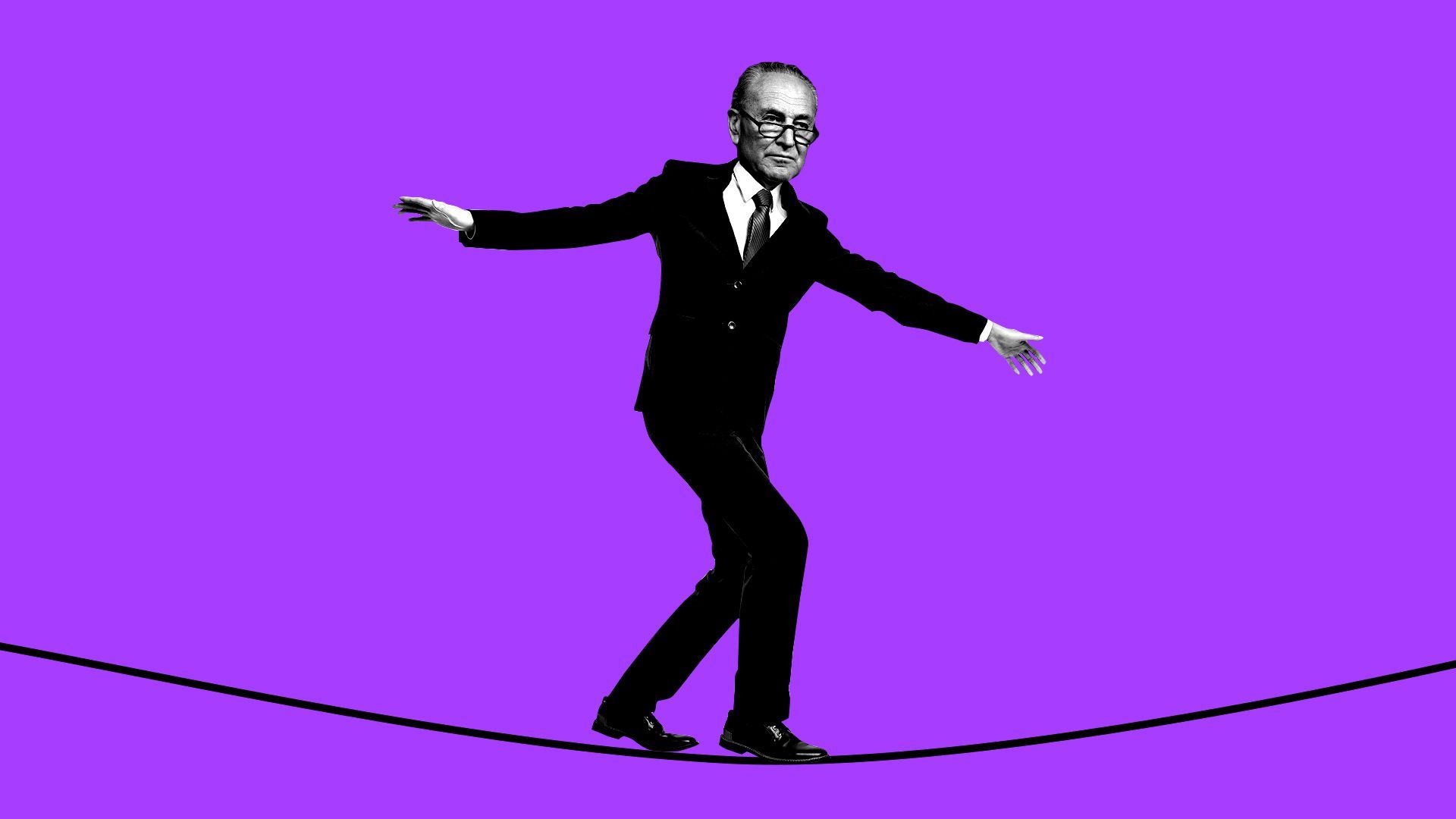 Citing a need for "humility" by Congress in the face of the rise of artificial intelligence, Senate Majority Leader Chuck Schumer plans a series of nine "AI Insight Forums" with AI experts in the fall.
Why it matters: Instead of debating legislation or holding more traditional hearings, Schumer wants his colleagues to bone up on the complexities of the new technology before regulating it. He's also acknowledging that Congress is still a long way from bipartisan consensus for AI legislation.
Driving the news: Speaking at IBM's Manhattan headquarters Monday afternoon, Schumer named Sens. Martin Heinrich (D-N.M), Mike Rounds (R- S.D.) and Todd Young (R-Ind.) as co-organizers of the forums.
Topics will include copyright, workforce issues, national security, high risk AI models, existential risks, privacy, transparency and explainability and elections and democracy.
To move beyond his already announced "framework" for AI legislation, Schumer is betting that Congress needs a novel approach.
Yes, but: Recent Congressional AI hearings on serious AI risks, copyright, human rights and cybersecurity received generally positive reviews.
The difference between a "forum" and a "hearing" may not be easily evident to most Americans.
One idea behind the forums is to give senators room to ask basic questions and get up to speed on the subject without fear of looking ignorant.
Between the lines: Schumer's plan means any comprehensive AI legislation isn't likely to move forward until 2024 at the earliest.
The ChatGPT era is now a little over six months old. It will likely pass its first birthday before these forums finish.
What they're saying: IBM CEO Arvind Krishna described himself as an "extreme believer" in Schumer's approach to AI.
Krishna told Axios that AI providers need to move beyond touting "responsible" AI and toward "accountability," by showing their homework and supporting specific legislative texts in coming months.
Schumer said his biggest AI concerns include a rash of deepfakes making "people lose faith in democracy altogether," and a lack of guardrails creating a "shut it down" AI backlash.
"We cannot make the same mistake we made with globalization," Schumer said, adding "so many people were hurt by it and nothing was done for them. That created frankly a political backlash."
Schumer said meetings with more than 100 AI developers, executives and researchers convinced him of the the need for the forums.
Go deeper