988 hotline's long road ahead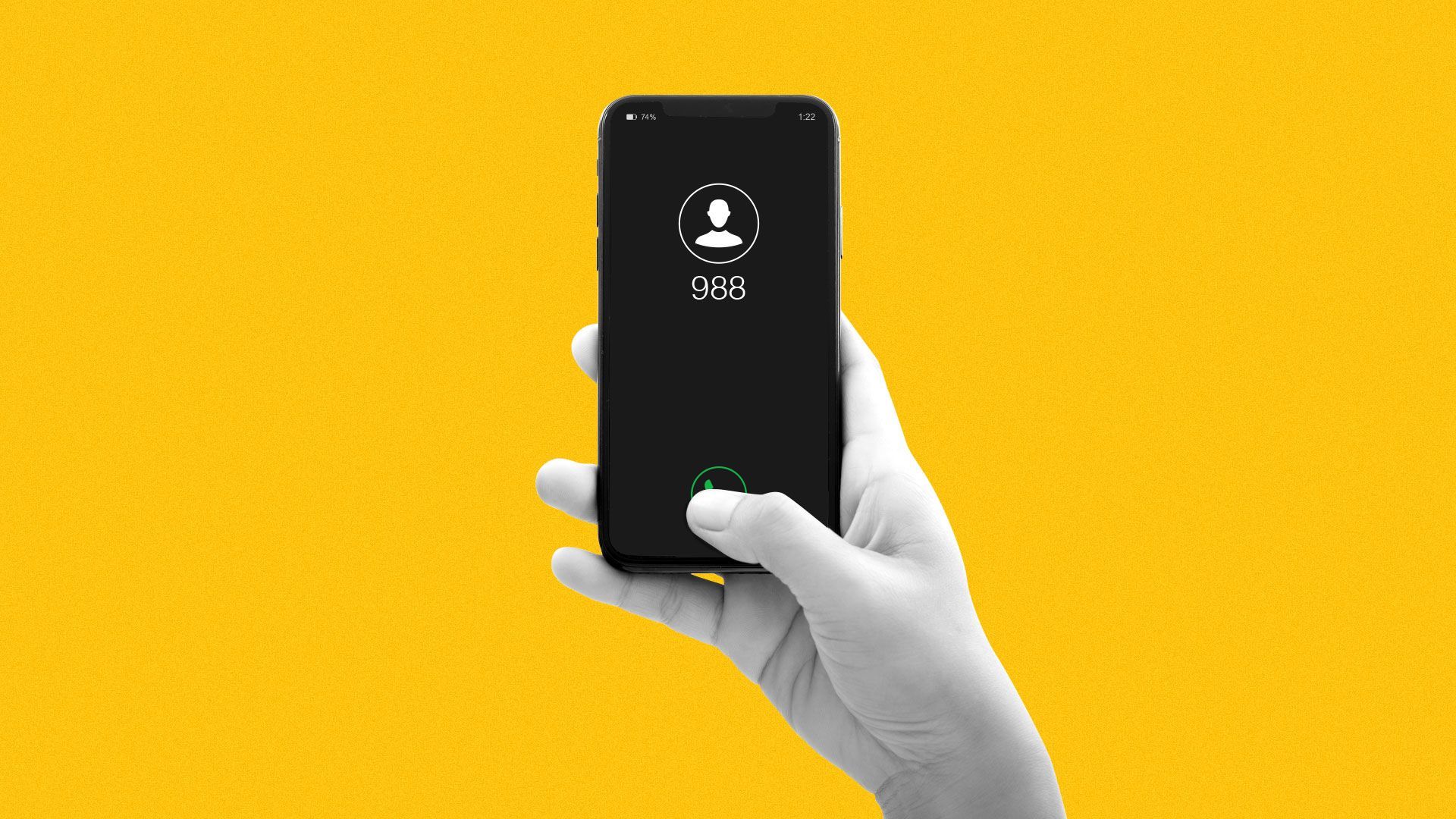 As it hits the one-year mark, most Americans still aren't aware the 988 national suicide prevention and mental health hotline exists — and few states have established long-term funding commitments to sustain it.
Why it matters: Without more outreach and resources, the three-digit number could languish as the nation continues to grapple with its mental health crisis.
The big picture: Plans to use some of the nearly $1 billion in federal funding for a public service campaign haven't materialized, partly due to early concerns that marketing 988 could overwhelm the lifeline past capacity.
Ahead of its launch, less than half of public health officials charged with deploying 988 said they were confident they had the necessary staff to field the expected surge in calls.
Funds were allocated to fortify more than 200 mostly volunteer-based call centers, for answering texts and chats and expanding support for Spanish speakers and LGBTQ youth.
Still, since replacing the National Suicide Prevention Lifeline last year with an easier-to-remember number, 988 has been contacted nearly 5 million times — a number officials, mental health advocates and call center leaders say they're pleased with.
Demand is expected to jump to about 9 million contacts next year.
And people are getting connected faster. The average time it took to answer decreased from nearly 2 ½ minutes to 35 seconds from May 2022 to May 2023, per federal data.
Yes, but: More than 80% of people in the U.S. aren't familiar with the new hotline, according to a National Alliance on Mental Illness survey released Thursday.
3 in 4 Americans said they'd be willing to pay a fee for 988 funding after hearing what people already pay for 911 services.
Only six states have enacted legislation to create monthly fees on phone lines to support the system, similar to how communities fund 911. Six more have bills pending, per NAMI's tracker.
Most states have made general fund appropriations, "but that's something that you don't know is going to be available in a year or two," NAMI chief advocacy officer Hannah Wesolowski told Axios.
"If we slow down, it would have disastrous implications for people's ability to access the crisis resources that they need."
Zoom in: The hotline has the potential to be an alternative to police intervention, but is running up against issues like workforce shortages and limited access to care that have plagued the mental health system for decades.
This has made it challenging for hotline workers to connect people to resources and treatment they may need after they call, said Matt Miclette, vice president of clinical operations at mental health tech company NeuroFlow, who oversees a team of 988 responders.
Other concerns include the way 988 connects individuals to call centers in their area code instead of their current location, which could put the onus on far-away centers that might not be able to direct a local response.
The bottom line: "We have to remember, we're at the beginning of what's going to be a marathon, not a sprint," said Chuck Ingoglia, CEO of the National Council for Mental Wellbeing.
"It's taken 15 years for 911 to evolve to the kind of system that it is today. We're just one year in."
Go deeper