Investigating the XY factor in disease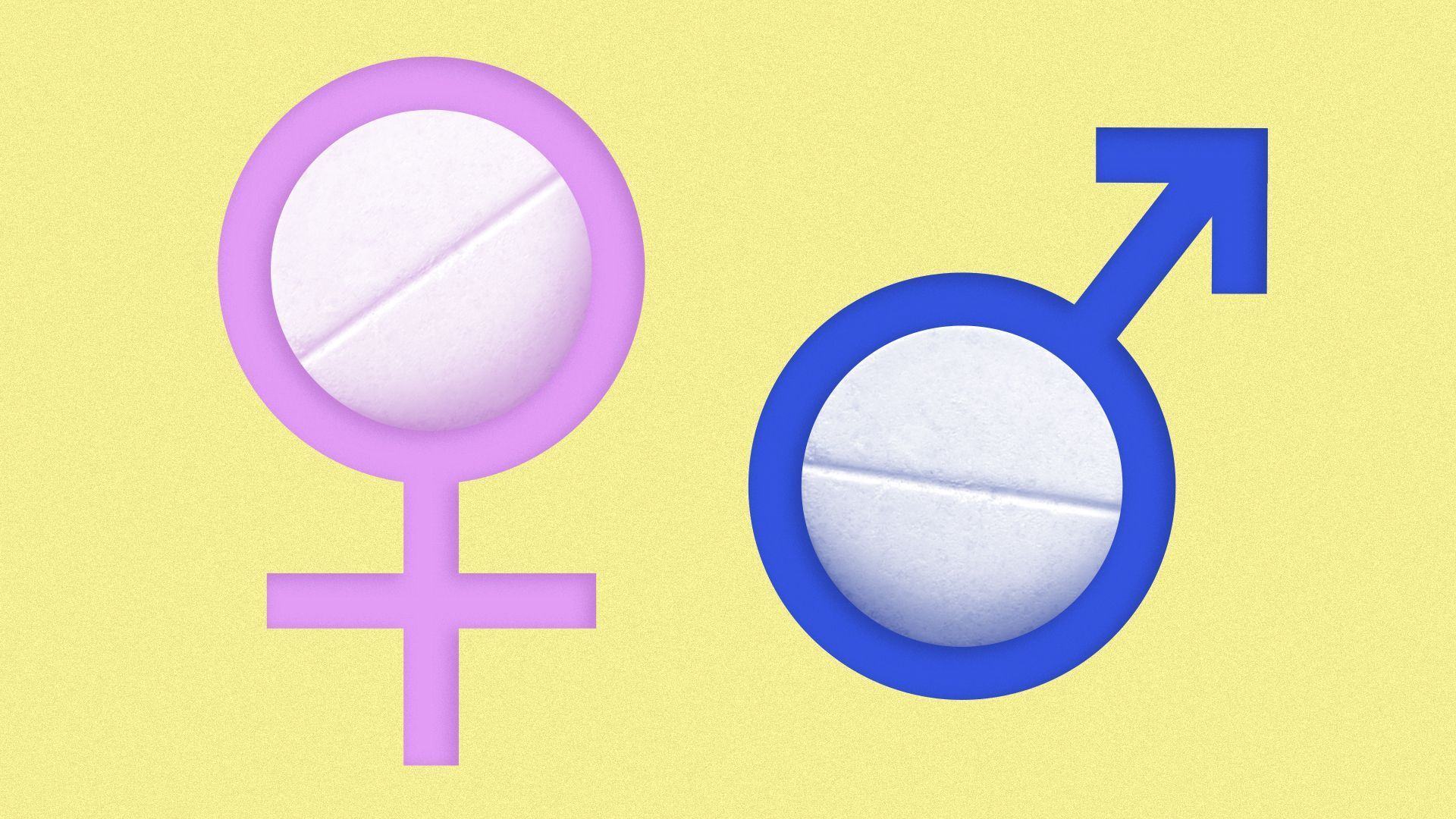 Scientists are beginning to understand how sex chromosomes and hormones affect people's risk for certain diseases — and whether the biology behind those differences can be harnessed to improve treatments.
Why it matters: Doctors and scientists have long recognized certain diseases affect men and women differently but that is rarely reflected in the dosage and design of drugs.
"We are in the age of personal medicine," says Sonia Sharma, a professor of immunology at the La Jolla Institute for Immunology.
"Wouldn't you think that by common sense sex would be the first thing that we take into account? But we don't."
Driving the news: A newly approved drug for Alzheimer's disease may be less effective for women — who are more likely to develop the disease over their lifetime — than men, my Axios colleagues reported this week.
What's happening: Study after study has described the differences in the impact of disease between males and females.
Details: Researchers are beginning to understand the molecular underpinnings of these differences.
The X chromosome encodes several genes known to be involved in stimulating the immune system.
One study found a gene on the X chromosome is expressed more in the immune cells of females than in males. When researchers deleted the gene in mice that had been bred to have an autoimmune disease similar to MS, they had fewer symptoms. The activity of genes related to healthy immune activity also increased and the activity of those involved in inflammation in the brain decreased.
The effects from the expression of genes on the X and Y chromosomes are overlaid with the effects of hormones in males and females, which can change over time, says UCLA professor of neurology Rhonda Voskuhl, a co-author of the study.
Researchers have also found estrogen is neuroprotective and anti-inflammatory.
That aligns with the symptoms of MS worsening for women during menopause when estrogen levels drop, healthy women experiencing cognitive difficulties during menopause and women's risk for developing Alzheimer's disease increasing after menopause.
The big picture: For decades, the subjects in basic research experiments and clinical trials have heavily skewed male.
Females make up nearly half the planet's populations. "Why wouldn't you want to understand 50% of the picture?" Sharma says. "There really was this idea that one should minimize sex-specific differences because they weren't biologically interesting."
The over-reliance on males stemmed in part from long-held assumptions about the impact of hormones on female subjects. That was recently challenged in a study that found the behavior of male mice was more unpredictable than females.
An act passed in 1993 required studies supported by the National Institutes of Health to include women, and in 2016, the agency adopted a policy requiring females in animal studies and for researchers to account for sex as a biological variable.
"The issue is we have so much data on males not females," says Natalie Tronson, a professor in the psychology department at the University of Michigan. Males have "become the default baseline or normal. That's changing slowly."
Where it stands: An analysis published in 2020 found an increase in studies that include males and females — from 28% in 2009 to 49% in 2019.
But there "was no change in the proportion studies that included data analyzed by sex."
The International Committee of Medical Journal Editors in May updated its guidelines to encourage authors to report sex (when referring to biological factors) and gender (when referring to identity, psychosocial or cultural factors) in their study. Some people's sex chromosomes don't align with their gender.
"There's been tremendous progress" at the pre-clinical trial level due to the NIH mandate, Voskuhl says. But even if females are increasingly included in studies, there is still a major gap in analyzing data by sex.
But it's "data hiding in plain sight," says Janine Clayton, director of the Office of Research on Women's Health at the NIH.
There are statistical approaches that can reveal the influence of sex if a study is rigorously designed, she says, adding doubling the number of subjects isn't necessary.
Between the lines: Clinical trials can be affected by the gaps in animal studies.
"A major problem is that when a Phase 3 clinical trial is beginning, we do not know whether a sex-specific effect should be expected," Timothy Hohman, a neurology professor who studies Alzheimer's disease at Vanderbilt University, tells Axios in an email.
"We need to do better. We must generate and publish data on sex and gender at all phases of therapeutic development, particularly in a disease like [Alzheimer's disease] that has such striking disparities."
What to watch: The molecular differences between males and females are "important clues" for treating diseases, Voskuhl says.
"If you study sex differences you can come up with new treatments and targets you didn't know existed," she says. Her research is being used to develop a treatment for brain fog in women during menopause.
The bottom line: "The sexes are equal but very different," Voskuhl says.
Go deeper: Listen to the Axios Today podcast, where Margaret Talev and Alison Snyder talk about whether there's a possibility to develop treatments that are targeted for sex chromosome differences.
Go deeper