Greene basks in "free agent" status as McCarthy hosts fundraiser for her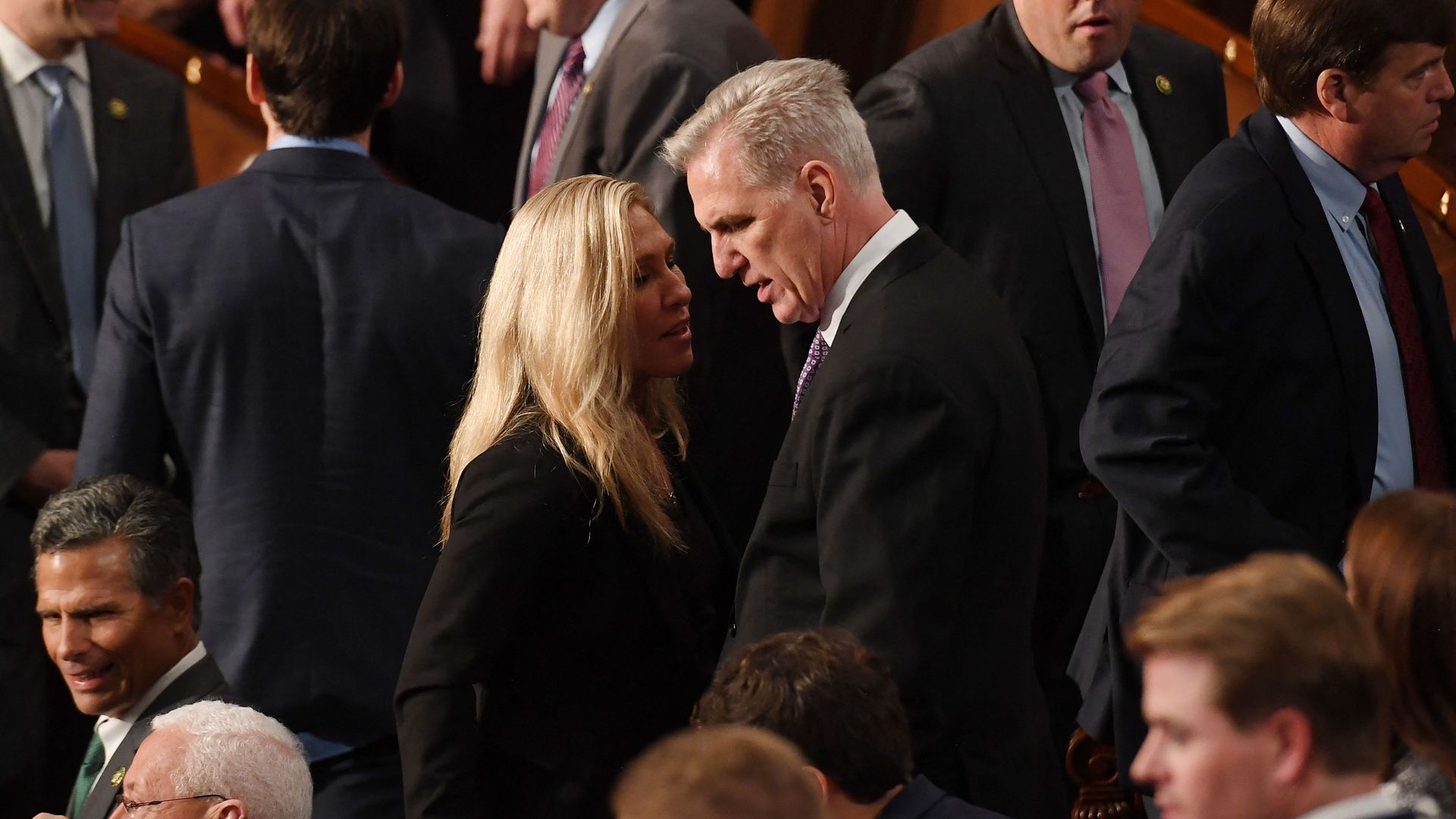 Rep. Marjorie Taylor Greene (R-Ga.) on Wednesday signaled little appetite for rejoining the House Freedom Caucus, saying she prefers being a "free agent."
Why it matters: The conservative bomb-thrower and erstwhile GOP leadership antagonist has increasingly drifted into the establishment fold.
House Speaker Kevin McCarthy (R-Calif.) is even hosting a fundraiser for Greene in D.C. on Wednesday afternoon, she told reporters.
Green said the fundraiser has been "planned for quite a while."
What she's saying: After dodging calls from Freedom Caucus members over the recess following a vote by members of the right-wing group to remove her, Greene said Wednesday, "I haven't talked with them."
But the Georgia congresswoman, based on news reports, acknowledged she is "probably not" a member anymore.
Asked if she would be interested in rejoining the caucus at some point, Greene said, "I think I enjoy being a free agent a lot better."
The intrigue: As Greene is locking arms with leadership, she is also threatening to tank a key defense bill McCarthy is trying to shepherd through the House this week.
Greene wants to remove $300 million in Ukraine aid and hold a separate vote on the funds, which she acknowledges would likely pass anyway.
If that doesn't happen, she said, it could be a "sticking point" for her on a procedural vote in which a few GOP defections could block consideration of the bill.
The backdrop: Freedom Caucus members have grown frustrated with Greene increasingly siding with McCarthy in his fights with the group, even going so far as to publicly criticize some members.
McCarthy rushed to her defense on Wednesday, calling her "one of the best members we have" and calling her ouster "a loss for the Freedom Caucus."
"I support Marjorie Greene very strongly," he added.
Go deeper