The big-money donors backing DeSantis — and RFK Jr.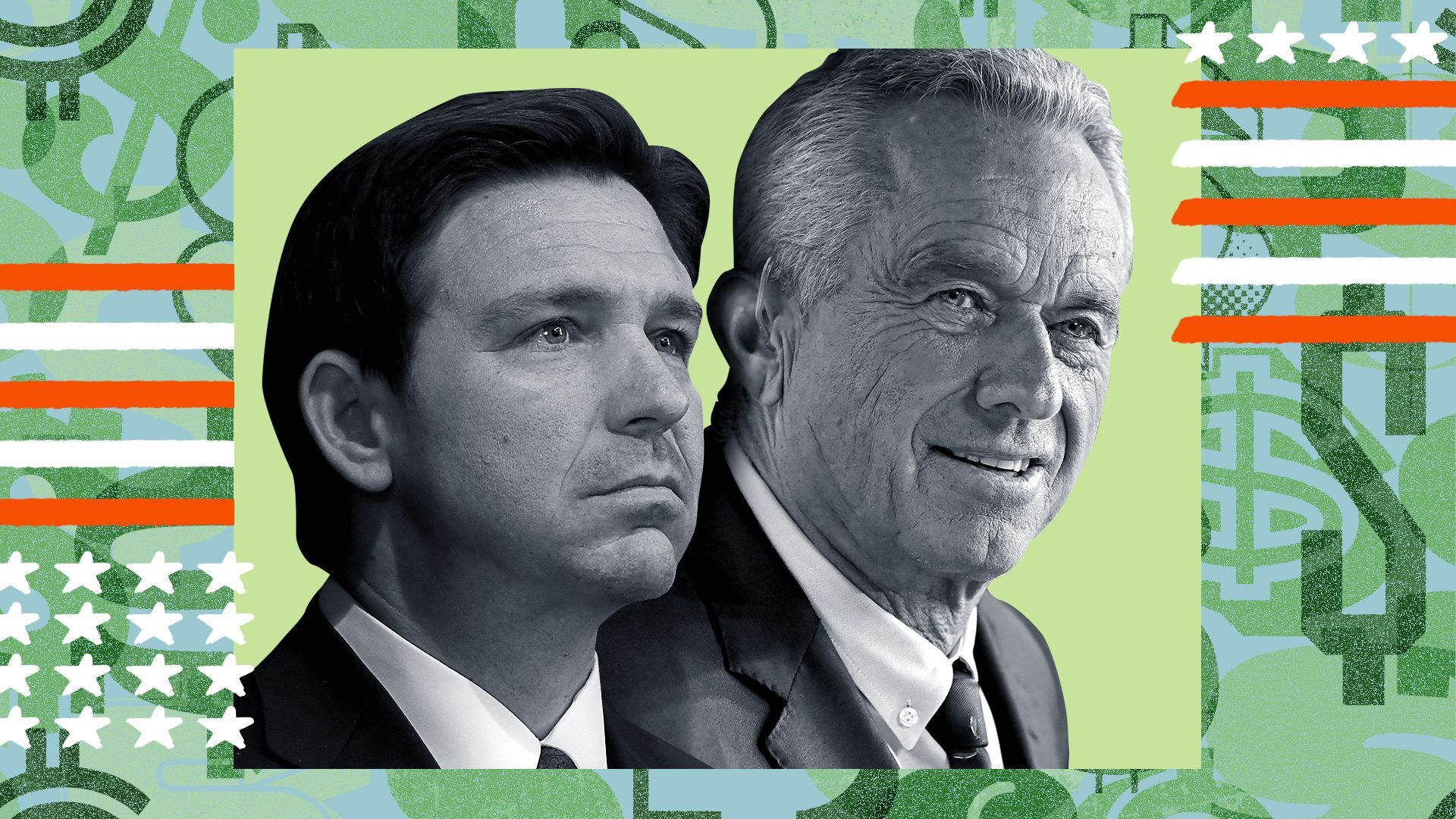 A small but growing number of wealthy campaign donors are supporting both Florida Gov. Ron DeSantis (R) and Robert F. Kennedy Jr., the leading Democratic challenger to President Biden.
Why it matters: It's tempting to see the moves by donors in banking, venture capital, hedge funds and tech as part of Republicans' push to move past former President Trump while making Biden's path to re-election more difficult.
Zoom in: Entrepreneur and investor David Sacks has hosted fundraisers for both DeSantis and Kennedy. Sacks sees the two candidates as part of a growing coalition that is anti-censorship, anti-war and pro-liberty, according to a person familiar with Sacks' thinking.
That approach buys into a specific definition of "liberty" put forward by DeSantis in Florida, where the governor has led efforts to restrict LGBTQ rights and to make it easier to ban books from school libraries — all under the banner of boosting parents' rights.
Omeed Malik, a former Democrat, former Bank of America executive and founder of Farvahar Partners, a boutique merchant bank, has donated the maximum $6,600 to both DeSantis' and Kennedy's campaigns this year.
Malik gave roughly $114,00 to DeSantis' state PAC, Empower Parents, in 2022, according to the Florida Department of State's Division of Elections. He's hosting separate fundraisers for DeSantis and Kennedy in the Hamptons this summer.
Joe Voboril — co-founder and managing partner of Farvahar Partners — is another DeSantis-Kennedy donor and tells Axios he considers himself an "orphaned Democrat."
"I think what's interesting about both of these candidates is they are a challenge not just to the other side but within their own party," said Voboril, who says he gave $25,000 to support DeSantis' gubernatorial run in 2022 and the maximum $6,600 to Kennedy's campaign this year.
Between the lines: Malik and Voboril said they are attracted to the two candidates for their willingness to go against mainstream thought consensus.
For DeSantis, that has involved railing against COVID restrictions and going after the Walt Disney Co., one of Florida's largest employers, over the company's diversity policies.
Kennedy is a longtime vaccine skeptic and has a track record of promoting unproven theories about COVID vaccines being used to control people via microchips and about childhood vaccines causing autism.
Zoom out: Elon Musk also has shown an interest in DeSantis and Kennedy. He's hosted separate Twitter Spaces for them, and has said he was leaning toward backing DeSantis for president.
Musk, Sacks and Malik are aligned with Kennedy's anti-war stance — particularly with regard to the war in Ukraine.
DeSantis' position on the U.S. providing military support for the war has been foggy; in late May he said he supported a "settlement" that would end the fighting in Ukraine.
The donors backing both DeSantis and Kennedy are "kind of like the super-rich Joe Rogan crowd," said Republican strategist Alex Conant, referring to the podcast host who has praised DeSantis and interviewed Kennedy on his show.
"Clearly, both candidates are trying to tap into that," Conant added.
By the numbers: A large majority of Americans don't want to see a Trump-Biden rematch, polls show.
70% of Americans believe Biden shouldn't run for re-election, and 60% say former Trump shouldn't run.
"These donors who are giving to both the opponents to Trump and Biden may be a financial indication of that sentiment," said Justin Sayfie, a former spokesman for former Florida Gov. Jeb Bush.
Go deeper