Unsold electric cars are piling up on dealer lots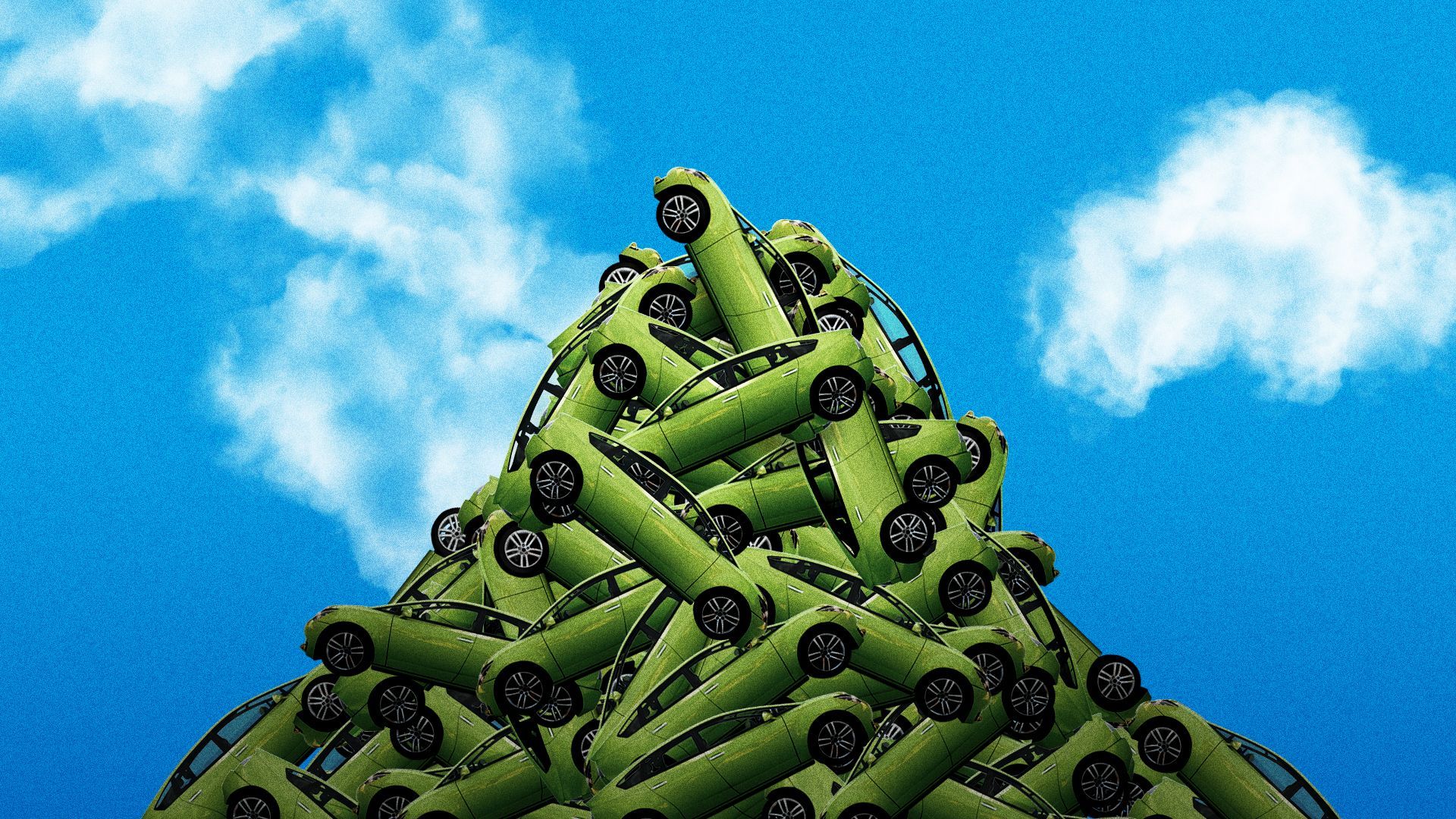 The auto industry is beginning to crank out more electric vehicles (EVs) to challenge Tesla, but there's one big problem: not enough buyers.
Why it matters: The growing mismatch between EV supply and demand is a sign that even though consumers are showing more interest in EVs, they're still wary about purchasing one because of price or charging concerns.
It's a "Field of Dreams" moment for automakers making big bets on electrification — they've built the cars, and now they're waiting for buyers to come, says Jonathan Gregory, senior manager of economic and industry insights at Cox Automotive.
Driving the news: Cox Automotive experts highlighted the swelling EV inventories during a recent midyear industry review for journalists and industry stakeholders.
EV sales, which account for about 6.5% of the U.S. auto market so far this year, are expected to surpass 1 million units for the first time in 2023, Cox forecasts.
A Cox survey found that 51% of consumers are now considering either a new or used EV, up from 38% in 2021.
Tesla's rapid expansion, plus new EVs from other brands, are fueling the interest — 33 new models are arriving this year, and more than 50 new or updated models are coming in 2024, Cox estimates.
Yes, but: Sales aren't keeping up with that increased output.
Details: The nationwide supply of EVs in stock has swelled nearly 350% this year, to more than 92,000 units.
That's a 92-day supply — roughly three months' worth of EVs, and nearly twice the industry average.
For comparison, dealers have a relatively low 54 days' worth of gasoline-powered vehicles in inventory as they rebound from pandemic-related supply chain interruptions.
In normal times, there's usually a 70-day supply.
Notably, Cox's inventory data doesn't include Tesla, which sells direct to consumers.
Zoom in: Some brands are seeing higher EV inventories than others.
Genesis, the Korean luxury brand, sold only 18 of its nearly $82,000 Electrified G80 sedans in the 30 days leading up to June 29, and had 210 in stock nationwide — a 350-day supply, per Cox research.
Other luxury models, like Audi's Q4 e-tron and Q8 e-tron and the GMC Hummer EV SUV, also have bloated inventories well above 100 days. All come with hefty price tags that make them ineligible for federal tax credits.
Imported models like the Kia EV6, Hyundai Ioniq 5 and Nissan Ariya are also stacking up — likely because they're not eligible for tax credits either.
Tesla's price-cutting strategy could be taking a toll, too: The once-hot Ford Mustang Mach-E now has a 117-day supply. Ford says that's the result of ramped-up production in anticipation of stronger third-quarter sales.
The intrigue: Hybrid vehicles have much lower inventory levels, supporting Toyota's argument that consumers want a stepping stone to fully electric cars.
There's a relatively tight 44-day supply of hybrids industrywide, according to Cox.
Toyotas are in particularly short supply — under 30 days each for Prius and RAV4 hybrids and plug-in hybrids.
Of note: Toyota's only fully electric model, the Bz4X, has a 101-day supply.
What to watch: More charging infrastructure is coming, and EV prices should reach parity with gasoline vehicles around 2025, according to Bank of America Securities auto analyst John Murphy.
Until then, automakers will be left waiting for EV buyers to show up.
Disclaimer: Cox Automotive's parent company, Cox Enterprises, also owns Axios.
Go deeper