Yuga Labs plans to restore spark around its NFTs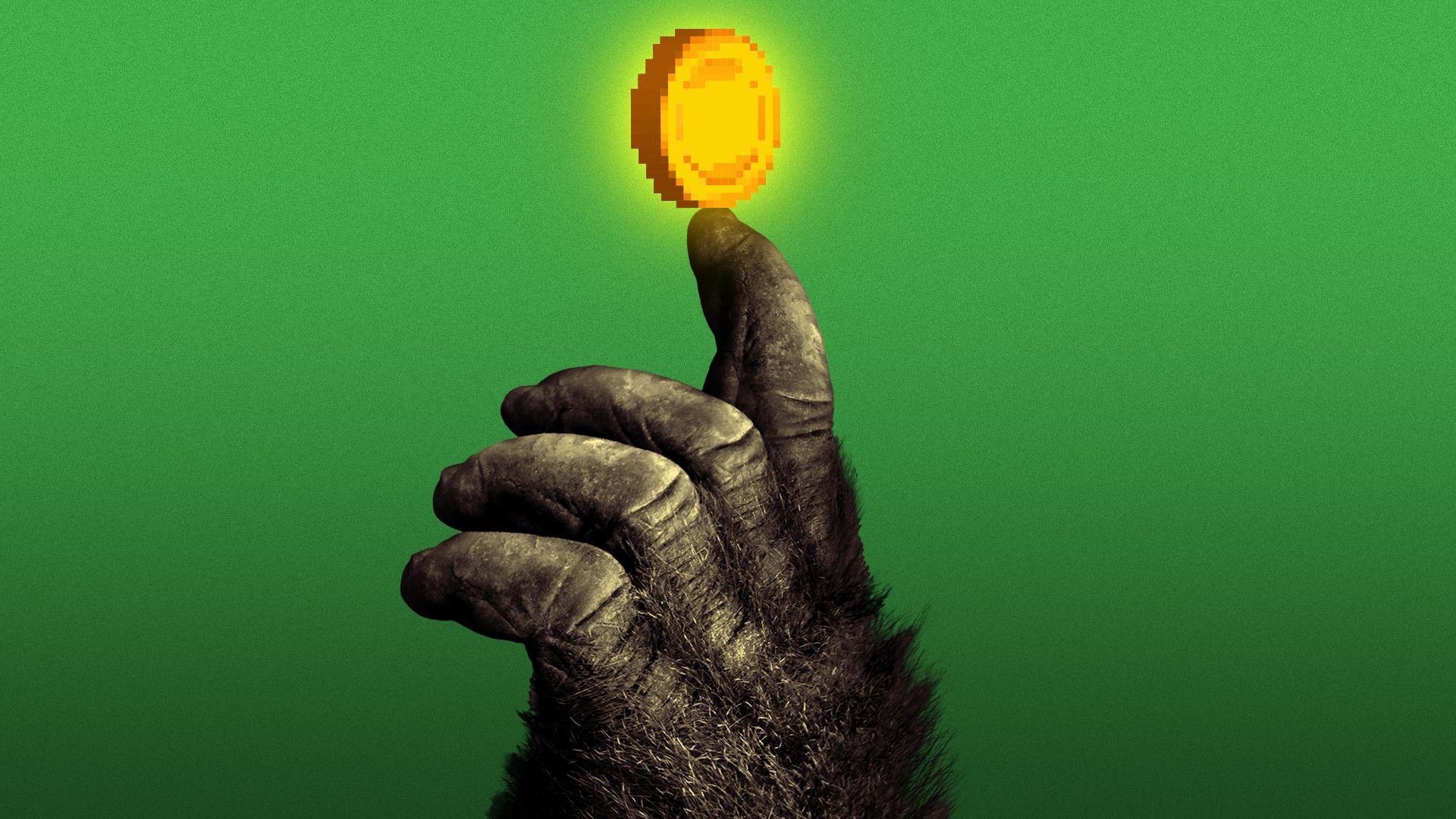 Last week, Bored Apes creator Yuga Labs released its latest NFT-gated game, HV-MTL Forge, but it hasn't yet helped the dragging performance of the company that owns several of the top NFT collections.
Why it matters: Yuga Labs is the standard-bearer for the industry of non-fungible tokens. It owns Bored Apes, Mutant Apes and CryptoPunks, along with a number of other important NFT collections.
The big picture: The muted reception for HV-MTL Forge aside, the giant question mark around Yuga Labs is the Otherside virtual world that it's building and that fans have already sank millions of dollars into.
If the company can't keep driving interest to its collections, it's likely to discourage other entrepreneurs from entering the NFT business, which is generally down about two thirds from a year ago.
By the numbers: Last year about $30 million in NFTs were selling each day; today it's more like $10 million.
Driving the news: Very soon, Yuga will announce a cadence for revelations that will give its NFT owners and fans a sense for how often they will reveal new pieces of work.
The giant milestone for Otherside, according to new CEO Daniel Alegre, will be when Yuga can start letting others build on it.
When 20 or 30 NFT collections can create ways their NFTs will show up in Otherside and they can start making experiences in the world independent of Yuga.
It's personnel: Late last year, Yuga poached Alegre from Activision Blizzard, where he served as COO at the videogame giant.
What they're saying: In an interview with Axios, Alegre said, "We have this grand vision of what we will execute with Otherside that was set out in the early days of Yuga."
But he granted an unforced error the firm had made was making fans wait too long before reveals of what it was working on.
Between the lines: Yuga Labs entered the metaverse hype last year when it sold deeds for its Otherside virtual world, raking in about $320 million.
In each trip, users got to interact, talk with each other, form up into groups perhaps anticipating playing with each other one day, but in terms of a long term experience, people are still waiting.
Owners of deeds for virtual land in Otherside don't even know what the map of the world looks like yet, so they don't know who their neighbors are.
What we're watching: Alegre plans to give users more short-term experiences like these more often until Otherside is finally launched as a full, persistent world, with the full suite of social and gaming experiences to justify the wait.
Alegre, like any company leader, didn't want to name a target date, but he said he didn't want people to still feel uncertain about it a year from now.
Zoom out: For NFT outsiders, most of what everyone hears about is the mints, when a new series of virtual items is launched and people start experiencing it.
That's supposed to be just the beginning, at least for collections that raise a lot of money. They are supposed to use some of those resources to extend the experience of those initial items.
So far though, a lot of those greater experiences haven't really grabbed the public.
Quick take: With so much money in the bank and the value of its top-line assets sagging, it's no wonder Yuga is hesitating about launching Otherside too soon. A lot is riding on Otherside not being a miss.
The bottom line: "What we do really well here at the company is we know that a mint is only the first part of the overall experience," Alegre said.
Go deeper