Staffing standard could boost unionization efforts in nursing homes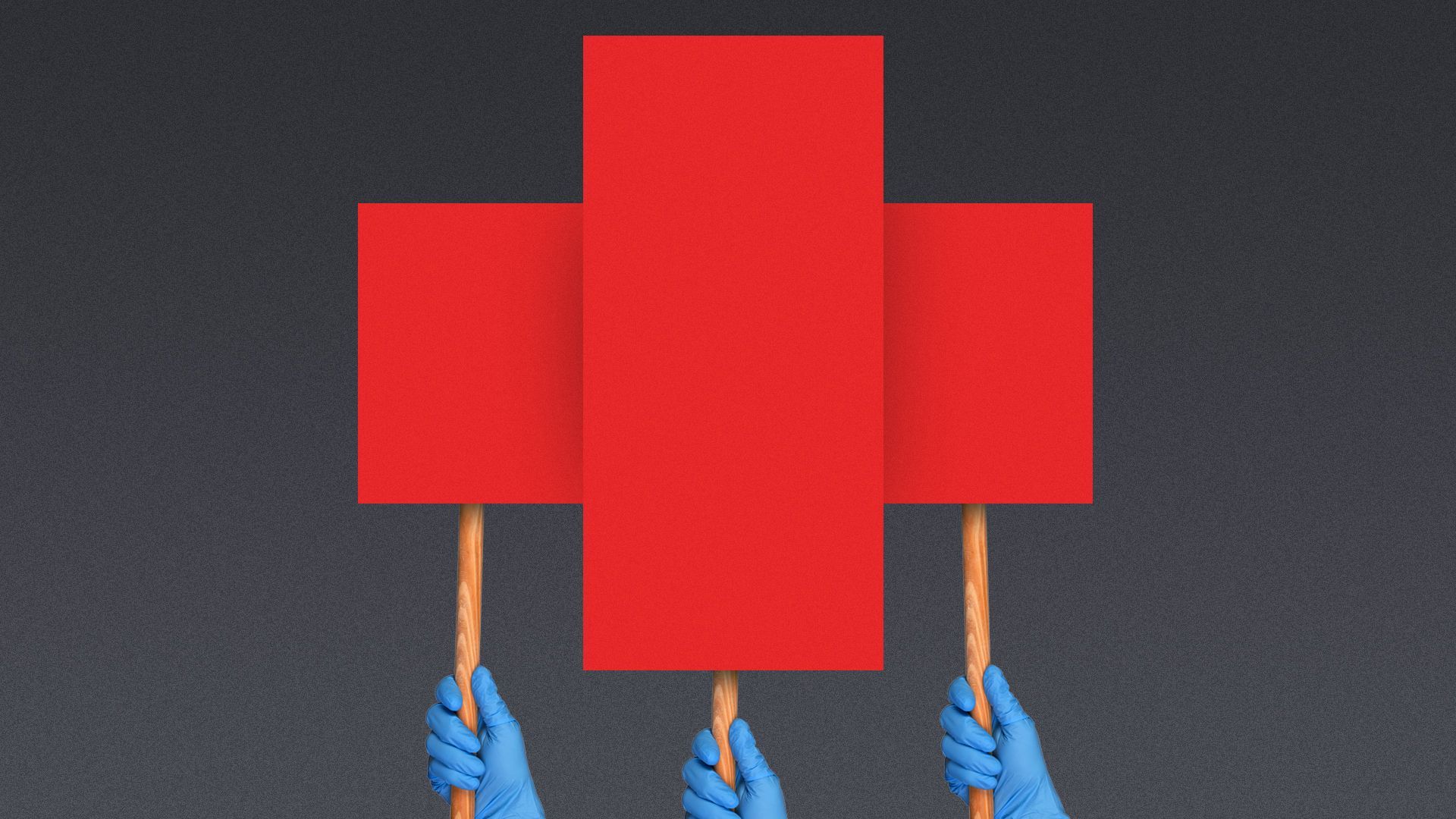 A looming national staffing mandate for nursing homes could open the door for more labor organizing in a sector where a low proportion of workers are covered by union contracts.
Why it matters: Higher pay, better benefits and baseline staff-to-patient ratios could lure more people to a workforce that was hollowed out during the pandemic, organizers say.
A federal standard for how many long-term care workers care for residents could also remove a bone of contention in labor negotiations and even kick start some collective bargaining efforts.
Yes, but: There are major questions about whether many industry operators can comply with those kind of quotas, and whether understaffed facilities will need waivers.
Driving the news: The Centers for Medicare and Medicaid Services is expected to release a national staffing standard proposal in the coming weeks.
The Biden administration has said "good-paying, union jobs" in the nursing home industry will improve conditions for both patients and workers and is committing $80 million in grants to address bottlenecks in training the nursing workforce.
By the numbers: As of 2021, labor unions represented workers in approximately 16% of U.S. nursing homes, said Adam Dean, a labor politics expert at George Washington University.
A study published in Health Affairs which Dean led found there were 10.8% lower COVID death rates among residents and 6.8% lower COVID infection rates among workers in unionized nursing homes from June 2020 through March 2021.
Unions already representing staff believe that staffing standards will help bring long-term care workers back to the industry.
"There's not a workforce shortage," Matthew Yarnell, president of SEIU Healthcare in Pennsylvania, told reporters last week, saying staffing would rebound if union talks improve workplace conditions.
Lindsey Burns, a Pennsylvania licensed practical nurse in an SEIU bargaining unit, said her facility recently hired two nurses, including one former agency nurse, under their new contract because the benefits and wages were on par with what that nurse could make traveling.
"We could see this pattern everywhere when we make these nursing jobs good union ones with competitive benefits," Burns told reporters last week.
Go deeper: Some states, like California and Oregon, have imposed nursing home staffing requirements, with mixed effects.
The standard in Oregon could mean facilities limit the number of patients they can take, but organizers say it makes conditions better for both residents and staff living and working in the facilities.
"Staffing standards give workers hope that they can do their jobs well, and they have some chance for success because they have enough support on their floor or wing," said Melissa Unger, executive director of SEIU Local 503, which represents about half of nursing home workers in Oregon.
Pennsylvania nursing homes have to comply with new staffing standards starting this month, after the state revised their guidelines for the first time in decades.
The requirements call for one certified nursing assistant per dozen residents on day and evening shifts, and per 20 residents on night shifts. There also must be one licensed practical nurse on staff for every 25 residents during the day, 30 residents in the evening and 40 at night.
But waivers can dilute the effectiveness of standards.
Many California nursing homes have sought waivers from standards that took effect in 2018.
As of April, 323 facilities have cited staffing shortages to ask for waivers from standards which require nursing homes to provide 3.5 direct care service hours per patient day.
While the minimum requirement has established a baseline and likely increased staffing in some facilities, lack of enforcement means "there are a significant number of facilities that are understaffed," Anthony Chicotel, senior staff attorney at the California Advocates for Nursing Home Reform, told Axios.
The other side: The industry maintains it will be unable to meet a national staffing standard and that some facilities will close because of the current labor shortage and lack of government funding.
More than 200,000 workers have left skilled nursing facilities in 2022, per the American Health Care Association.
95% of nursing homes have said it's difficult or somewhat difficult to hire staff, despite many facilities raising wages, a June survey of 400 AHCA members found.
Nursing home leaders, particularly in rural areas, say they cannot hire staff to comply with a staffing standard.
What we're watching: Whether the forthcoming federal standards will include carve-outs for facilities in areas with shortages of workers — and how generous any waivers will be.
Go deeper