NBC News poll: Kamala Harris hits record low for VP net favorability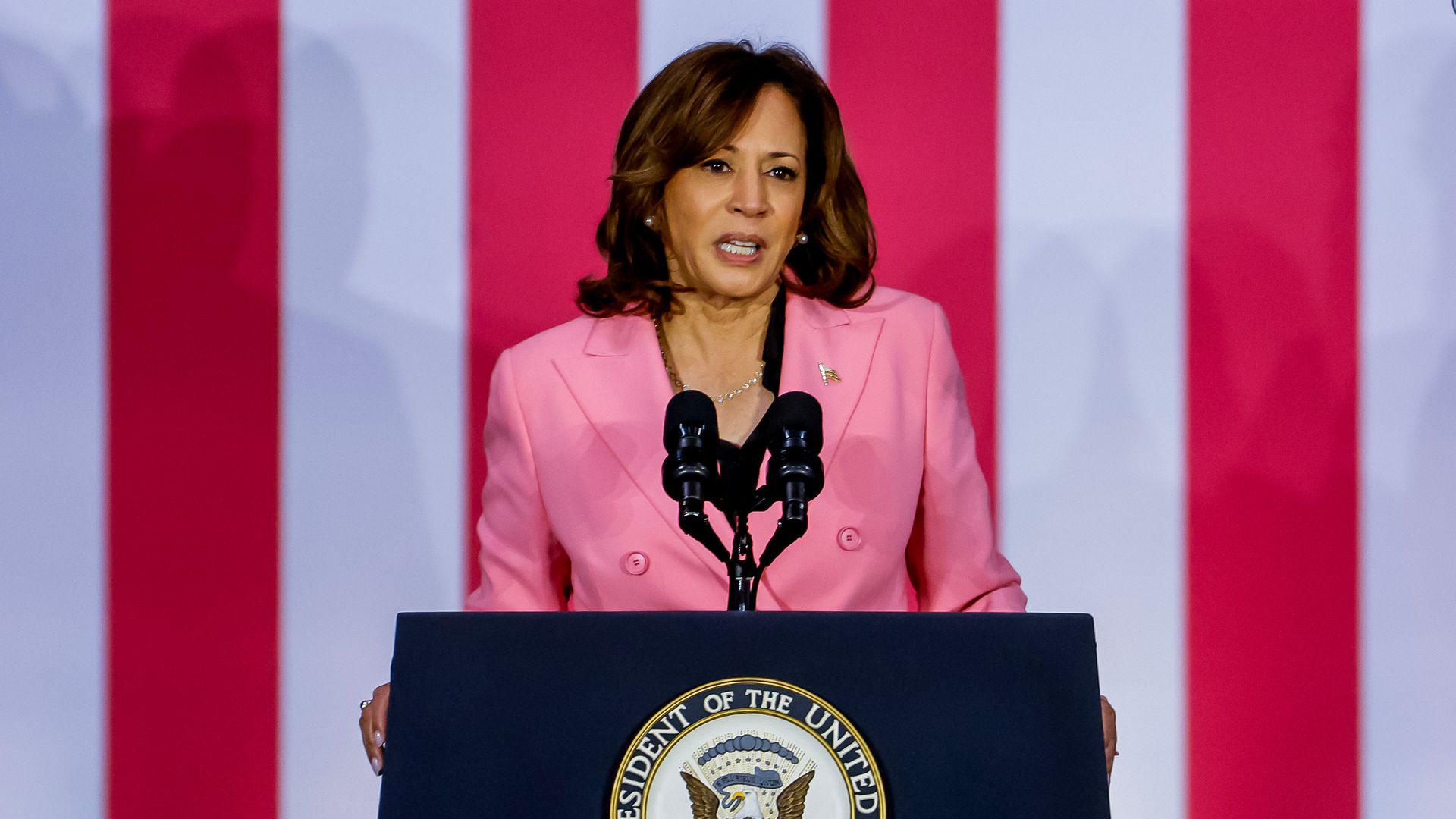 49% of registered voters have a negative view of Vice President Kamala Harris, compared to 32% with a positive view, per a new NBC News poll.
Why it matters: NBC News says Harris' net-negative rating of -17 is the lowest for a vice president in the history of its poll.
Zoom out: In Oct. 2019, 34% had a positive view of then-Vice President Mike Pence, while 38% had a negative view, for a rating of -4, per NBC News.
In Dec. 2010, then-Vice President Biden's rating was +1, with 34% having a positive view and 33% having a negative view.
Former Vice President Dick Cheney's rating was +23 in May 2003, with 47% of registered voters having a positive view of him, compared to 24% having a negative.
In March of 1995, former Vice President Al Gore's rating was +15, with 42% having a positive view and 27% having a negative one.
Between the lines: "[It] shouldn't surprise anyone that there is going to be a different filter and a different focus put on the first woman to ever be Vice President of the United States, particularly a woman of color," Democratic strategist Cornell Belcher told Axios.
Belcher added that attitudes of vice presidents are typically on par with the approval of presidents.
41.9% of Americans approve of the job Biden is doing, while 53.1% disapprove, per FiveThirtyEight.
The big picture: White House officials have been working to repair Harris' public image and shore up her underwhelming poll numbers ahead of 2024, Axios' Alex Thompson previously reported.
White House Chief of Staff Jeff Zients told Axios on Monday that he meets with Harris weekly and touted her policy ideas and leadership.
"If you think about what matters to the American people, it's what the Vice President is actually doing and when the American people see her in action every day … I think the enthusiasm and energy is palpable," Zients said.
"We just need to make sure that we do a good job of exposing" her to the American public, he added.
What's next: Harris is expected to appear more frequently to tout popular Democratic policy issues, such as infrastructure spending and abortion rights, as the election heats up.
Methodology: The NBC News poll was conducted June 16-20 and included 1,000 registered voters — 831 were reached by cellphone — and has a margin of error of ± 3.1 percentage points.
Among the poll's 500 Republican primary voters, the margin of error is ± 4.38 percentage points.
Go deeper: VP Harris quietly convenes abortion allies for 2024
Go deeper