New law protecting pregnant workers set to take effect — and it's a big deal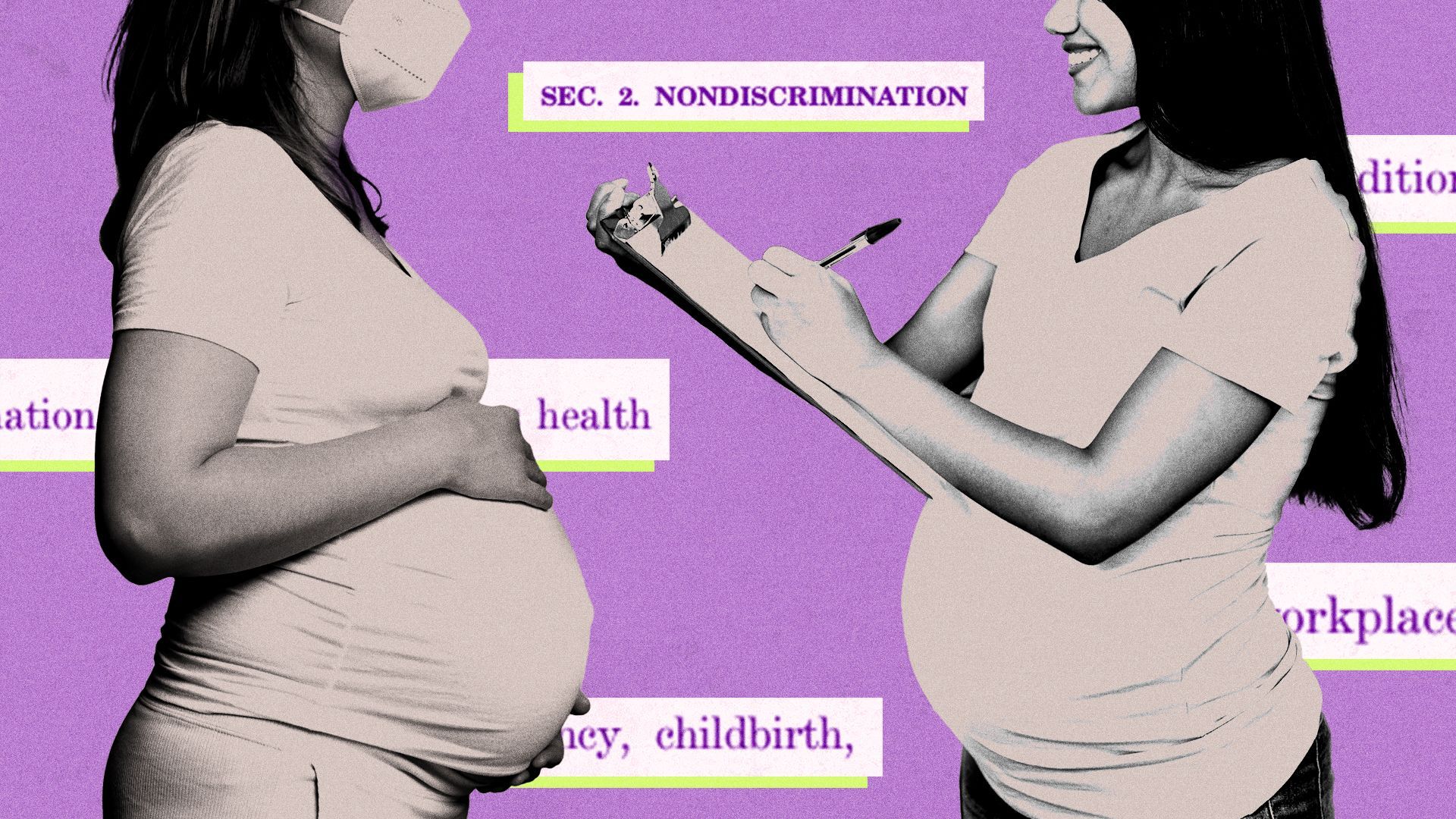 A new federal law protecting the rights of pregnant workers is poised to take effect on June 27.
Why it matters: The Pregnant Workers Fairness Act is a major advancement for the rights of pregnant workers — the first such breakthrough in more than four decades — and has the potential to increase women's labor force participation over the long term.
Context: It's taking effect almost exactly a year after the Supreme Court curtailed the rights of pregnant people with its Dobbs decision.
Details: The law, signed by President Biden at the end of 2022, requires employers with more than 15 employees to provide reasonable accommodations to pregnant workers, as well as those recovering from childbirth and those who need to pump breast milk at work.
For example, a pregnant warehouse worker might need light duty if a doctor has restricted the amount of weight the employee can lift. A retail worker may need extra bathroom breaks or to carry a bottle of water on the store floor; a cashier might ask to sit on a stool while working.
Pregnant workers typically need time off to go to the doctor — or, if they wear uniforms at work, they'll need new clothes.
Employers can claim a "hardship" exemption if they truly can't make anything work.
The backstory: Over the years, women have filed lawsuits over issues like these — often losing to employers because the 1978 Pregnancy Discrimination Act did not explicitly cover accommodations.
Even a Supreme Court decision in 2015, which was initially viewed as a victory for pregnant workers, had little impact.
As a result, pregnant workers — particularly those in low-wage industries who work on their feet — were often forced out of jobs, cutting them off from earning money right before a new baby enters their lives; a time when it's harder to look for new work.
Others wind up sticking it out — ignoring doctor orders — and putting their health at risk with severe consequences.
At a Memphis warehouse, pregnant workers had miscarriages after lifting heavy boxes and being denied breaks, a New York Times report revealed in 2018. Ultimately, the warehouse was closed.
The impact: 2.8 million women a year are pregnant on the job — that's 70% of all pregnant women in the U.S., per an analysis of census data from the National Partnership for Women and Families.
In other words, the new law has the potential to keep millions of women attached to the workforce and comes as the U.S. lags behind other countries in women's labor force participation.
Worth noting: The law may also effectively be a backdoor expansion of maternity leave in the U.S.
That's because workers can request leave to recover from childbirth — even those who don't qualify for the Family and Medical Leave Act (the federal law that guarantees unpaid family leave to certain qualifying workers).
The new law would cover many more workers than the FMLA, which has a 50-worker minimum and other restrictions.
Under the law, workers can also ask for time off to recover from a miscarriage, postpartum depression, mastitis, or other pregnancy-related health issues.
The intrigue: The law could potentially cover the right of a pregnant worker to take time off to access an abortion or other reproductive health care, some advocates for the legislation told Axios.
But because the current legal landscape varies by state, that might be tricky in practice.
Among the groups who pushed for the legislation were those who oppose abortion.
What they're saying: Advocates for pregnant workers are celebrating.
"This is really a groundbreaking moment, especially for workers in low-wage industries in physically demanding jobs in male-dominated workplaces where we have seen really egregious pregnancy discrimination," said Sarah Brafman, national policy director at A Better Balance, which led the effort to get the law passed.
"Literally millions of people every year are going to be able to have healthy pregnancies and keep earning a paycheck," said Gillian Thomas, a senior staff attorney at the ACLU who's worked on pregnancy discrimination cases.
Go deeper: Listen to the Axios Today podcast, where host Niala Boodhoo and Emily Peck share other things pregnant workers struggle with in the workplace that prompted the legislation.
Go deeper