Middle schoolers' reading and math scores plummet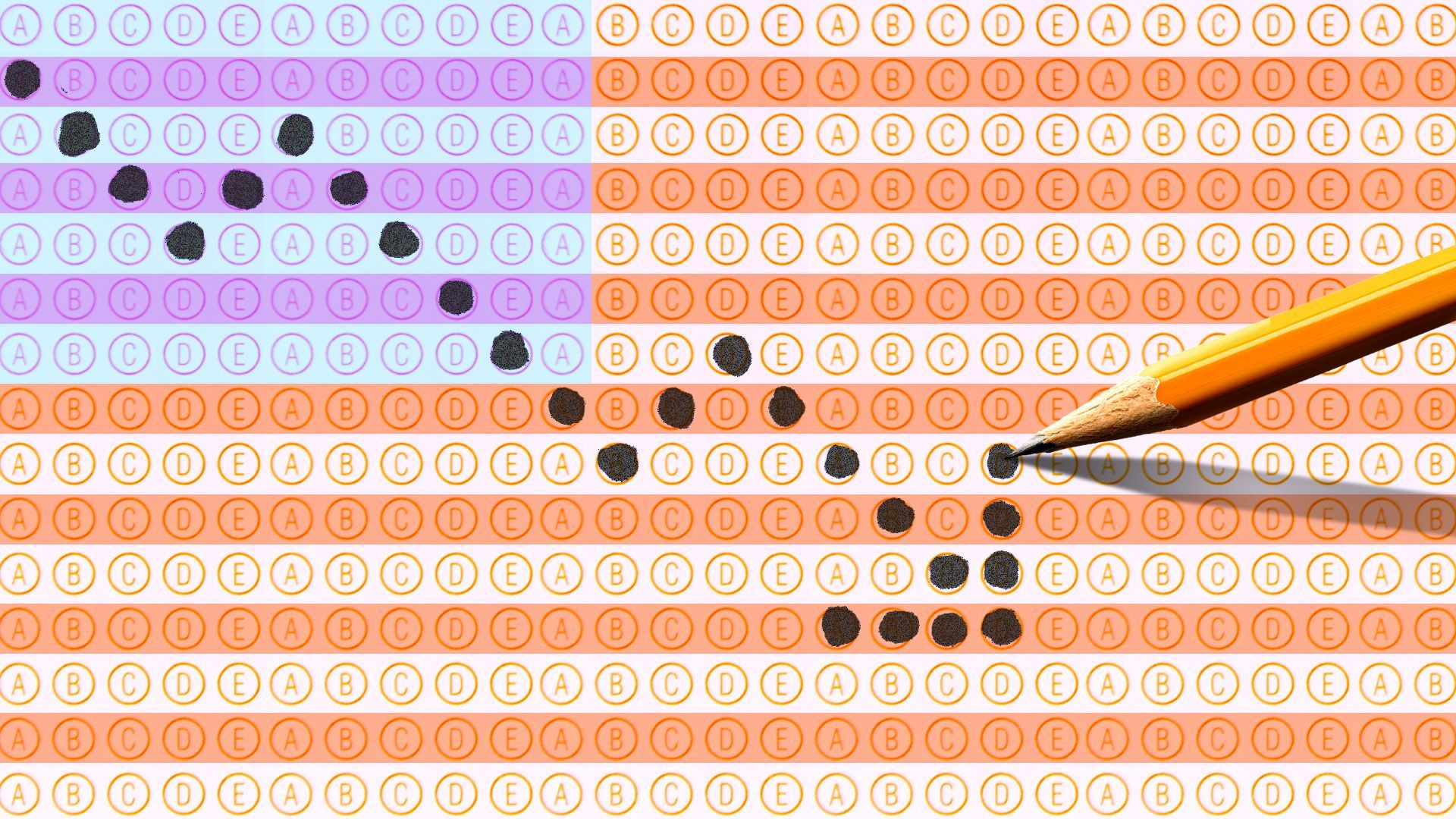 American students' test scores in math and reading got significantly worse last year — continuing a decade-long freefall.
Driving the news: The decline in math scores last year was the biggest in the past 50 years, according to newly released federal data.
Details: The findings come from a test known as "The Nation's Report Card" — a continuous, national assessment of 13-year-old students. Results were distributed by the National Center for Education Statistics, a branch of the Education Department.
By the numbers: Math and reading scores began declining in 2012, and average scores are now lower than they were before the pandemic.
The average math score for 13 year olds declined 9 points between the 2019-20 and 2022-23 school years.
The average reading score for 13 year olds declined 4 points between the 2019-20 and 2022-23 school years.
About 8,700 students took the assessments at about 460 schools across the country.
The lowest-performing students scored at levels last recorded in the 1970s, when the assessment began.
Scores declined among all racial and ethnic groups, and among both male and female students, and across urban, suburban and rural areas.
Enrollment in algebra dropped from 34% of 13 year olds in 2012 to 24% in 2023.
And fewer students said they frequently read for fun, which is associated with higher achievement.
What they're saying: Post-pandemic academic recovery should be addressed holistically, including students' mental health, basic skills and teacher absenteeism, said Peggy Carr, the associate commissioner for assessment for the National Center for Education Statistics.
"Students' basic skills were disrupted in a way that we would not have thought before," Carr said. "These data are clear on that point."
What we're watching: Test results from earlier this year showed that U.S. history scores among middle schoolers are also falling — dropping to the lowest levels ever recorded since the assessment began in 1994.
Reading and math scores of elementary school students also plummeted, demonstrating the far-reaching effects of education changes during the pandemic.
"The educational opportunities we give today's students are crucial for their individual and collective success," said Lesley Muldoon, the executive director of the National Assessment Governing Board. "Leaders from federal, state and community levels must act with urgency and prepare students to pursue their educational, career and life goals."
Go deeper