America's housing shortage is keeping home prices high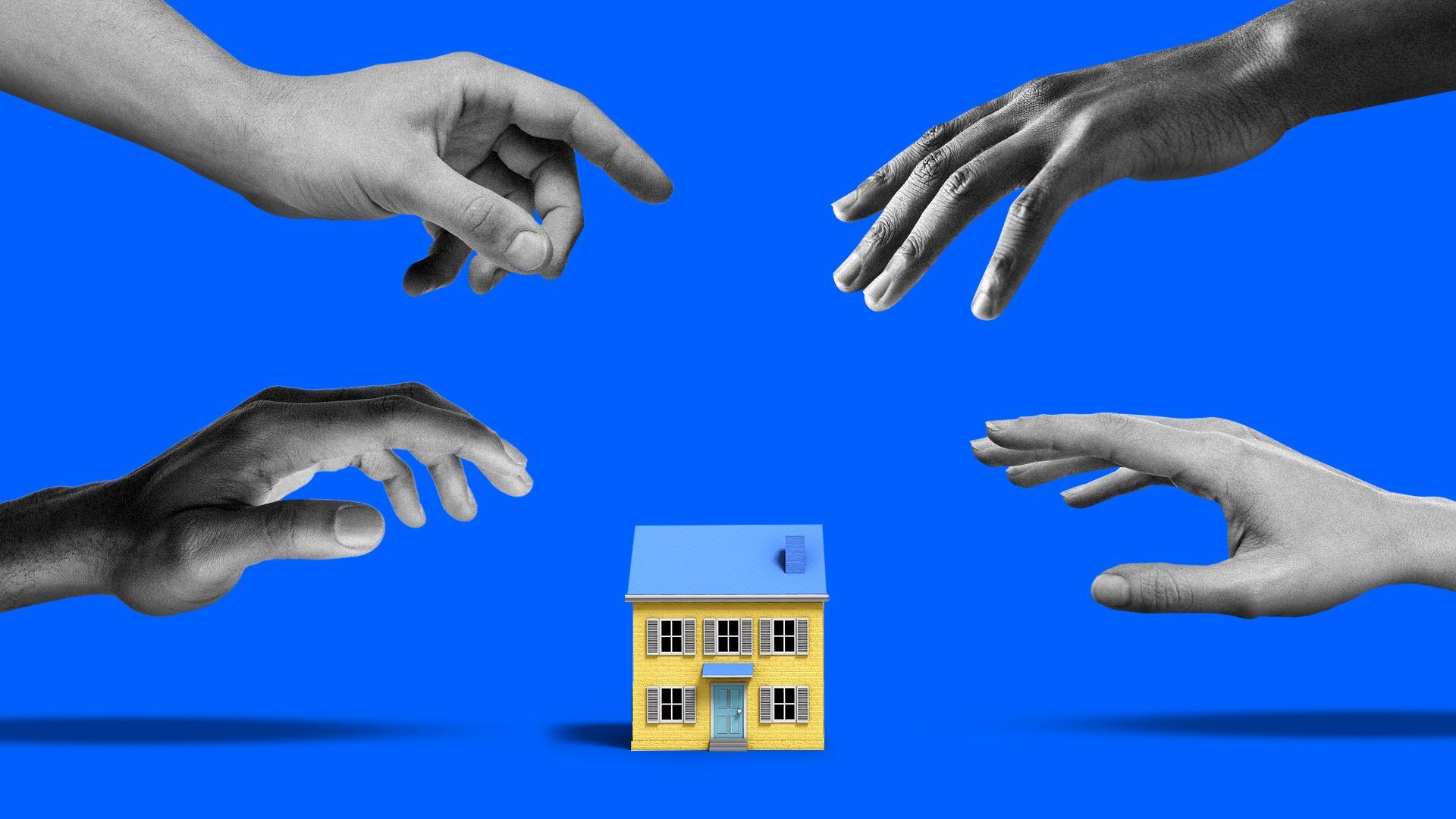 There aren't enough homes in the U.S. That's one big reason house prices have barely fallen since the Fed's rate hikes sent mortgage costs soaring.
Why it matters: Except for the very wealthy who can afford to buy whatever they want, the housing shortage touches almost every aspect of Americans' lives and livelihoods and hits the overall economy, too.
The lack of affordable housing means some are shut out from that first rung on the ladder to building wealth, while for others the more immediate threat of homelessness is never too far off.
By the numbers: Estimates on the exact size of the country's housing deficit vary but they're all in the millions.
According to the most recent estimates from Freddie Mac, the country is short about 3.8 million units of housing, both for-rent and for-sale — meaning there aren't enough homes to keep up with the number of new households that are forming.
A few reasons for the shortage: A lack of available labor to build homes, as well as regulations over land use and zoning.
NIMBYism: The pushback that new construction gets in the nation's suburbs and cities, Freddie Mac explains.
Also, homebuilding activity cratered after the Great Recession, and never totally recovered (see the chart below).
The big picture: The median home price, at $419,103, is now 40% higher than it was in January 2020, before the pandemic-driven run-up (though it's inched down 3.1% over the most recent year), per Redfin.
Between the lines: Some believed higher mortgage rates would push prices down much more, making homes more affordable, said Daryl Fairweather, chief economist at Redfin.
The rationale was that the economy would slow, as a result of the Fed's rate-hiking campaign, and folks would lose jobs or their incomes would fall and they'd have to sell.
"That just hasn't happened," she said.
That's because the economy has remained surprisingly strong, so most homeowners don't have any financial reason to sell.
There's also the golden handcuffs: Most mortgage holders stay put, hanging on to their record-low rates.
Plus, so many people moved during the pandemic-era boom — 60% of mortgage holders bought their homes or refinanced their mortgage in the last four years, per Redfin — that fewer people want to move now.
The impact: That all translates into low inventory on the market — there are 39% fewer homes for sale now than five years ago, Redfin reported last week.
That's a major factor in keeping prices from falling much.
It could be worse: House prices would probably have increased by at least 15% over the past year had the Fed not raised rates, Fairweather said.
For example: A lot of first-time buyers were initially scared off when mortgage rates first started rising last year, said David Ostrowsky, a senior loan officer at CrossCountry Mortgage in the New York City metro area. Now, he's seeing them come back and try to buy.
"A certain mindset has shifted," he said, they're no longer "fixated" on interest rates, and are now trying to focus on their future overall monthly payments.
And they're getting caught up in bidding wars for homes, he said.
"Buyers are not scared away by interest rates, especially first-time homebuyers. They are handcuffed by a lack of inventory."
Editor's note: This story has been updated to reflect that Redfin has corrected an earlier statement to note that 60% of mortgage holders have either refinanced their loan or lived in their home for four years or less (not that they have lived in their homes for less than four years).
Go deeper