A manufacturing investment supercycle is starting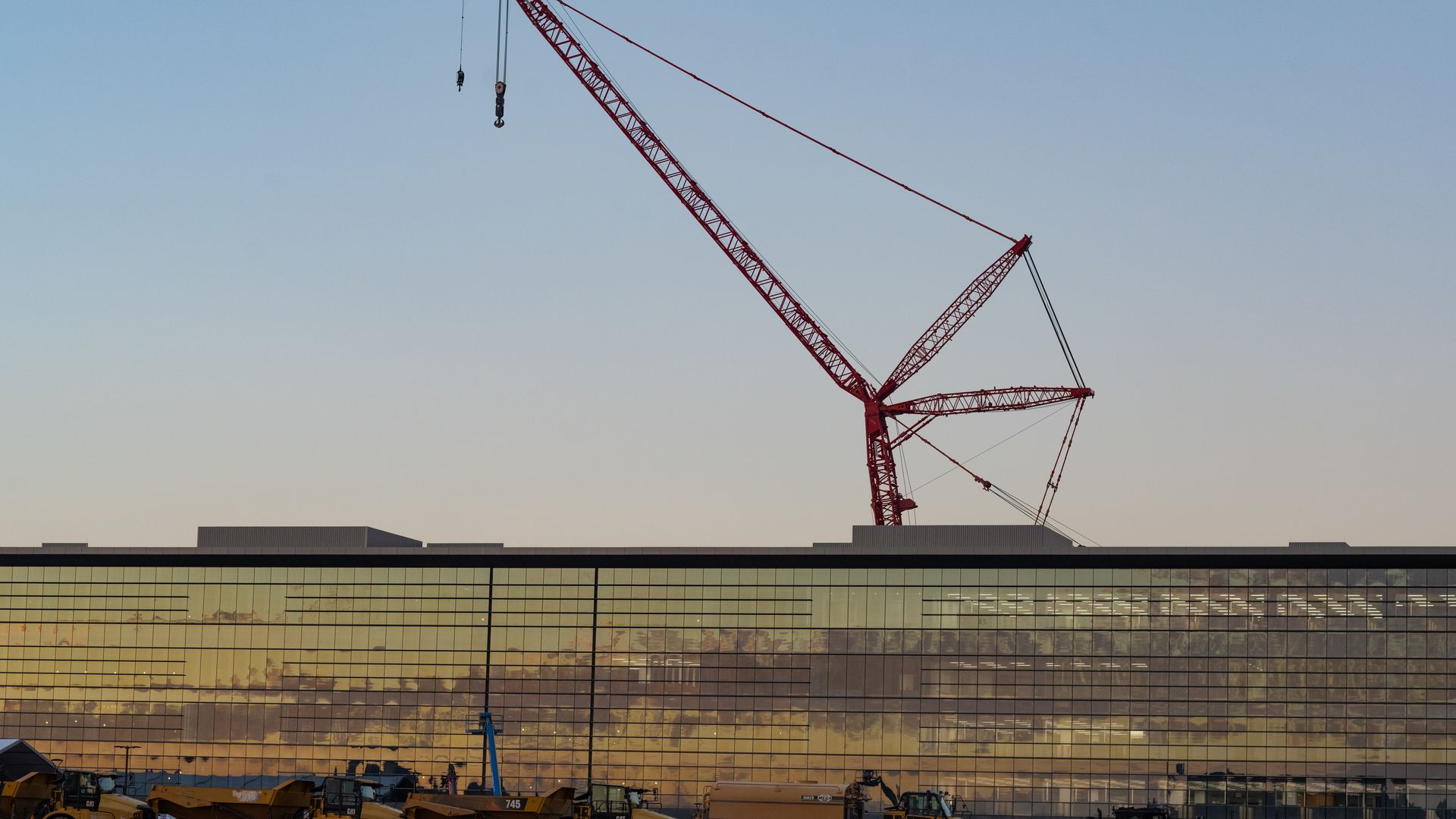 It's easy to get so caught up in month-to-month economic data that you miss a longer-term trend emerging before your eyes.
Here's one: There is massive new investment taking place in U.S. heavy industry that's set to shape the economic landscape for years to come.
Why it matters: The 2010s were a period of chronic underinvestment. By contrast, now there are billions flooding into large, expensive megaprojects to manufacture batteries, solar cells, semiconductors and much more.
It is fueled by hundreds of billions of dollars allocated by the Biden administration's signature legislation — the Inflation Reduction Act, Bipartisan Infrastucture Law, and CHIPS and Science Act — as well as pent-up demand.
It implies sustained upward pressure on demand for workers and raw materials for years to come, and makes a recession less likely by creating a floor of activity under normally volatile industries.
What they're saying: "We believe the U.S. is in the early stages of a manufacturing supercycle," wrote Joseph P. Quinlan, head of CIO Market Strategy at Merrill and Bank of America Private Bank, in a report this week.
He emphasizes the role of foreign direct investment in the surge, as global companies rush to build large-scale facilities in the United States. He sees the trend extending well into the second half of the 2020s.
"It's really gotten the attention of the world," Quinlan tells Axios. "When you talk to companies in South Korea, Japan, Europe, all they want to talk about is building out a presence in the U.S."
By the numbers: As of April, spending on manufacturing construction — new factories — is tracking at a $189 billion annual rate, triple the average rate in the 2010s ($63 billion).
That helps explain some of the underlying strength in the U.S. economy even amid elevated recession fears. For example, the construction sector has added 192,000 jobs over the last year, despite higher rates hammering the housing sector.
Between the lines: The types of investment taking place in this boom tend to involve much larger capital outlays than were seen in the 2010s. For example, two European companies announced this month they will invest $2 billion in Texas for a plant to make synthetic natural gas.
Higher rates of private investment, combined with large U.S. budget deficits, could keep interest rates higher than was the pre-pandemic norm.
Moreover, these industrial facilities tend to create high-wage jobs, which could put sustained upward pressure on wages across the economy. That's good for workers, less good for the inflation outlook.
The bottom line: Understanding how this manufacturing boom plays out —how big and how long-lasting it turns out to be — will be crucial for understanding the macroeconomy of the remainder of the 2020s.
Go deeper