America's most powerful get a close-up of climate change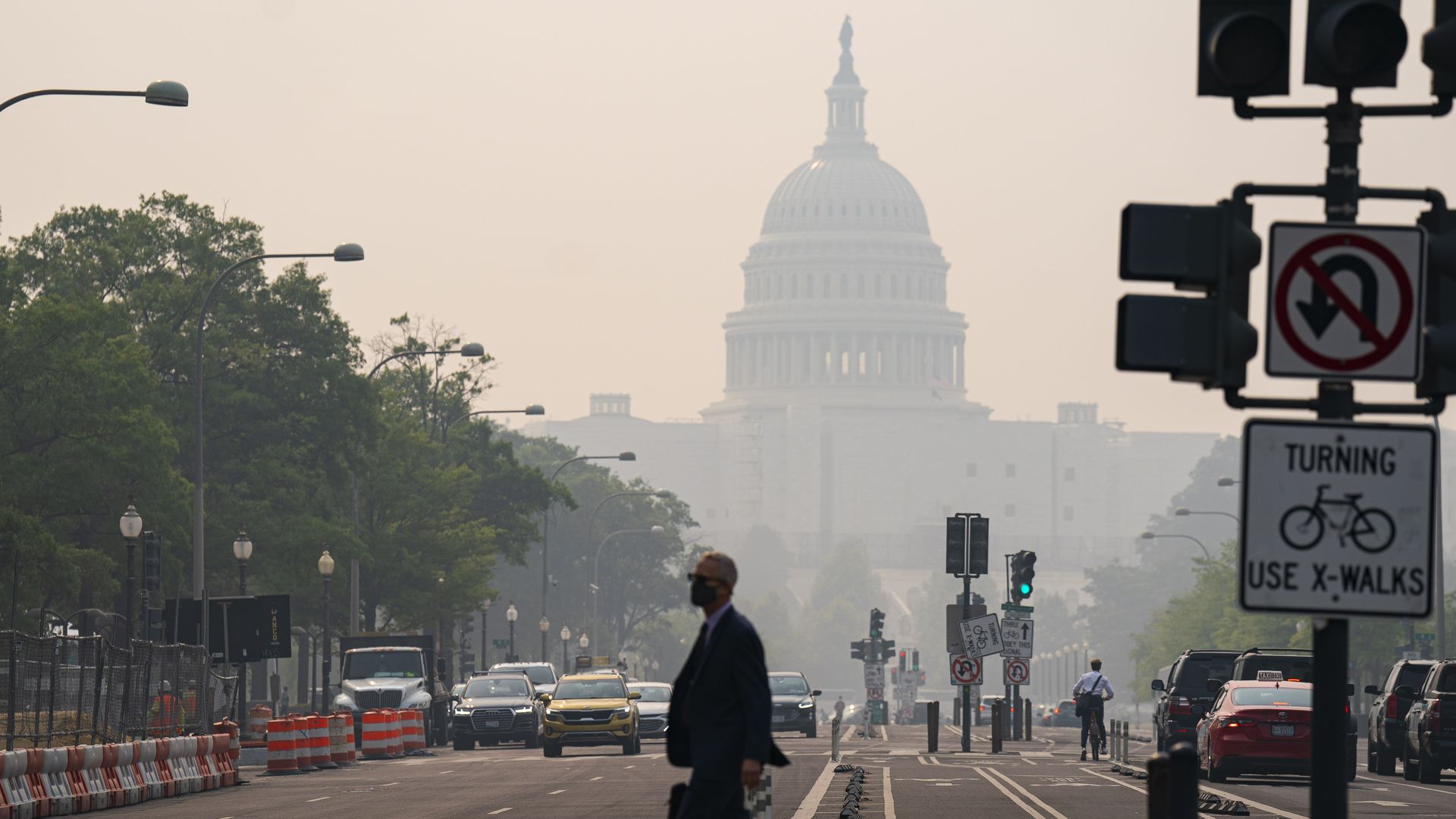 The harmful veil of smoke that enveloped the country's economic and political power centers this week presented bankers and lawmakers with an in-your-face demonstration of what climate change looks, feels and smells like.
Why it matters: The shadowy pall of smoke, which turned the skyline of Manhattan an eerie orange and shrouded D.C. landmarks in smoke, was impossible not to notice.
It was the first climate change-linked extreme weather event to hit New York and Washington at the same time, and grab international headlines, since 2012's Hurricane Sandy.
Zoom in: This was the worst wildfire-related smoke crisis in the U.S. since at least 2006.
As of Friday, there were 427 wildfires burning across Canada, including more than 100 in Quebec alone.
The wildfire season in Canada is on track to be its worst on record; in addition to causing air quality problems, the wildfires are emitting record-shattering amounts of carbon that further warm the planet.
The big picture: Climate studies show clear ties between climate change and larger, more frequent wildfires, since heat waves and drought help to fuel these blazes and are exacerbated by higher temperatures.
"They have a human component," Stanford University climate researcher Marshall Burke, told Axios in an interview. "We should not think of these as a random occurrence."
Context: The partisan split on climate change has long been a feature of this issue in the U.S.
In recent years, parts of the GOP's conservative base and some Republican lawmakers in both chambers have shifted their stance from outright rejecting climate science findings, to arguing against the problem's urgency and severity.
For example, former vice president Mike Pence, now seeking the Republican presidential nomination, acknowledged the problem at a CNN Town Hall on Wednesday.
"Let me just say that clearly the climate is changing," Pence said when asked if climate issues would be a top priority for him should he become president. He said the climate is not warming "as dramatically as the radical environmentalists like to present, but there's change."
Another presidential candidate, Sen. Tim Scott (R-S.C.), has also staked out a middle ground on climate, per Axios' Nick Sobczyk.
Between the lines: Polling has consistently shown that Republicans are more skeptical of climate science findings than Democrats, including the conclusion that modern-day climate change is due to human activities.
While recent Ipsos polling shows that about half of Americans believe climate change is mostly caused by humans, far more Republicans believe natural patterns are the biggest factor compared to Democrats.
Other new polling out this week from Yale University's Program on Climate Change Communication shows that 65% of Americans surveyed think climate change is affecting weather in the U.S.
Reality check: It's unlikely that any extreme weather event, not even one that is as in your face as this one, will help push legislation through on Capitol Hill.
On the left, some Democrats used the smoke to intensify calls for President Biden to declare a climate emergency.
And on the right, several senators who spoke with Axios attributed the smoke to naturally driven wildfires.
When asked whether the wildfires would alter any views on climate change, "It's totally unrelated. It's smoke from a forest fire that's, by the way, a natural forest fire," said Oklahoma Republican Sen. Markwayne Mullin.
What they're saying: Republican Sen. Shelley Moore Capito of West Virginia said the fires are not likely to change any minds on climate change, but that some Republicans may be thinking of them as an environmental issue.
"I don't think this would change anybody's mind," she said.
"I don't want to infer that, as Republicans, nobody's thinking about the changing environment. I mean, I don't think that's a fair statement," she said.
Hans Nichols contributed reporting.
Go deeper