Race to become NATO's next leader heats up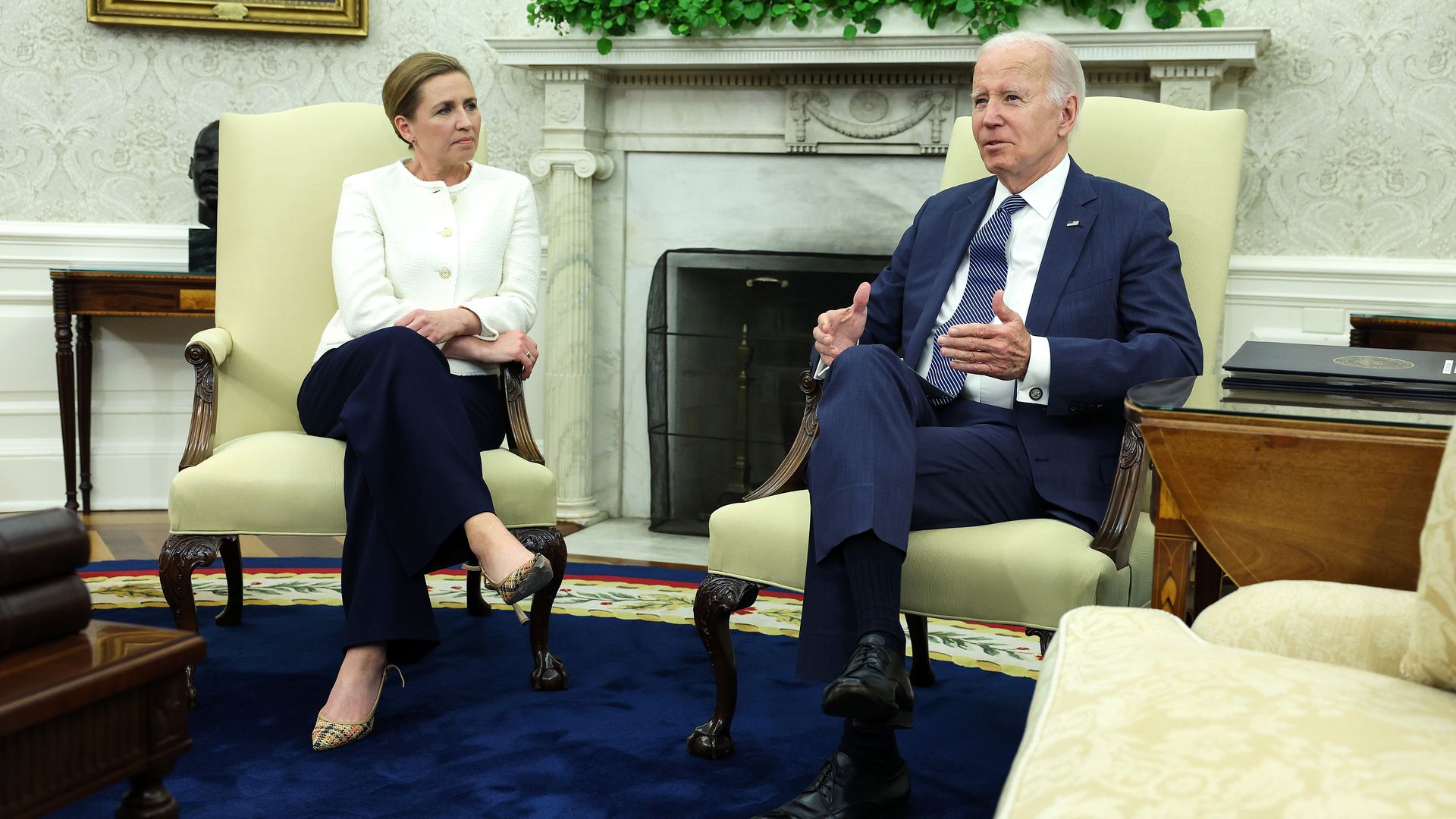 The jockeying between candidates and countries over who'll be announced next month as NATO's next secretary-general appears to have reached the Oval Office.
Driving the news: Danish Prime Minister Mette Frederiksen, widely seen as a front-runner for the role, visited on Monday. U.K. Prime Minister Rishi Sunak then visited on Thursday and made little secret of the fact that he was lobbying for his defense secretary, Ben Wallace.
The big picture: Secretary-General Jens Stoltenberg's tenure has already been extended three times since the former Norwegian prime minister took the job in 2014.
He has a job waiting at the helm of Norway's central bank and says he won't stay on after his current mandate ends in October.
Some of the potential top contenders, such as Netherlands Prime Minister Mark Rutte and European Commission President Ursula von der Leyen, have said they aren't interested.
Frederiksen would be the first female secretary-general and is seen as a potential consensus choice, though she insists she's "not a candidate."
What they're saying: A U.K. official told reporters ahead of Sunak's visit that the prime minister feels it's important that Stoltenberg's replacement "understands the importance of defense spending at a critical time."
That's an allusion to the fact that Denmark's spending has been well short of NATO's target of 2% of GDP on Frederiksen's watch, though it is now increasing.
Geography could be another factor counting against Frederiksen. She would be the third straight Nordic secretary-general, and some in the alliance want to look to eastern or southern Europe this time around.
Estonian Prime Minister Kaja Kallas could satisfy those looking for a woman and an eastern European, but her hawkishness toward Russia might make some allies uncomfortable.
Biden was asked about Wallace's candidacy during a press conference alongside Sunak on Thursday, and called him "very qualified" but said NATO would pick the next leader collectively.
Still, the U.S. will play a key role in the selection process, and Biden has indicated he wants a president or prime minister, not a cabinet minister, says Ivo Daalder, who served as former President Obama's ambassador to NATO.
"I can't see the French supporting a Brit," Daalder adds.
Frederiksen hasn't drawn any opposition from Paris or Berlin, and Biden praised her during the visit for "standing up" for Ukraine.
Yes, but: There are rumblings in the alliance that Turkey may oppose Frederiksen, Daalder says.
With Ankara moving toward lifting its objections over Swedish accession, there will be little appetite in the alliance for picking a fight over the leadership issue, he says.
Turkey's embassy in Washington did not respond to a request for comment.
What to watch: "Don't be surprised if Stoltenberg is asked to stay on for one more year," Daalder says.
Go deeper