Record-breaking wildfire-related smoke event affects at least 61.8 million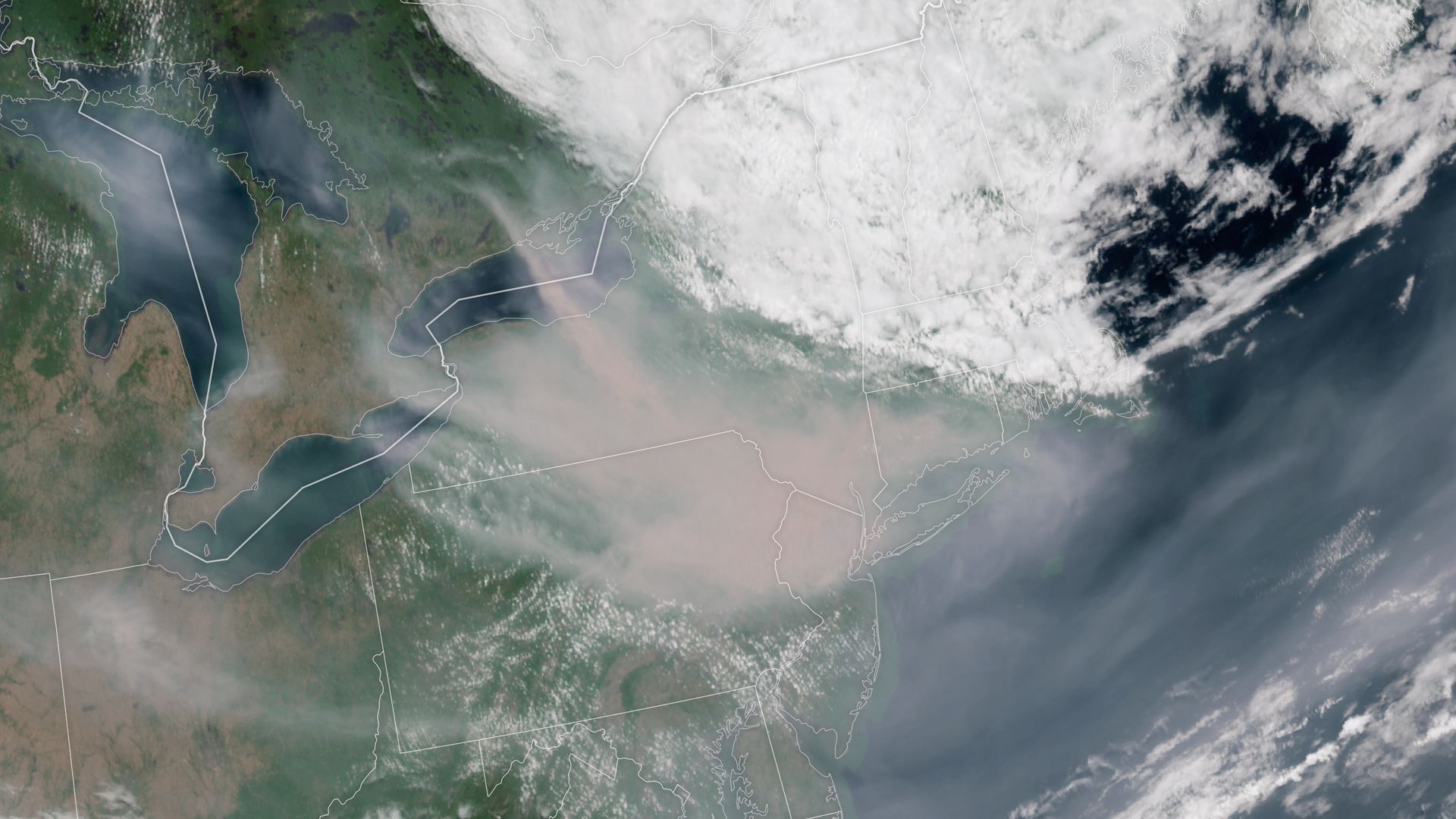 The scope and severity of the Canadian wildfire-induced smoke event that has enveloped the New York to Washington corridor is astonishing even sober-minded meteorologists and climate scientists.
The big picture: Poor air quality records have been shattered in multiple cities and states, including the nation's capital, which saw its first-ever "Code Purple" day for fine particulate pollution on Thursday.
Nationally, Wednesday was the worst wildfire-related smoke event in the U.S. since at least 2006, when such data began, per calculations from Stanford climate researcher Marshall Burke and colleagues.
According to Burke's calculations, 61.8 million people in some of America's most populated cities were exposed to more than 50 micrograms per cubic meter of air, which is considered a high level.
This is about twice the number that were exposed to smoke-related fine particulate matter on Sept. 13, 2020, which ranks second on the list.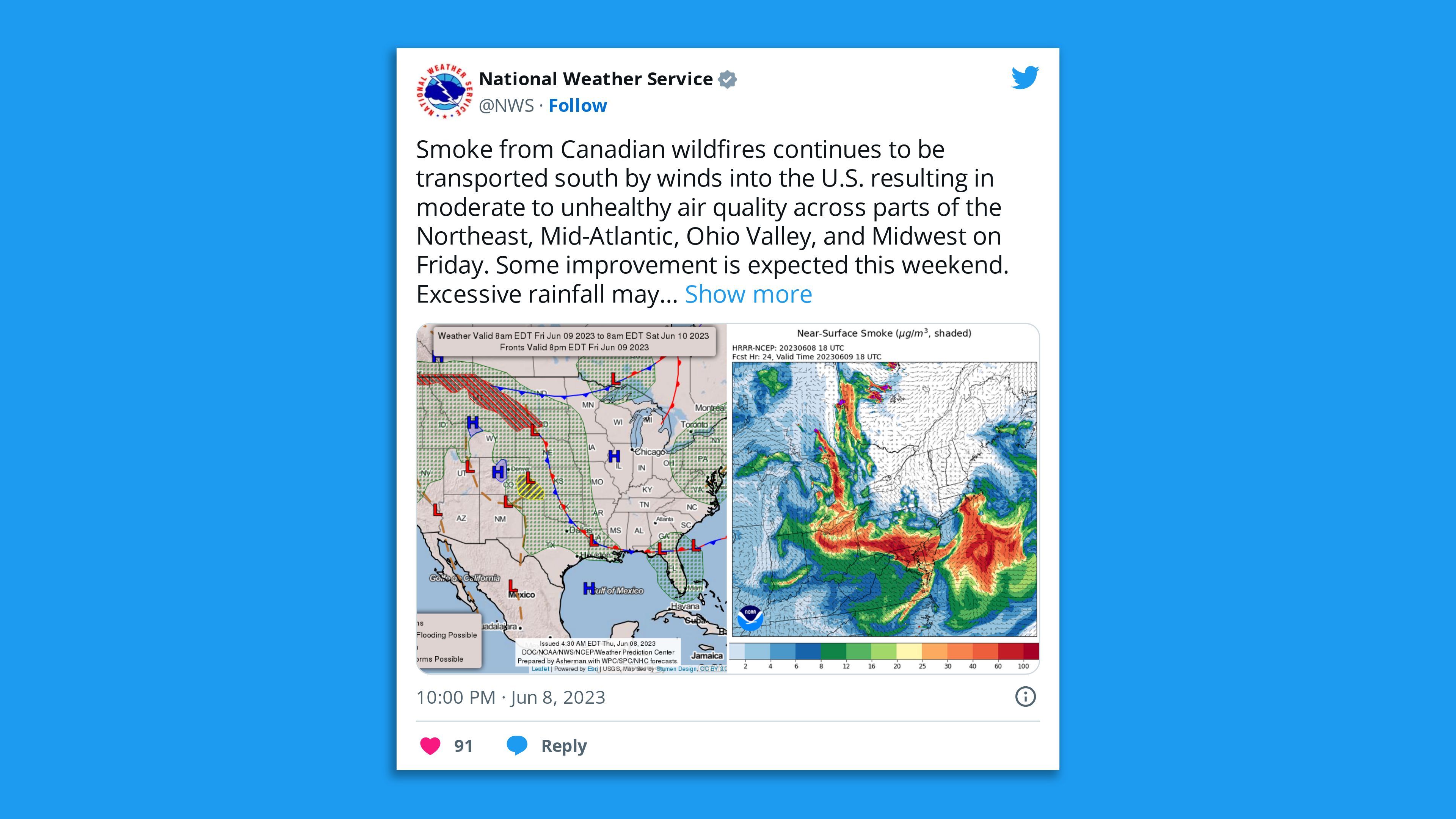 Zoom in: Record poor air quality indices (AQI) were set for numerous locations along I-95, including New York City, which had its worst readings since EPA AQI data began in 1999.
New York's air quality readings, which were close to the AQI scale's maximum level of 500, qualified as the worst reading for any city worldwide for a time on Wednesday.
Fine particulate matter, especially PM2.5, which are particles smaller than the width of a human hair, are dangerous to human health since they can enter the lungs and bloodstream. There, they can cause respiratory and heart disease and aggravate existing conditions.
Between the lines: The smoke comes courtesy of hundreds of wildfires burning across Canada amid record heat and dry conditions there.
The weather pattern across Canada has featured a persistent and unusually strong heat dome that has led to record high temperatures, particularly in western and northwestern provinces, where some of the largest fires have occurred.
By increasing average temperatures and making conditions drier than they otherwise would be, climate change is worsening the wildfires.
Already, Canada has reached its typical annual acreage burned, with the heart of fire season still to come.
By the numbers: So far, at least 9,146,531 acres have burned so far compared to 625,579 acres by this point in an average season, per the Canadian Interagency Forest Fire Center.
The fires most directly linked to this round of severe smoke intrusion into the U.S. are burning in Quebec, and the U.S. has sent 600 firefighters to Canada to help contain them.
A similar situation with smoke infiltration into the U.S. due to wildfires in Quebec occurred in 2002, but this event has surpassed it in scope and severity.
Of note: The air pollution may be getting attention for being so far outside the normal range in the U.S., but globally this is a far more common occurrence.
Air pollution causes about 6.7 million deaths annually worldwide, per the World Health Organization. Air quality indices similar to New York and D.C.'s this week are common occurrences in parts of India, Pakistan and parts of Africa, among other regions.
Editor's note: This story has been updated with additional developments.
Go deeper