Scoop: How Sen. Bob Menendez is stopping a Biden border plan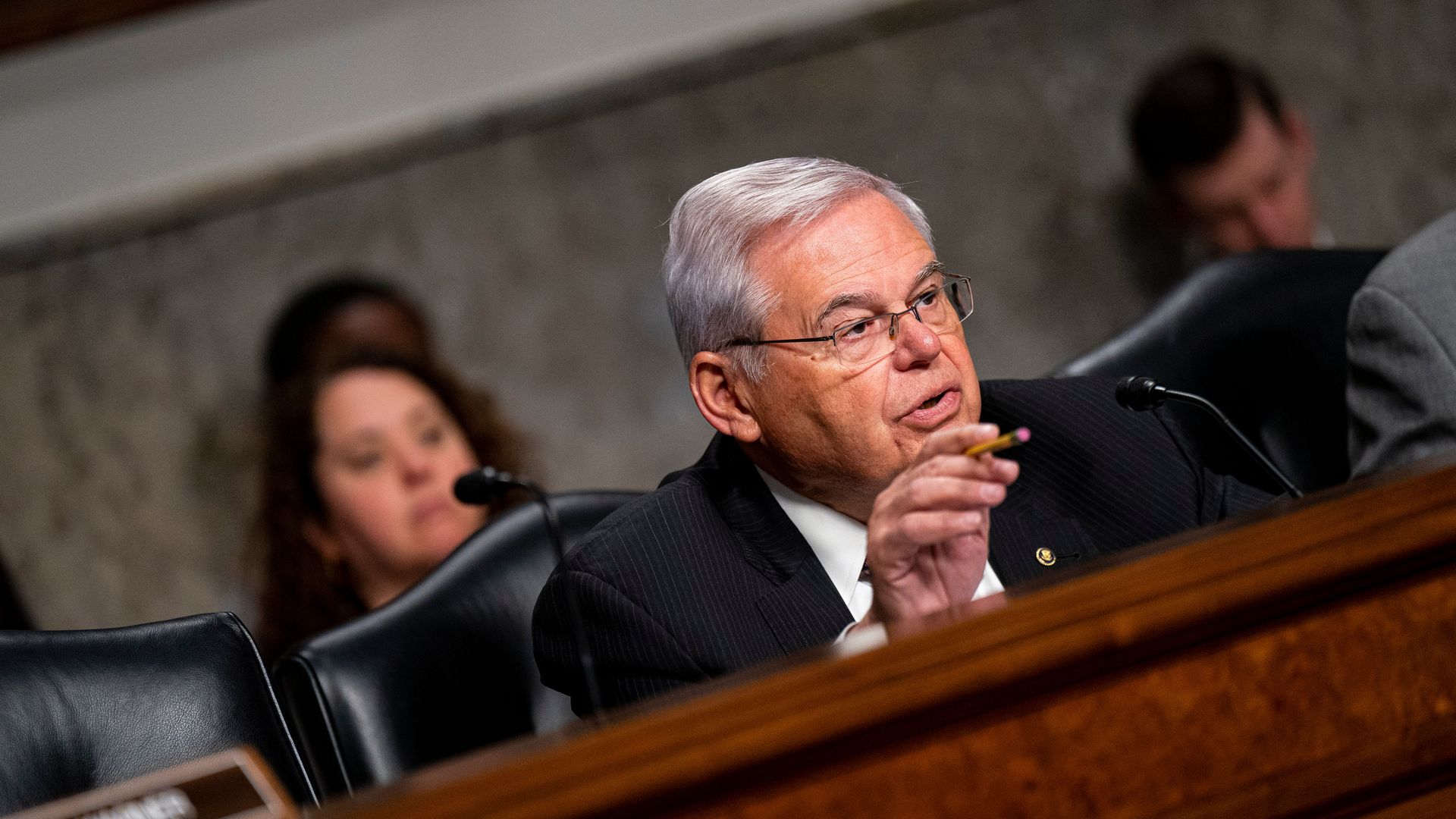 Sen. Bob Menendez (D-N.J.) is preventing the Biden administration from ramping up deportations of migrants from Venezuela back to their home country before they reach the U.S., Axios has learned.
Why it matters: It's an example of how politically sensitive immigration policy can be. President Biden is being boxed in by a senator from his own party who has blasted the administration's strict approach to migration at the southwest border.
How we got here: For months, top Biden officials have trying to find a way to pay Guatemala to help its government deport more Venezuelans before they migrate into Mexico or the U.S., according to three sources familiar with the discussions.
Frosty diplomatic relations with Venezuela have made it nearly impossible for the U.S. to deport Venezuelan migrants on its own.
As with most changes to how federal dollars are spent, the plan relies on congressional approval.
Menendez, who chairs the powerful Senate Foreign Relations Committee, refuses to green light the idea.
Using foreign assistance to support another country's deportations would be unprecedented, a Senate source with knowledge of the situation told Axios. Menendez opposed a similar proposal formally brought by the Trump administration in 2018.
The New Jersey senator has been one of the loudest voices on the left criticizing some of Biden's more restrictive border and immigration policies.
By the numbers: Venezuelan migration at the U.S.-Mexico border has surged under Biden.
Venezuelans have a relatively high likelihood of being granted asylum in the U.S. compared with other nationalities, but their large numbers sometimes have overwhelmed border resources.
There are also few options for the U.S. if migrants from places such as Venezuela, Cuba and Nicaragua do not meet the standards for asylum, because deportations from the U.S. back to those countries can be difficult.
The challenge led Biden's administration to roll out new processes for legal entry, and to strike a deal to allow the deportation of migrants from Cuba, Haiti, Nicaragua and Venezuela to Mexico.
It also has led the U.S. to ask other countries along the migrants' route to the U.S., such as Guatemala, to do more to slow migration.
Between the lines: Menendez has been especially critical of a new rule that refuses asylum to migrants who enter the U.S. illegally without first seeking protection in a country they traveled through to get to the United States.
"I am afraid that the president will become the asylum denier-in-chief," Menendez said on NBC in March, after reports the administration was considering restarting migrant family detentions.
"[S]ending the military to the border caters to the Republican Party's xenophobic attacks on our asylum system," he said in a statement after Biden sent U.S. troops to the border as a strict pandemic-era policy on immigration was ending in May.
What they're saying: "[W]e believe all countries must do their part to quickly screen individuals and conduct repatriations for those who do not have a legal basis to remain in their country," a spokesperson for the National Security Council told Axios.
"In line with our strategy to engage diplomatically and collaboratively manage our regional migration challenge, we have been and will continue to look for ways to support our partners in this work."
Go deeper