Scoop: Zients calls for any Cabinet resignations ASAP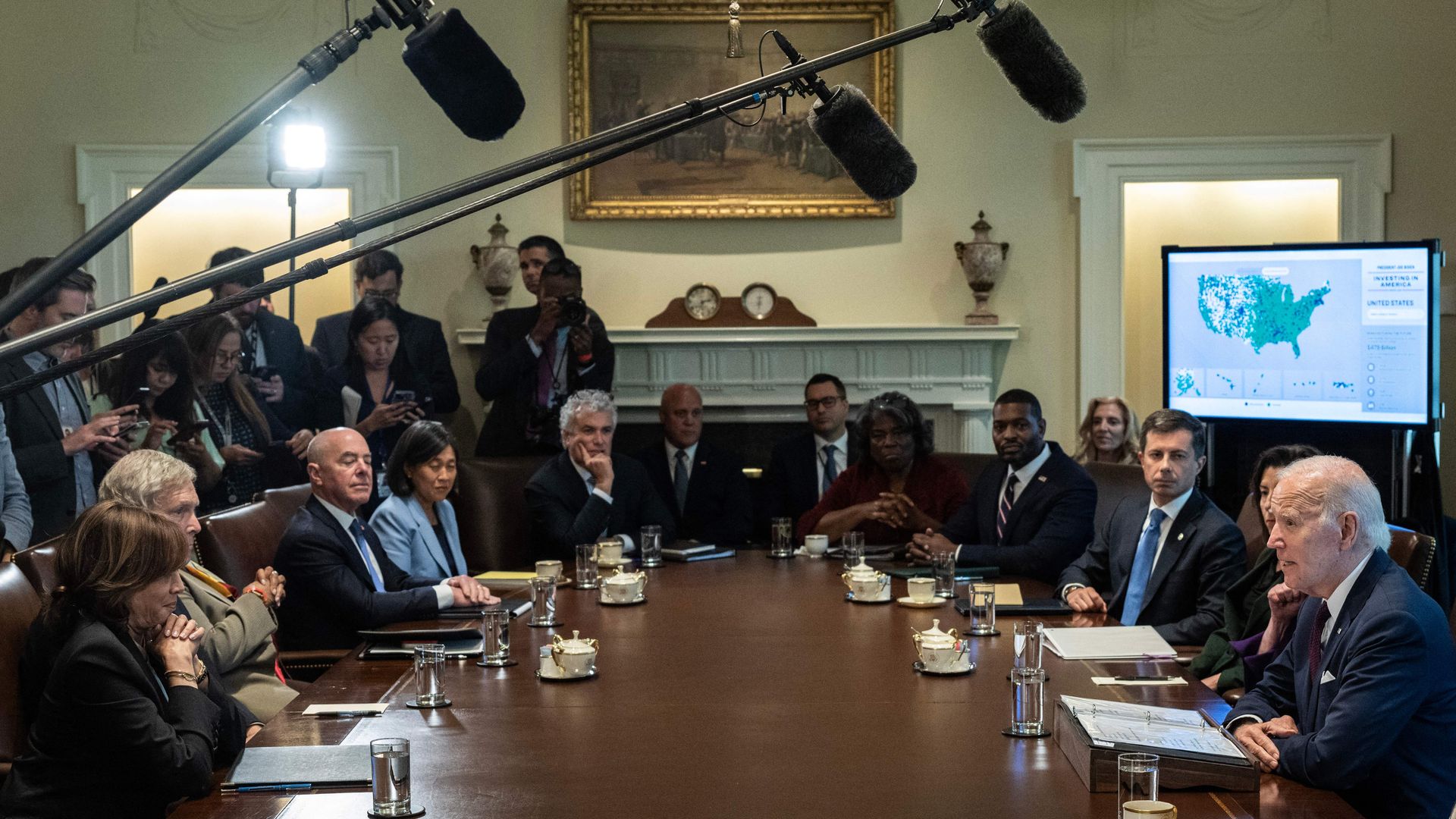 White House Chief of Staff Jeff Zients has been quietly calling members of President Biden's Cabinet to deliver a subtle message: If you plan to leave, please do so in the next few months.
Why it matters: Biden's Cabinet will play a key role in his re-election campaign, as he contrasts his accomplishments with what's likely to be a nasty fight among GOP contenders. Republicans will be eager to tweak the White House, so Biden's team wants to avoid any confirmation battles in an election year.
For now, Zients wants to be able to move quickly if any Cabinet replacements are needed. He also wants to let them know they're valued.
Republicans are looking for ways to draw attention to what they view as Biden's biggest policy failures. A Senate confirmation fight over a Cabinet post would give them that chance — and could force vulnerable Senate Democrats to take a potentially difficult vote.
A White House spokesperson declined to comment on Zients' calls.
Between the lines: As the White House has learned this year, getting nominees confirmed by the divided Senate — where four Democrats could be facing tough re-election campaigns races next year — is far from guaranteed.
The big picture: Biden plans to run for re-election by trying to skate above the partisan — and petty — skirmishes that often define Washington.
The goal is to cast the president as a statesman, bathe him in the dappled light of the Rose Garden, and frame him in TV shots with world leaders on the international stage.
Biden's team is convinced it can get more reach from local media when they cover either the president or a Cabinet official who's in town. They plan to have Cabinet officials hit the road to sell the infrastructure, clean energy and semiconductor bills Biden signed into law last year.
Driving the news: Biden convened his Cabinet on Tuesday, and touted May's blockbuster jobs numbers and a new website that maps infrastructure projects across the country.
"I'm here with my Cabinet, continuing to focus on getting the job done for the American people," he said.
Flashback: Zients' status checks with Cabinet members, conducted over the last few weeks, are similar to those he did before the midterm elections last fall.
Democrats' strong showing in the midterms helped lead to fewer departures than some had expected.
Zoom out: Biden's Cabinet has been remarkably stable, with just four exits — Eric Lander, who was director of the Office of Science and Technology Policy; Ron Klain, Biden's first chief of staff; Marty Walsh, his first labor secretary, and Cecilia Rouse, who was chair of the Council of Economic Advisers.
Zoom in: There's no clear statutory definition of the Cabinet, and presidents configure theirs however they like.
Biden's has 25 members and all but two — the vice president and the White House chief of staff — require Senate confirmation.
The bottom line: White House officials can't be assured that everyone in today's Cabinet will stay — but they want to have plenty of time to ensure that the full team is in place for 2024.
Go deeper