Federal judge freezes Florida gender-affirming care bans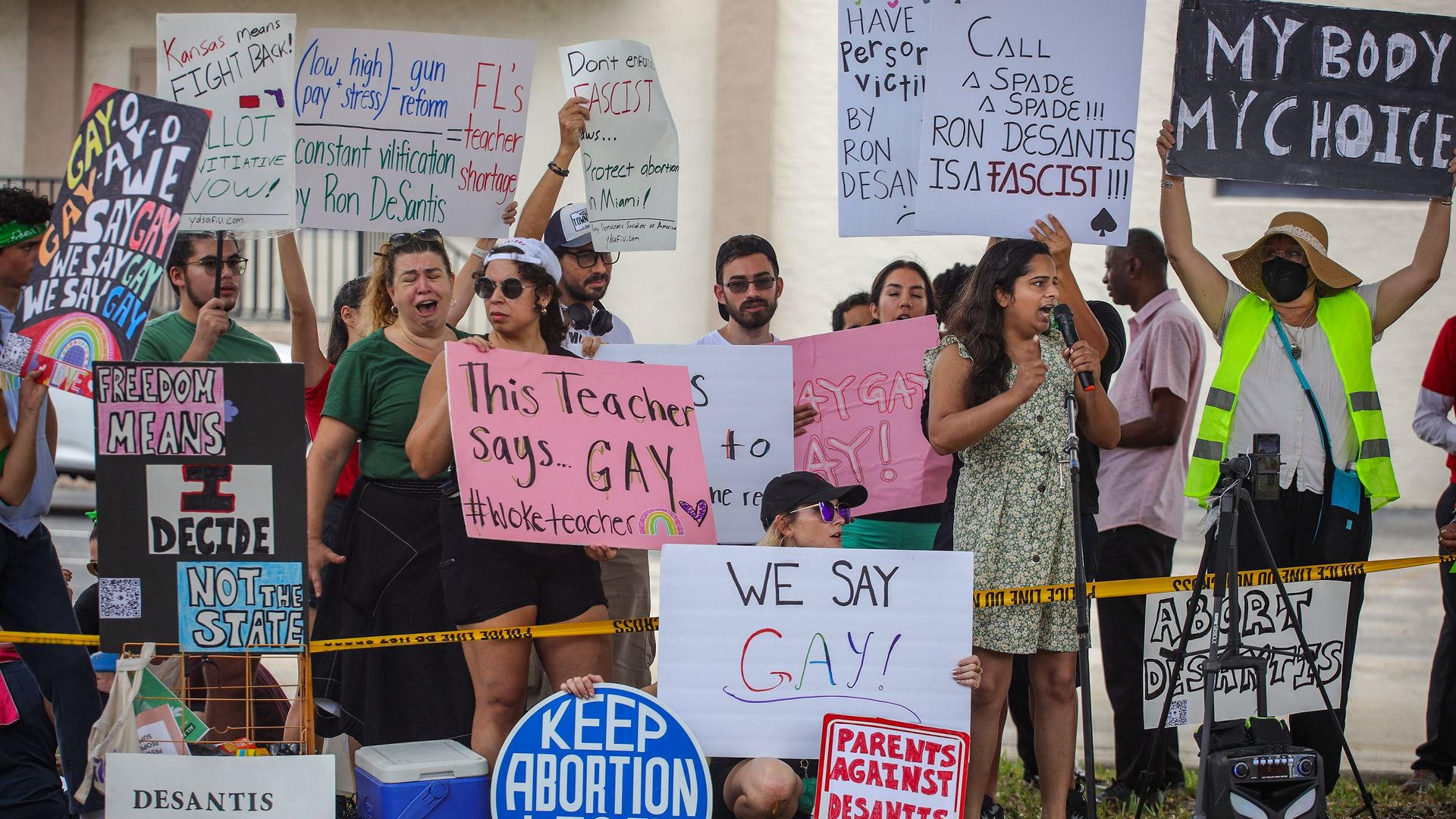 A federal judge on Tuesday temporarily blocked a pair of Florida bans on gender-affirming care for three minors while a legal challenge plays out, arguing that both are likely to be found unconstitutional.
Why it matters: U.S. District Judge Robert Hinkle, a Clinton appointee, wrote that "gender identity is real" and agreed with the plaintiffs in a lawsuit against the state that gender-affirming care is "medically necessary."
The lawsuit asserts that the bans violate the Constitution's equal protection clause by singling out trans minors. Three Florida families asked the court to freeze the bans while the lawsuit is reviewed, saying their children had immediate medical needs.
Hinkle said that both of Florida's bans represent a "purposeful discrimination against transgenders."
Between the lines: A spokesperson for Gov. Ron DeSantis (R) told Axios the ruling applies only to three trans children seeking immediate access to such care, who are plaintiffs in the case. "Florida's law otherwise remains in effect," press secretary Jeremy Redfern said.
Yes, but: While narrow in scope, Simone Chriss, a lawyer for the plaintiffs, said the judge's opinion "sends a really, really clear message that what the state has done here is politically motivated, predetermined and unconstitutional."
State of play: Florida prohibited health providers from offering gender-affirming care to minors with a first-of-its-kind rule issued by the state's medical board and recent legislation that DeSantis signed into law.
The law not only criminalized care for trans people under 18, but added restrictions for adults seeking such care.
While the injunction doesn't address the adult restrictions, lawyers for the plaintiffs are planning to ask the court to block them, said Chriss, director of the Transgender Rights Initiative at the Florida-based Southern Legal Counsel. That could mean adding an adult trans Floridian as a plaintiff in the suit.
Details: "The elephant in the room should be noted at the outset. Gender identity is real. The record makes that clear," Hinkle wrote in his opinions.
Hinkle also said the defendants — including Florida Surgeon General Joseph Ladapo, members of the medical board and other state officials — had contradictory views of trans people, noting that they both acknowledge that trans people exist and say trans identity "is made up."

"Any proponent of the challenged statute and rules should put up or shut up: do you acknowledge that there are individuals with actual gender identities opposite their natal sex, or do you not? Dog whistles ought not be tolerated," Hinkle said.

The judge said that "[t]he overwhelming weight of medical authority supports" gender-affirming care and "not a single reputable medical association has taken a contrary position."
Hinkle said that the parents who are challenging the bans can better evaluate the benefits and risks of treating their trans children than the state: "I find that the plaintiffs' motivation is love for their children and the desire to achieve the best possible treatment for them. This is not the State's motivation."
What they're saying: "My husband and I have been heartbroken and worried sick about not being able to care for our daughter in the way we know she needs," said one of the plaintiffs, who is identified as Jane Doe and has a daughter named Susan.
"Today my entire family is breathing a huge sigh of relief knowing we can now access the treatment that we know will keep Susan healthy and allow her to continue being the happy, confident child she has been," Doe added.
The legal groups that represented the plaintiffs called the ruling "a powerful affirmation of the humanity of transgender people, the efficacy of well-established, science-based medical care."
A spokesperson for the Florida Department of Health declined to comment, citing the ongoing litigation. A spokesperson for Attorney General Ashley Moody did not respond to requests for comment.
Zoom out: The Florida lawsuit is one of many filed in various states that have adopted bans on health care for trans minors.
Go deeper: Axios Explains: Gender-affirming care in the U.S.
Editor's note: This story has been corrected to reflect that three families, not four, asked for the temporary injunction approved Tuesday and that it applies only to their cases. It's also been updated to include additional statements and requests for comment.
Go deeper