Americans' boating passion still afloat after pandemic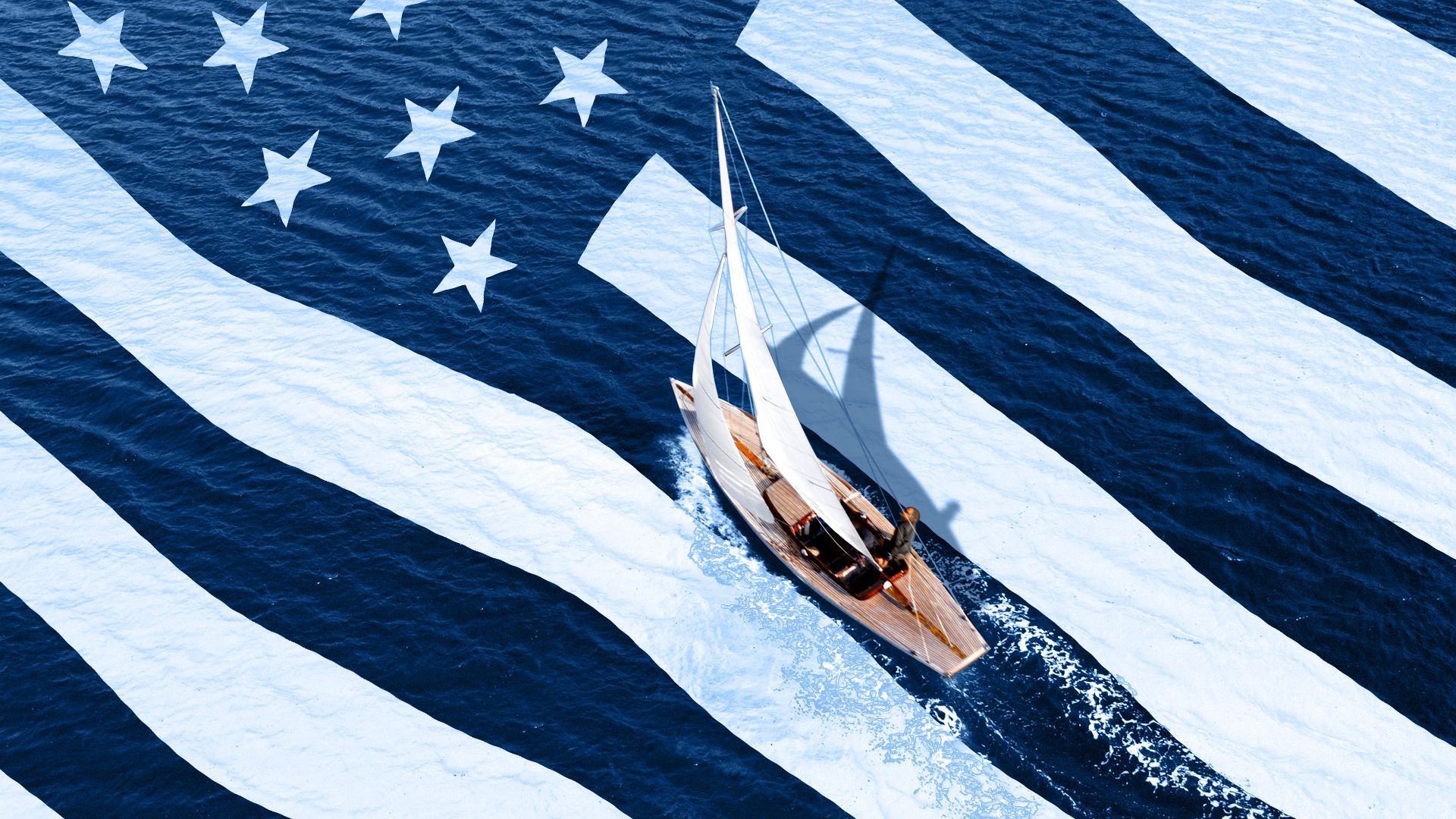 Recreational boating, which took off during the COVID-19 pandemic, remains popular despite what industry experts call a "normalization" of boat sales in the wake of the COVID era's extraordinary growth.
Why it matters: It turns out that prioritizing outdoor recreation, mental health and unique experiences with close friends and family has lasting appeal for many Americans.
The continued strong demand is good news for boat manufacturers and technicians, as well as the marinas and hospitality businesses that feed off the boating industry.
With sales steadying, at least people shopping for a new boat are likely to have better luck finding one this summer.
Between the lines: It's not the yacht-owning one-percenters responsible for America's booming boat economy.
Rather, it's the vast numbers of regular folks fishing, water-skiing, sailing and jet-skiing, according to the National Marine Manufacturers Association (NMMA).
800,000 first-time boat buyers entered the market in 2020 and 2021, NMMA senior vice president Ellen Bradley tells Axios.
By the numbers: Recreational boating saw a 35% increase in annual economic activity between 2018 and 2023, leaping from $170 billion to $230 billion, per NMMA.
Marine industry-related jobs grew from 691,000 to 812,000 during that period, a 17.5% jump.
Sales of powerboats, sailboats and personal watercraft peaked in 2020 at 318,654 units, totaling $50.3 billion.
Sales cooled slightly in 2021, to 305,734 units — but that's partly due to supply chain issues, which constrained inventory, Bradley notes.
Last year, the industry sold just over 261,000 units — still strong by historical standards — and more than 1 million pre-owned boats. Sales are expected to remain flat, or increase slightly, this year.
Zoom in: East and West Coast states account for a large chunk of those sales, but states in the Great Lakes region — Michigan, Wisconsin and Minnesota, for example — have also seen strong demand.
What they're saying: "The profound impact the past few years have had on our industry cannot be denied as we've seen Americans seek out boating and fishing in record numbers, driving significant economic output and supporting tens of thousands of small businesses and nearly a million jobs," NMMA president Frank Hugelmeyer said in a statement.
"With summer on the horizon, we're anticipating healthy boating participation with more than 85 million people estimated to take to the water in the U.S. amid Americans' continued appetite for the outdoors and unique experiences."
What to watch: To help even more people get out on the water, the boating industry has been exploring new subscription-based boat-sharing clubs.
One example: Freedom Boat Club, a division of Brunswick, maker of popular boat brands such as Bayliner, Boston Whaler and Sea Ray.
"There are a lot of new ways to get out on the water that didn't exist a decade ago," Bradley says.
Joann's thought bubble: As a sailor, I'd personally be delighted to see boating cool off a bit. My husband and I have been wanting to upgrade our 22-foot O'Day for two years, but there aren't many good used sailboats on the market.
Everybody's enjoying them too much, I guess.
Go deeper