Nikki Haley takes aim at Trump and DeSantis during CNN town hall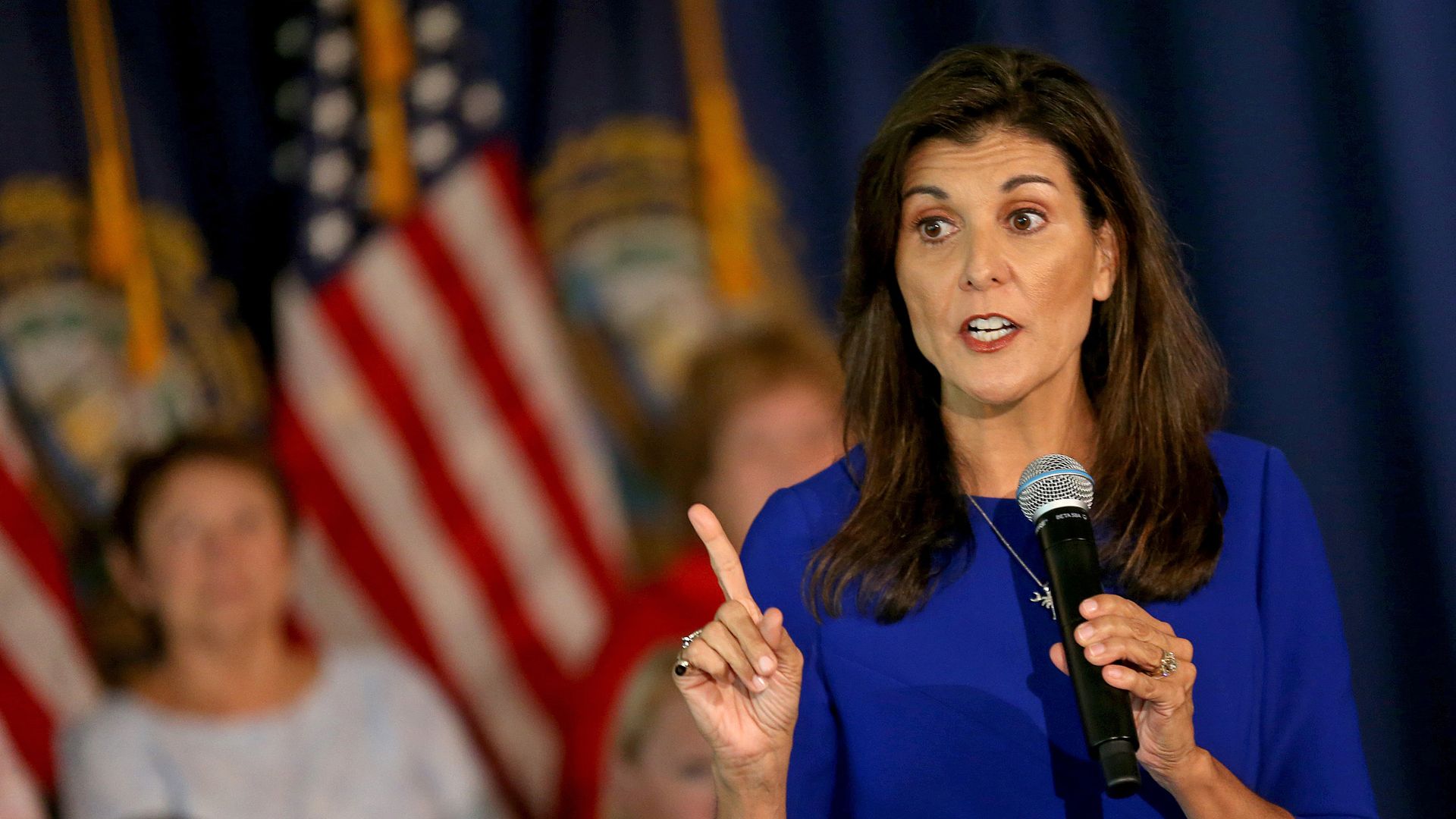 Republican presidential candidate Nikki Haley criticized former President Trump and Florida Gov. Ron DeSantis several times during her CNN town hall in Des Moines, Iowa, Sunday evening.
Driving the news: Haley, who served as ambassador to the United Nations during the Trump administration, said her Republican presidential rivals are "not being honest with the American people" on entitlement reform.
"We can't keep kicking this can down the road," said the former South Carolina governor, who supports changing the retirement age for Americans who are now in their 20s, to CNN's Jake Tapper.
"And I know that Trump and DeSantis have both said we're not going to deal with entitlement reform, well all you're doing is leaving it for the next president, and that's leaving a lot of Americans in trouble."
State of play: Trump has warned Republicans to avoid making any immediate changes to Medicare or Social Security, though his administration did plan to cut food stamp benefits before a judge blocked the move in October 2020.
The big picture: During her town hall in Grand View University, Haley broke with 2024 Republican front-runner Trump's stance on Russia's invasion of Ukraine (the former president said at a CNN town hall last month that he'd negotiated with both sides to end the war).
"It's in the best interest of our national security for Ukraine to win," she said.
Addressing DeSantis' comments in March calling the war "a territorial dispute," Haley said: "For them to sit there and say that this is a territorial dispute — that's just not the case, or to say that we should stay neutral."
Separately, Haley took aim at Trump for congratulating North Korean leader Kim-Jong-un after the nation was elected to the World Health Organization's executive board.
"Kim Jong-un is a thug," Haley said. "I don't think we should congratulate dictators."
Zoom out: Haley said at the town hall that Americans are tired of divisive politics and "want to see a government work for them again."
A less divisive tone "starts from the top," said Haley, pointing to her decision to remove the Confederate flag from South Carolina's state Capitol when she was governor in 2015 in response to a racist mass shooting.
Meanwhile, Haley doubled down on previous remarks that she would defund sanctuary cities and reinstate the Trump-era "Remain in Mexico" program.
She also said she opposed red flag laws that allow law enforcement that have a court order to temporarily seize guns from someone considered a danger to themselves or others.
And Haley reiterated comments she's made previously about having a "national consensus" on abortion — and that she's "unapologetically pro-life," but there aren't enough lawmakers to pass federal legislation.
Representatives for Trump's and DeSantis' campaigns did not immediately respond to Axios' request for comment.
Go deeper:
Editor's note: This article has been updated with new details throughout.
Go deeper