Hong Kong's loss of rights looms as Taiwan commemorates Tiananmen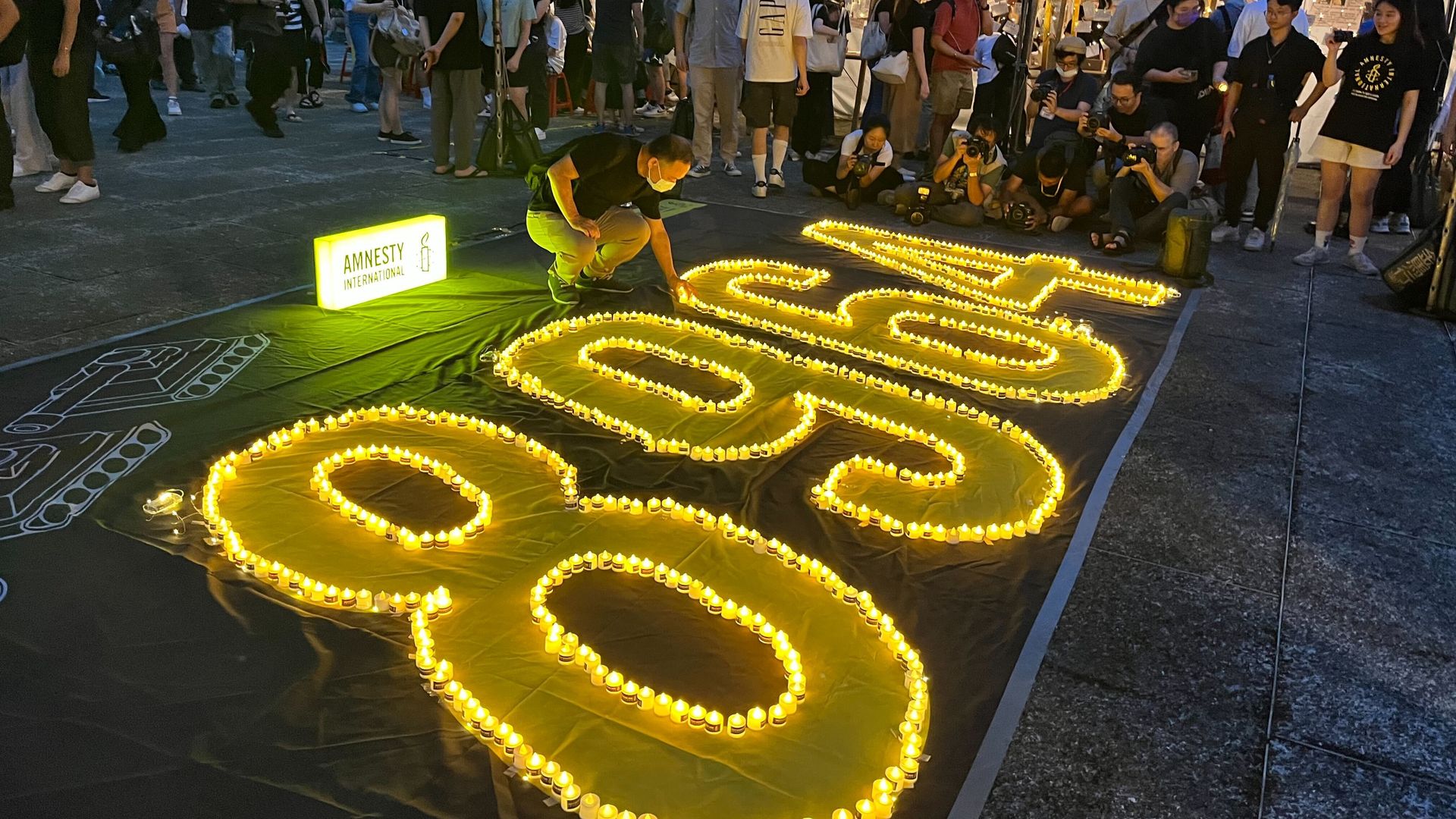 TAIPEI, Taiwan — Hundreds of people gathered in Taipei on Sunday to commemorate the 34th anniversary of the 1989 Tiananmen pro-democracy movement in China, which was crushed by the Chinese military.
Why it matters: The event, held at Liberty Square in front of a memorial to Taiwan's former dictator Chiang Kai-shek, marked a stark contrast between Taiwan's successful struggle for democracy and the loss of rights in Hong Kong. It also served as a grim reminder of what's at stake for the future of Taiwan.
Taiwan is now the "only Chinese society" that can freely hold a Tiananmen memorial, Chinese scholar and former Tiananmen organizer Wu Renhua said in a speech at the event.
Hong Kong organizers once held annual Tiananmen candlelight vigils that attracted tens of thousands of participants. But such vigils are now effectively banned since Beijing's national security law was enacted in the city in 2020.
Over the weekend, Hong Kong police fanned out around central areas and arrested or detained several people for even small acts of protest like posting a photo of a candle, and carrying a copy of a play about June 4th.
The big picture: The struggle between democracy and authoritarianism has shaped the relationship between China, Hong Kong, and Taiwan — and at times, created unexpected bonds between those societies.
Details: The memorial featured more than a dozen booths set up by local human rights organizations and several hosted by Hong Kongers, as well as a Lennon wall and a small-scale replica of the "Pillar of Shame," a sculpture commemorating Tiananmen that was removed from display in 2021 and seized by the Hong Kong police last month.
Organizers estimated about 1,000 people visited the booths throughout the day and attended the rally.
The rally included speeches by prominent Tiananmen leaders and other pro-democracy activists.
Former Hong Kong professor Kacey Wong led the crowd in chants including "Fight for freedom! Stand with Hong Kong!" and "Fight for freedom! Stand with Taiwan!"
What they're saying: "These people died fighting for democracy, so that's why it's really important to remember it," one Hong Konger studying in Taipei told Axios on condition of anonymity due to fears of prosecution back in Hong Kong for attending the memorial.
"You don't see this in Hong Kong anymore. It's really refreshing to see it... I feel it in my heart."
Background: The Tiananmen movement helped inspire the 1990 student-led Wild Lily movement in Taiwan that successfully pushed the government to implement democratic reforms.
In 1989, when students around China staged demonstrations for weeks demanding democracy, many people in Taiwan wanted the same for themselves. Martial law in Taiwan had been lifted two years before, but the Kuomintang (KMT) still ruled over the country as a one party-state and continued to stifle dissent.
Zhang Longsan, a 53-year-old Taipei resident present at the event on Sunday, told Axios he attended the Tiananmen solidarity gathering in Taipei on June 3, 1989, the night before the massacre in Beijing. The KMT government allowed the gathering, Zhang said, because people were expressing opposition to the Chinese Communist Party.
"At that time I thought, Taipei students and Beijing students are the same," Zhang said, leading him to question why the KMT, which he originally supported, would allow Taiwanese students to support demands for democratization in China but not demands for democratization at home.
"After that, I commemorated June 4th every year ... I think it's a very important thing for democracy in Taiwan and China." Zhang now works at the Chen Wen-chen Memorial Foundation, which supports human rights in Taiwan.
What to watch: As Chinese President Xi Jinping pushes Beijing's claims of sovereignty over Taiwan more aggressively, many people in Taiwan are increasingly worried that Taiwan may one day face the same fate as Hong Kong.
Editor's note: This story was corrected to reflect that the "Pillar of Shame" sculpture was seized by police last month (not in 2021).
Go deeper