TV networks battle for Republican debates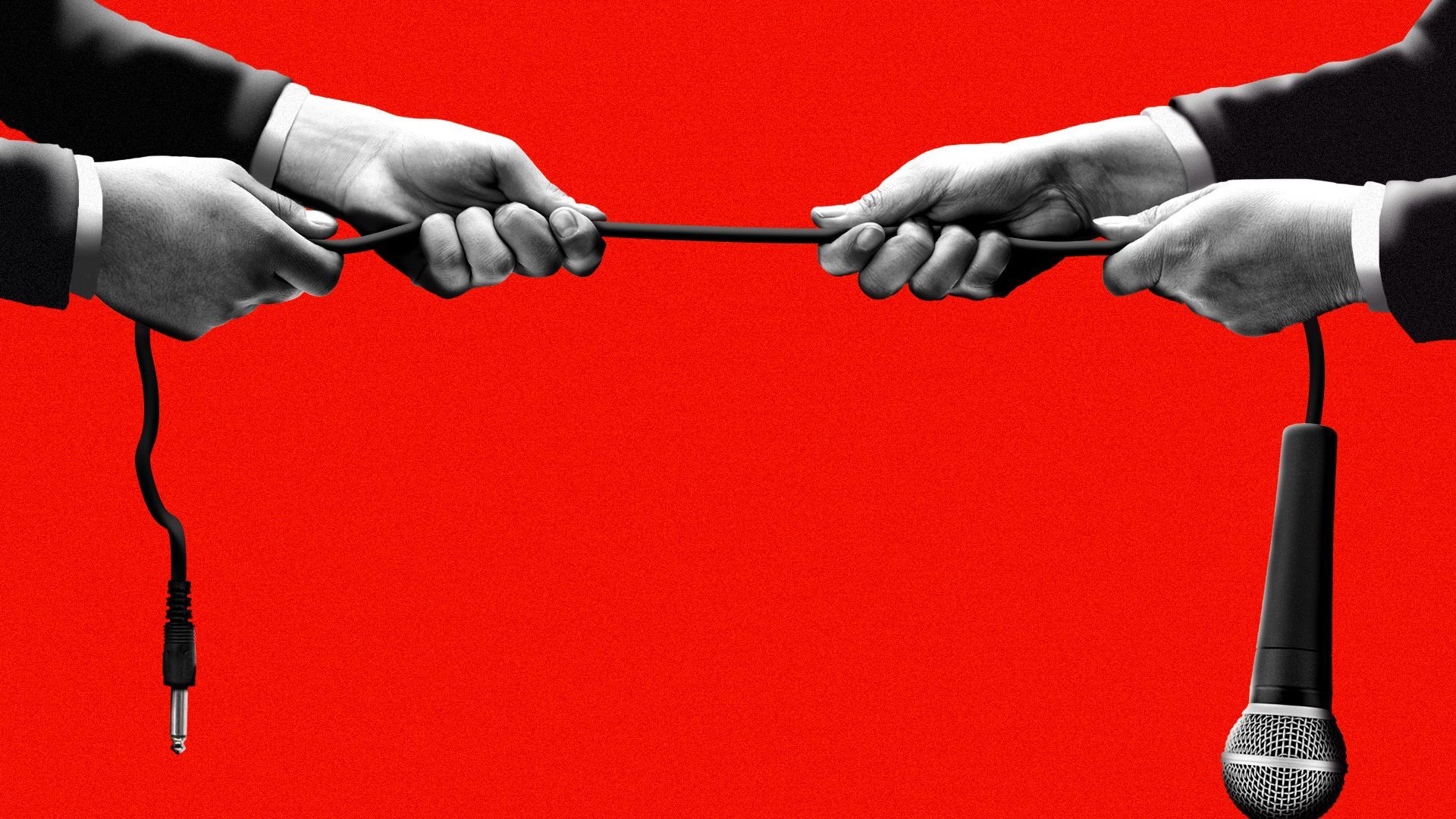 Gov. Ron DeSantis' rage against CNN and MSNBC — along with former President Trump's polling lead and distrust of Fox News — has created a deadlock over who will host the rest of the 2024 GOP presidential debates, and uncertainty over whether they'll happen at all.
Why it matters: Debates can make or break a presidential candidacy. And who hosts those debates can have a significant impact on which contenders chose to participate, and how they perform.
Trump's campaign believes his opponents need the primary debates more than he does because they're behind him in polls. And Trump — feeling slighted by Fox News' coverage of DeSantis, has indicated that he's wary of the network hosting debates, two sources told Axios.
DeSantis, running second in GOP polling, has been pushing back against the Republican National Committee sanctioning a debate with CNN or NBC News, which are both salivating over the chance to host a 2024 primary debate, sources told Axios.
Driving the news: The debate negotiations — between the networks, campaigns and the RNC — follow CNN's hotly debated decision to host a primetime town hall event with Trump last month. The town hall drew 3.3 million viewers, and was CNN's second most-viewed single-candidate town hall since 2016.
CNN boss Chris Licht has told the RNC that CNN would air the debate not just on its linear feed, but also potentially on the linear networks of other Warner Bros. Discovery channels, two sources told Axios. By including those channels, Licht has argued, CNN could reach more conservatives than Fox, as well as independent voters.
CNN's pitch also includes distribution across its digital channels, and possibly streaming.
Licht also has offered to partner with a conservative-leaning outlet on the debates. That partnership, two sources told Axios, could include giving a journalist from the partner outlet a co-moderator spot.
NBC News' pitch is being led in part by NBC News Group Chairman Cesar Conde and Carrie Budoff Brown, NBC News' senior vice president for politics. "NBC Nightly News" anchor Lester Holt would moderate the debate, alongside a colleague from sister networks CNBC and Telemundo.
Holt, sources say, helped lobby the RNC for the bid, appeared at the RNC in February and began the presentation with an NBC sizzle reel.
A source in the room said NBC News pitched distribution across NBC News, MSNBC, Telemundo, CNBC, its streaming service NBC News Now and its digital channels.
NBC News and Holt were pushing the RNC to consider its bid at the same time longtime MSNBC host Andrea Mitchell acknowledged using "imprecise" language in a question to Vice President Harris that implied DeSantis didn't want slavery taught in schools. DeSantis said he would boycott NBC News and MSNBC in response.
Fox News has zeroed in on Bret Baier and Martha MacCallum as possible moderators for a debate.
Trump has not committed to participating in the first RNC debate, to be hosted by Fox News in August.
Still, he is not shying away from engaging with Fox entirely. He appeared at a presidential town hall with Sean Hannity on Thursday.
The big picture: The RNC also is eager to ensure the debates are as widely viewed as possible. It's mindful of the production value that networks could bring to the debates.
The RNC reached out early to several conservative outlets. Newsmax and Rumble pitched but others passed because of cost concerns.
But DeSantis in particular has been wary of places like CNN and NBC even as he has said he is eager for the debates. While not naming the networks, DeSantis told Glenn Beck last week that "corporate media…shouldn't be involved in our process because they're hostile to us as Republicans."
Asked if DeSantis would commit to showing up to the first debate in August with Fox News, a DeSantis spokesperson declined to comment.
Zoom out: The broadcast networks also submitted bids to the RNC, sources told Axios.
ABC News has expressed interest in the New Hampshire primary debate, which it co-hosts every year with its New Hampshire affiliate WMUR, in addition to a possible fall debate.
CBS News has indicated it would prefer to host a debate in 2024, when there presumably will be fewer candidates to wrangle on a stage.
PBS submitted a bid to the RNC to host a debate, Nick Massella, a spokesperson for PBS NewsHour, confirmed to Axios.
The big picture: As television viewing becomes more splintered, political committees are eager to explore new types of partnerships that can maximize viewership.
Nearly every network has partnered with tech firms to co-host debates during the past decade. Often, they also will partner with local outlets, digital news companies, radio networks or national newspapers to co-moderate debates.
Facebook, a source told Axios, did not pitch. Nor did Twitter, according to people familiar with the matter. Rumble, a conservative rival to YouTube, is partnering with Fox News on the first debate.
Politico, which has co-hosted debates in the past, did not participate in the pitching process this year, nor did Axios, sources told Axios.
A Politico spokesperson told Axios, "POLITICO has robust coverage plans for the debates, is exploring opportunities for ancillary events around them, and is actively engaged in planning for an ambitious and substantial footprint at the conventions in Milwaukee and Chicago." An Axios spokesperson didn't comment.
The Washington Post submitted a bid, a spokesperson confirmed.
Editor's note: This story has been corrected to say that NBC News' pitch involved having a moderator from CNBC, not than MSNBC.
Disclosure: Fischer is a CNN contributor.
Go deeper