Corporate America's commitment to Pride Month under scrutiny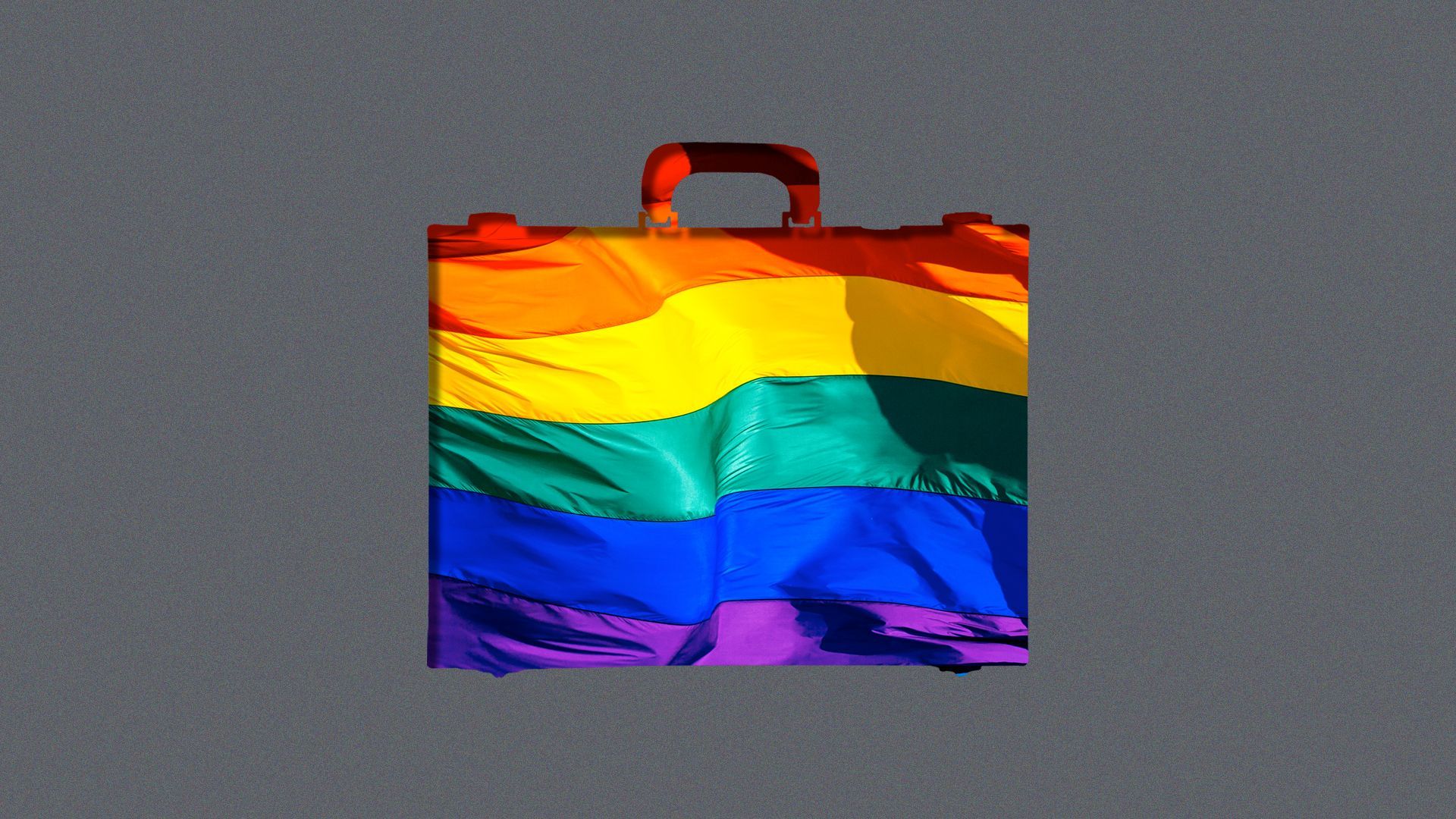 Corporate America's commitment to LGBTQ+ causes, messages and products is under an intense spotlight during Pride Month this year.
Why it matters: Companies like Target and Bud Light — which both caved after right-wing backlashes to LGBTQ-themed products and promotions — suddenly face extreme pressure after years of supporting Pride events without issue.
They're trying to delicately two-step their way through the vitriol, but consumers increasingly want them to take a stand with conviction.
The big picture: In the past, companies have been accused of "rainbow washing" — using Pride imagery and promotions to signal an otherwise half-hearted commitment to LGBTQ+ issues.
"From a corporate point of view, it was basically costless," University of Michigan marketing professor Erik Gordon tells Axios. "They spend more money on donuts."
But this year is different.
"Now it's becoming more costly," Gordon says. "Now we're going to see who is actually committed to Pride causes."
Zoom in: Recent events have illustrated the gravity of the moment.
Anheuser-Busch InBev drew right-wing hate for sponsoring transgender influencer Dylan Mulvaney — and then a backlash from LGBTQ+ rights proponents for the way it handled the fallout.
Target angered certain right-wing customers for selling a Pride Month collection that included a transgender-friendly swimsuit — and then faced a backlash from the LGBTQ+ community when it pulled some of the items from the shelves, citing the need to keep its workers safe from violent customers.
Republican presidential candidate and Gov. Ron DeSantis is warring with Disney over its commitment to LGBTQ+ inclusion, attempting to strip the company of its tax district rights in the Orlando area.
What they're saying: "What we're seeing entering Pride Month is that companies have to make a decision whether they're going to keep to their corporate values of LGBTQ inclusion or cave to a fringe but loud, anti-LGBTQ organized effort to silence us," GLAAD chief communications officer Rich Ferraro tells Axios.
"We need them to double down on their values," RaShawn "Shawnie" Hawkins, the Human Rights Campaign's director of workplace equality, tells Axios in an email. "It does not make good business sense to back away and let bullies run their business for them."
Context: Conservative opponents have introduced more than 520 anti-LGBTQ+ bills throughout the country so far this year, aiming at everything from transgender rights to book bans and health care restrictions, according to the Human Rights Campaign.
Yes, but: GLAAD hasn't noticed a downtick in corporate commitments to Pride Month, Ferraro says.
"It's a different Pride Month," he says. "The visibility that we normally celebrate during Pride Month has now been met with threats of violence — and real corporate allies are going to stand with us."
Target and AB InBev have said they're still committed to celebrating Pride.
"Our focus now is on moving forward with our continuing commitment to the LGBTQIA+ community and standing with them as we celebrate Pride Month and throughout the year," a Target spokesperson says.
Starbucks unveiled an advertisement in India featuring a father and his transgender daughter as part of its #ItStartsWithYourName campaign.
Other brands — from The North Face to Jack Daniels — have enlisted well-known drag queens in marketing campaigns.
Worth noting: Americans want companies to go all in or do nothing at all when it comes to social issues, according to a recent Axios Harris Poll survey.
68% of Americans say companies and brands should only speak out when it pertains to their business interests or clearly stated values. This is a bipartisan belief, with 8 in 10 Republicans and 6 in 10 Democrats agreeing.
The problem for companies is that in some cases, they're damned if they do, damned if they don't.
"A lot of companies just want to stay out of the spotlight," the University of Michigan's Gordon says. "They don't want to be forced to take a stand because no matter which stand they take, people who oppose that stand will attack them."
AB InBev CEO Michel Doukeris effectively admitted as much when discussing the backlash to the company's Bud Light promotion with Mulvaney.
"While beer will always be at the table when important topics are debated, the beer itself should not be the focus of the debate," he said on a recent earnings call.
The bottom line: For companies, waving a Pride flag means more in 2023.
Go deeper