Dee-Santis or Deh-Santis? His team won't say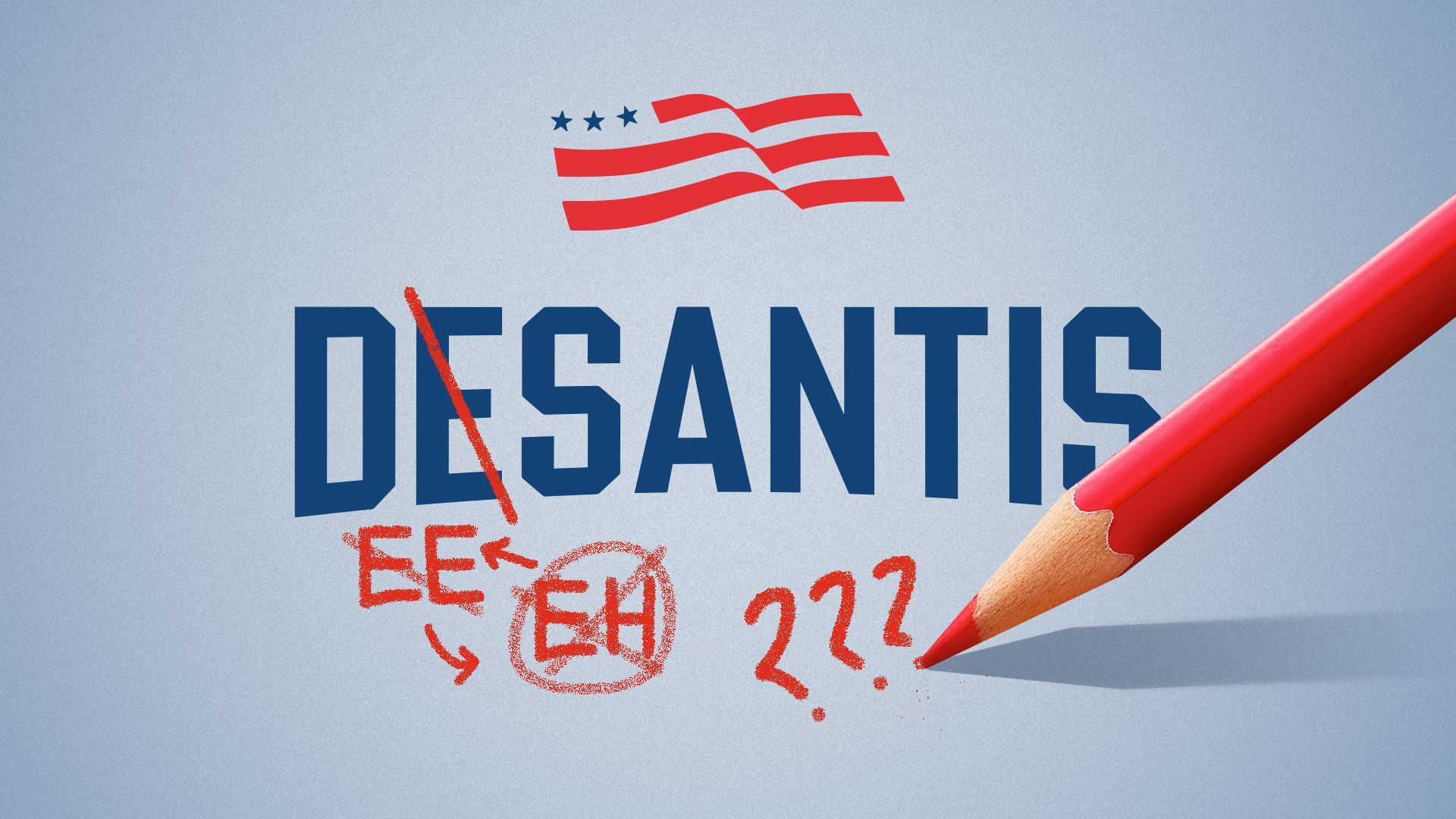 Some presidential candidates struggle to nail their message. Ron DeSantis is struggling to nail his NAME. In the early days of his campaign, DeSantis has gone back and forth between pronouncing his name Dee-Santis and Deh-Santis.
Why it matters: DeSantis' dissonance on how to say his name — for years an issue of confusion for his campaign teams — is a curiosity as many GOP leaders and donors wonder whether the Florida governor is ready for the scrutiny of a presidential campaign.
What's happening: During his first week as a candidate, DeSantis pronounced his name "Dee-Santis" during:
But then: DeSantis pronounced it "Deh-Santis" during interviews with Fox News, Glenn Beck, Erick Erickson, and Mark Levin this past week.
The governor's campaign, his wife, Casey, and the independent super PAC that supports him consistently pronounce it "Deh-Santis."
Asked the proper way to pronounce his name, DeSantis' campaign did not answer. The super PAC, Never Back Down, declined to say.
Former President Trump has chided DeSantis over the different pronunciations.
"Ron DeSantis is a phony who can't decide how to pronounce his name," Trump campaign spokesperson Steven Cheung told Axios. "If you can't get your name right, how can you lead a country?"
Flashback: Early in his political career, DeSantis, 44, appeared to use "Dee-Santis" more often — then began a slow and still-incomplete evolution to "Deh-Santis."
During the 2018 race for Florida governor, the candidate and his wife pronounced his name differently in his television ads: He said "Dee-Santis" in his first TV spot, and she said "Deh-Santis" in another.
When a reporter noted the differences, a campaign spokesperson at the time said the candidate "prefers 'Dee-Santis.' "
The dueling pronunciations have tripped up others. When DeSantis was sworn in for his second term as governor in January, Florida's chief justice pronounced his name "Dee-Santis" — and the governor repeated back, "Deh-Santis."
What they're saying: Professor William Connell, chair of Italian Studies at Seton Hall University, told Axios that it's common for Italian Americans such as DeSantis to change the pronunciation of their name from the original Italian to a more anglicized version — but that "Dee-Santis" surprised him.
" 'Day-Sahn-tees' would be proper Italian, but sloughing it off as 'Deh-Santis' is common," he said. "But 'Dee-Santis' is unusual because that would be spelled 'DiSantis' in Italian."
Fellow Italian-American politician and former New York City Mayor Bill de Blasio, a Democrat, told Axios that many fellow politicians adopt the "deh" pronunciation or have something between "day" and "deh."
In a phone call from Italy, where he was traveling, de Blasio said DeSantis' shifts were "just a really weird thing to change at the last minute."
"People flip-flop and change their positions on things, but how you say your name is not one of them. It's not negotiable!"
Go deeper