The war in Ukraine comes to Russia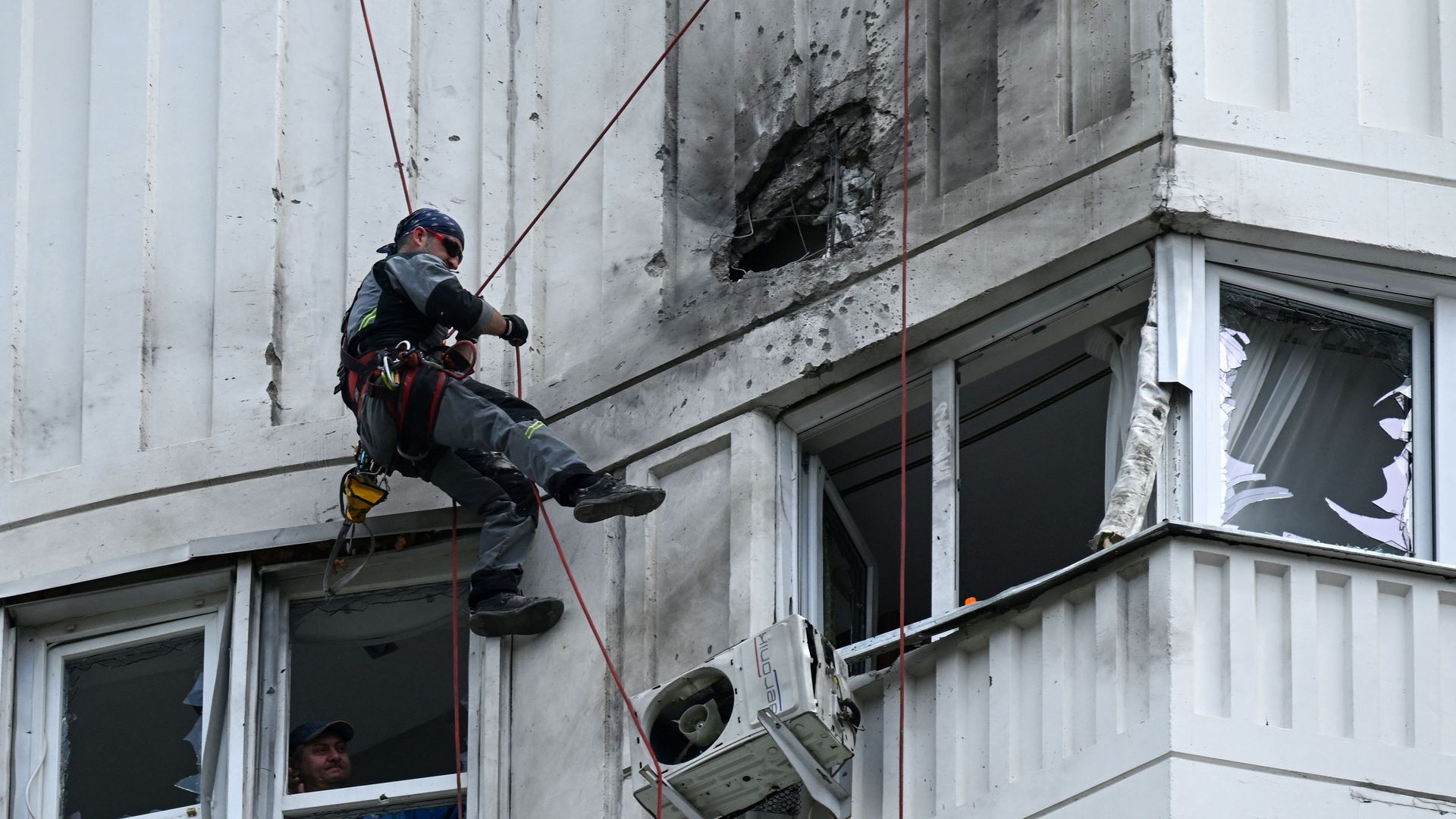 Residential areas of Moscow came under attack on Tuesday for the first time since explosions first sounded in Kyiv 460 days earlier — the latest instance of the war in Ukraine coming home to Russia.
The big picture: Tuesday's drone attack was the second in Moscow this month after two drones exploded near the roof of the Kremlin on May 3. The Russian capital had previously been largely shielded from the conflict apart from the effects of sanctions.
The drone attack came a week after Ukrainian-aligned paramilitaries conducted a multi-day cross-border raid in the Russian state of Belgorod, and a day after local Russian officials accused Ukraine of shelling an industrial facility in a border town, causing four injuries.
U.S. officials believe Ukraine was responsible for the drone attack on the Kremlin, last week's raid in Belgorod, and multiple assassinations of pro-war Russians on Russian soil, the New York Times reports.
The U.S. has not made such accusations publicly. In each case, Kyiv has either denied responsibility or declined to comment.
After Tuesday's attacks in Moscow, a top adviser to Ukrainian President Volodymyr Zelesnky claimed Ukraine was not "directly involved" but was "watching with pleasure." The White House reiterated that it doesn't support attacks on Russian soil, without pointing any fingers.
Driving the news: Russia claimed to have shot down or disabled all eight drones that reached Moscow early Tuesday. Several apartment buildings were damaged and many more were evacuated, including in one of Moscow's most affluent neighborhoods. At least two people were treated for injuries.
Breaking it down: The Kremlin is following its standard playbook, Russian political analyst Tatiana Stanovaya writes for Carnegie: downplay the setback; paint Ukraine as the aggressor; insulate Putin from the fallout.
The goal is to avoid a cycle of "alarmism" where public concern leads to pressure on the Kremlin, she argues, but it might not work in the current context: "Saboteurs on tanks in the Belgorod region and drones in Moscow are a completely new level of danger, in fact, a physical threat to the population."
The other side: Kyiv has come under aerial attack at least 17 times in May alone.
After a wave of attacks late Monday night, Kyiv Mayor Vitali Klitschko appeared on TV and asked: "If the Russians can make Kyiv a nightmare, why do the people of Moscow rest?"
Soon thereafter, reports emerged of drones over Moscow.
What to watch: U.S. officials have repeatedly raised concerns that attacks on Russian soil could lead to escalation.
To assuage those concerns, Ukrainian officials have said they won't use U.S.-provided weapons to strike inside Russia. Still, such attacks can create tension with Washington.
Flashback: In meetings earlier this year, Ukrainian President Volodymyr Zelensky suggested Ukraine try to occupy Russian cities near the border to provide leverage in future negotiations with Moscow, according to U.S. intelligence leaks reported by the Washington Post.
Zelensky also raised the idea of using long-range missiles to strike troops on Russian territory, according to the reports, which neither the U.S. nor Ukraine have confirmed.
The U.S. has declined to provide long-range missiles out of concerns they would be used to strike Russia, but has now blessed a plan to provide F-16fighter jets.
The bottom line: The drone attacks in Moscow appeared to inflict only minor damage, and the raid in Belgorod was suppressed without significant military consequences for Russia.
But the attacks do appear to be breaking down the metaphorical distance between Russia and the war next door.
Go deeper: The big picture: Ukraine
Go deeper