Debt deal claws back COVID relief, spares Medicaid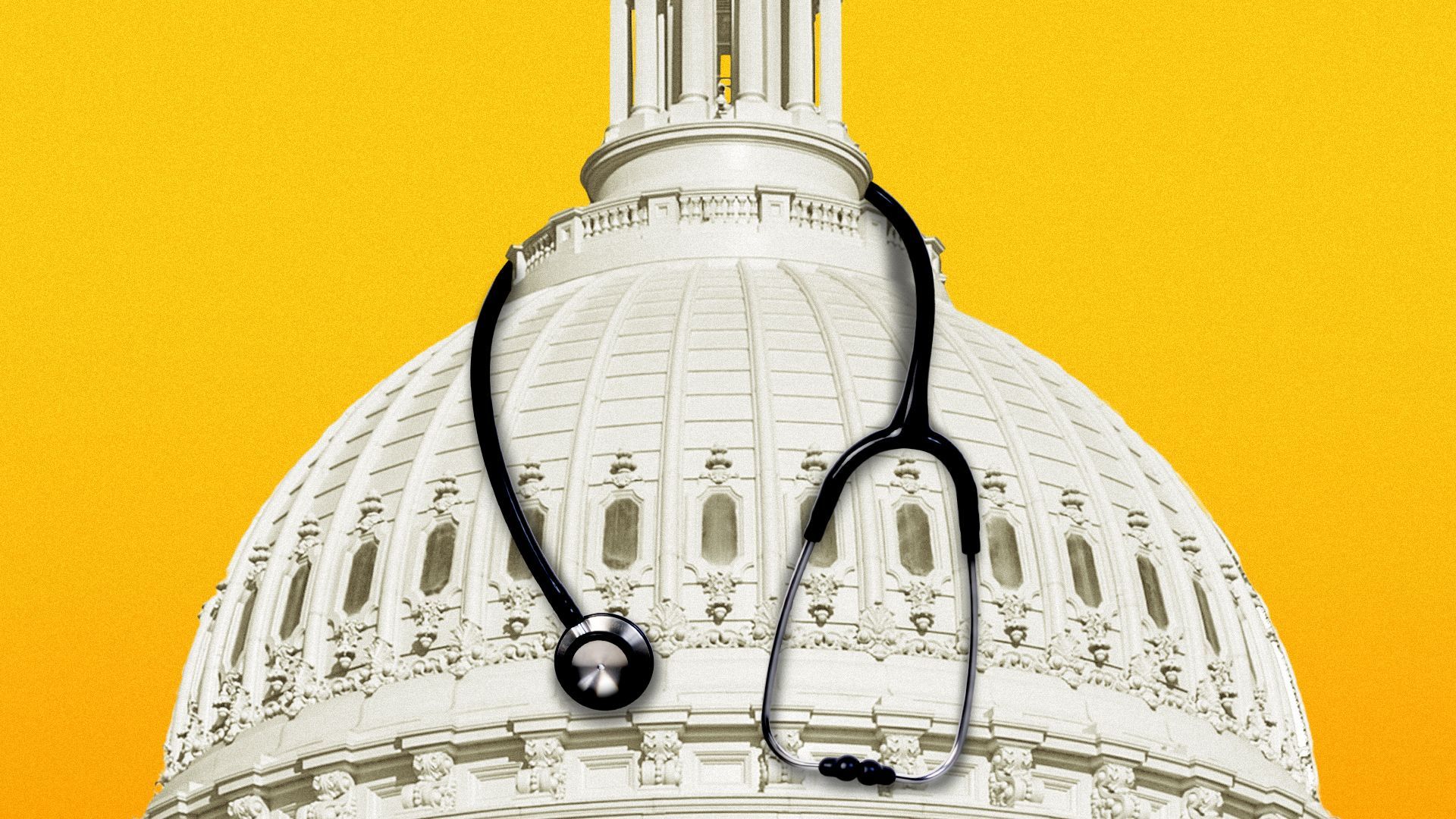 Democrats beat back efforts to attach Medicaid work requirements to a debt limit deal, but the agreement reached over the weekend will claw back about $30 billion of unspent COVID relief funds and likely bring more budget austerity to federal health agencies.
Why it matters: GOP negotiators had increasingly insisted that Medicaid work requirements needed to be part of the deal, but Democrats were aggressively against such measures.
Driving the news: The 99-page agreement, if passed by both chambers of Congress, avoids steep health care funding cuts that some had feared while restraining spending levels enough to have implications for federal health agencies, experts tell Axios' Victoria Knight.
Non-defense discretionary spending levels will be kept roughly flat for 2024 and then given a 1% increase in 2025.
It improves the chances Congress will write fiscal 2024 spending bills with at least modest increases for the National Institutes of Health, said Erik Fatemi, a principal at Cornerstone Government Affairs.
"Worst case is the 1% automatic cut for NIH if they do not pass a Labor-HHS bill. That is manageable even if not ideal," said Chris Meekins, an analyst for Raymond James. "It is plausible NIH could see an increase if they can pass a Labor-HHS bill, but disagreements over policy riders will make that a heavy lift in my view."
The deal also will rescind about $30 billion in unspent COVID relief funds from a variety of federal programs. It does preserve funding for veterans' health care and developing next-generation COVID treatments.
What we're watching: Democratic lawmakers will likely supply the votes to pass the bill through the narrowly divided House, given the vows from right-wing House Freedom Caucus members to oppose it, Axios' Andrew Solender and Alex Thompson write.
Senate Majority Leader Chuck Schumer wrote Democratic colleagues that they should prepare for potential Friday or weekend votes in the upper chamber.
The Biden administration has been pitching Democrats on what the bill doesn't do, like touching entitlement programs, and the way it would raise the debt ceiling past the presidential election into 2025.
For the latest on the debt limit negotiations, subscribe to Axios Pro. Use code POLICY100, which gives you $100 off.
Go deeper