Why the debt bill's energy provisions are a BFD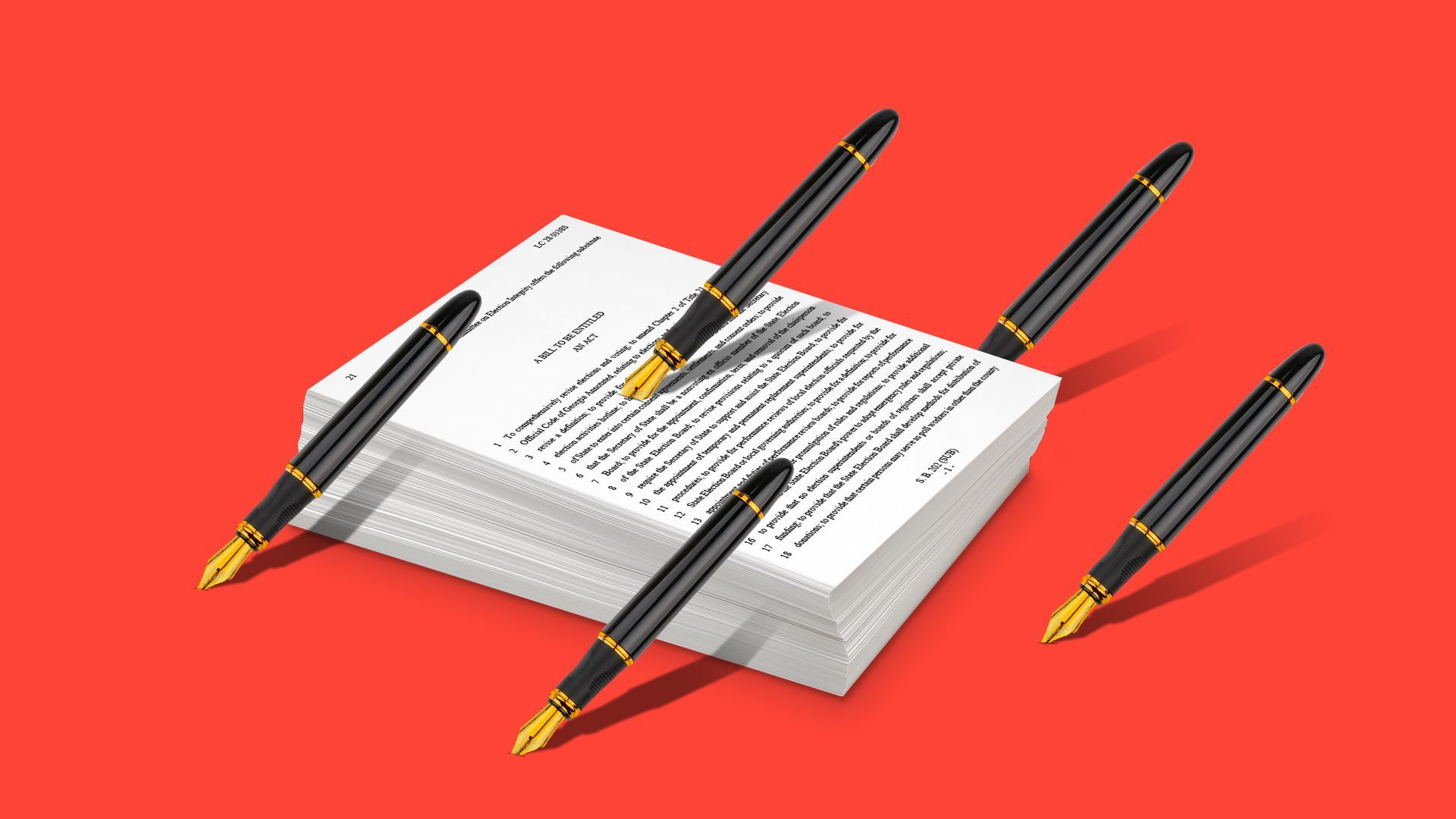 The debt ceiling deal is a monument to the messiness of a divided government — and it might cast a shadow over climate politics in 2024.
🏃🏽‍♀️Catch up fast: The tentative compromise between the White House and GOP leaders includes...
Approval of the Mountain Valley Pipeline, a major gas project in Virginia and West Virginia.
Efforts to speed permitting via new deadlines for environmental analysis under the National Environmental Policy Act, and some other changes.
A new study of boosting regional power transmission capabilities.
State of play: Groups on the left and allied Democratic lawmakers are furious over MVP, and what some activists call weakening of NEPA.
The Sierra Club called for rejection, while the Center for Biological Diversity's Jean Su said President Biden made a "colossal error" on climate.
Others had softer takes. Groups like the League of Conservation Voters, which have close ties to Democratic leaders, bashed the energy provisions but didn't urge votes against the debt package.
🗳️What we're watching: The political fallout.
It's one of several times the White House has recently angered climate activists over fossil fuel projects or policy, notably the March approval of ConocoPhillips' Willow oil project in Alaska.
Activists want a much harder line against fossil fuels. But it's tough to know whether their disappointment will cost Biden more than a relative handful of climate-minded voters in 2024.
Also in the political mix: MVP is a win for Sen. Joe Manchin (D-W.Va.). He faces a tough race next year — if he runs — in his conservative state.
Yes, but: The White House is defending the debt ceiling plan in sales pitches to Capitol Hill Democrats and comments to reporters.
Officials emphasize it omits GOP proposals to revoke climate law incentives.
They say it preserves NEPA's strength while making it easier to build climate-friendly infrastructure like wind and solar projects.
The American Clean Power Association blessed the deal, but called it only a "down payment" on permitting and transmission needs.
The other side: Republicans face challenges preventing too many defections among conservatives, who say the deal fails to meaningfully restrain spending.
House Speaker Kevin McCarthy's wider pitch includes touting the "first significant reforms to the environmental review process in more than 40 years."
The American Exploration and Production Council, an oil and gas industry group, urged passage, too, praising the NEPA and MVP provisions.
What's next: Votes in Congress are expected this week as the clock ticks toward the June 5 default date.
Further down the road, there could be efforts to reach a more sweeping deal on energy permitting.
But the hurdles are high when there's no forcing mechanism like, say, the threat of an economically catastrophic default.
Go deeper