Updated May 29, 2023 -

World
Biden warns Uganda may face sanctions if anti-gay law not repealed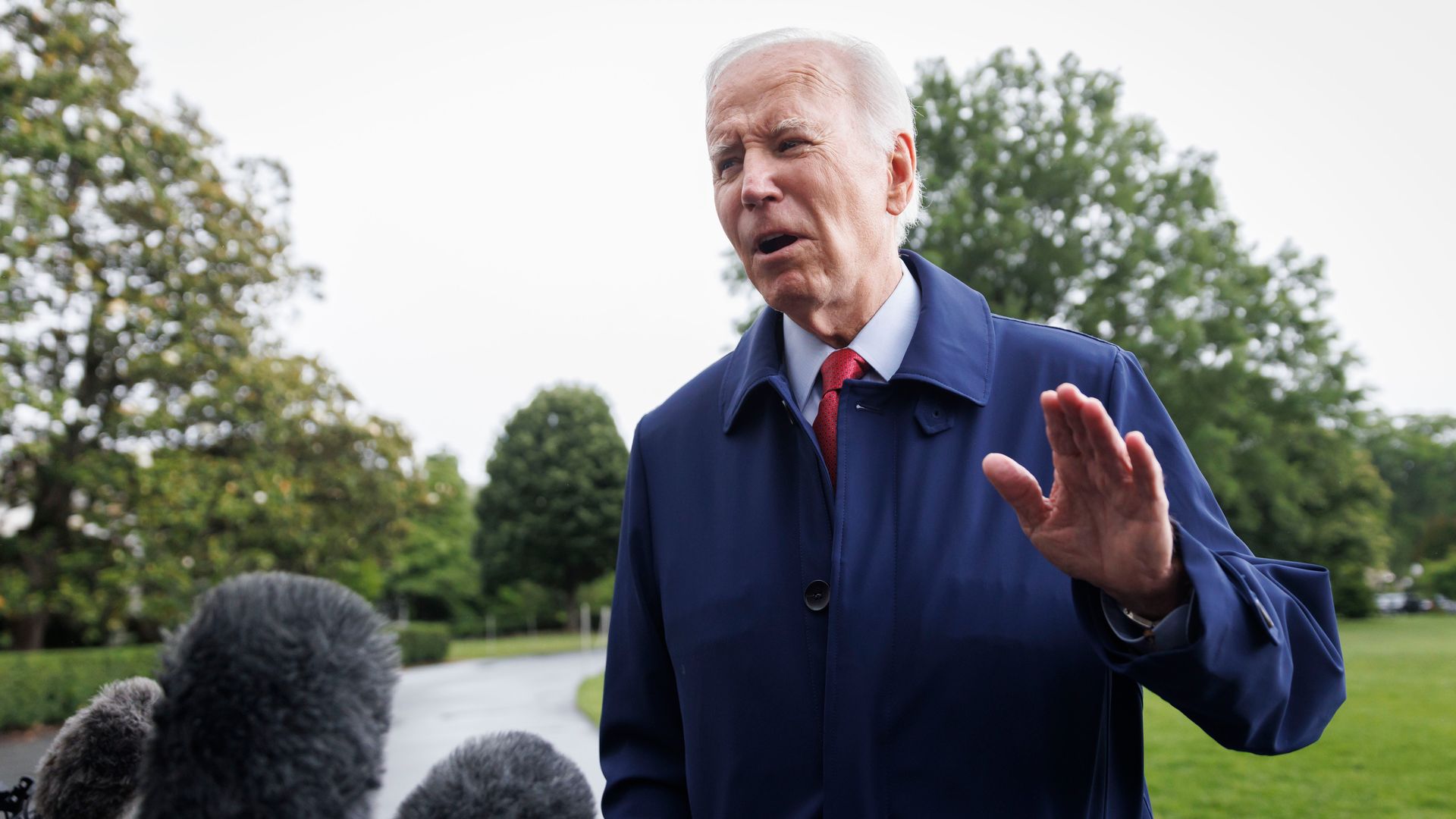 President Biden on Monday called for the "immediate repeal" of Uganda's severe new anti-gay law and warned he may impose sanctions and other penalties in response.
Driving the news: Ugandan President Yoweri Museveni signed legislation Monday that Human Rights Watch notes criminalizes "merely identifying" as LGBTQ and imposes severe punishments for violations related to same-sex relations, including the possibility of the death penalty.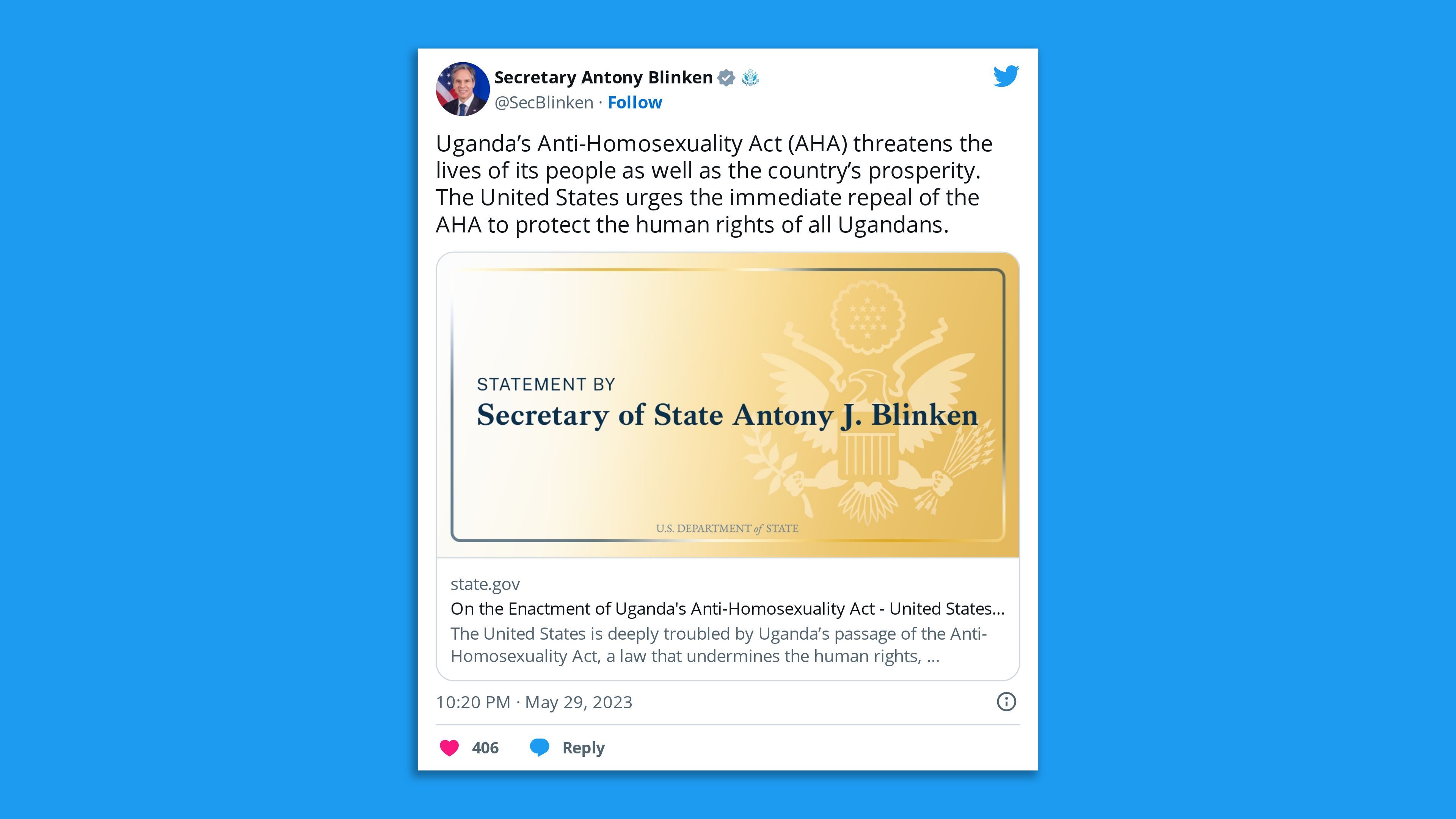 What they're saying: "This shameful Act is the latest development in an alarming trend of human rights abuses and corruption in Uganda," Biden said in a statement on the Anti-Homosexuality Act.
"The dangers posed by this democratic backsliding are a threat to everyone residing in Uganda, including U.S. government personnel, the staff of our implementing partners, tourists, members of the business community, and others," he added.
Separately, U.S. Secretary of State Antony Blinken said in a statement on Monday night that the State Department "will develop mechanisms to support the rights of LGBTQI+ individuals in Uganda and to promote accountability for Ugandan officials and other individuals responsible for, or complicit in, abusing their human rights."
He added that the department is updating its "travel guidance to American citizens and to U.S. businesses as well as to consider deploying existing visa restrictions tools against Ugandan officials and other individuals for abuse of universal human rights, including the human rights of LGBTQI+ persons."
What we're watching: Biden said he's directed National Security Council officials "to evaluate the implications" of the anti-gay law "on all aspects of U.S. engagement with Uganda."
This includes whether the U.S. will continue to safely deliver services under the U.S. President's Emergency Plan for AIDS Relief and other forms of assistance and investments.
Biden administration officials will also review Uganda's eligibility for the African Growth and Opportunity Act, which provides eligible sub-Saharan African countries with duty-free access to the U.S. market for hundreds of products.
"And we are considering additional steps, including the application of sanctions and restriction of entry into the United States against anyone involved in serious human rights abuses or corruption," Biden said.
Zoom out: The United Nations Human Rights Office said in a statement "the draconian and discriminatory" new anti-gay law "is a recipe for systematic violations of the rights of LGBT people" and the wider population.
"It conflicts with the Constitution and international treaties and requires urgent judicial review," the statement added.
The leaders of the UN AIDS program, the U.S. President's Emergency Plan for AIDS Relief and the Global Fund, warned in a joint statement that "Uganda's progress on its HIV response is now in grave jeopardy" due to the law.
"The Anti-Homosexuality Act 2023 will obstruct health education and the outreach that can help end AIDS as a public health threat," they said.
The big picture: Same-sex relationships have been illegal in Uganda since British colonial rule.
The new legislation is a "revised and more egregious version" of a 2014 bill that also drew widespread international condemnation before it was struck down by a Ugandan court on procedural grounds, per Human Rights Watch.
Steven Kabuye, a human rights activist in Uganda's capital, Kampala, told The Guardian the act "violates basic human rights and sets a dangerous precedent for discrimination and persecution against the LGBTQ+ community" in the country.
"As we have seen in the past, such laws can lead to increased violence, harassment and marginalisation of already vulnerable groups," Kabuye added.
Editor's note: This article has been updated with comment from U.S. Secretary of State Antony Blinken.
Go deeper