Insurer cites "growing catastrophe exposure" as it stops new sales in California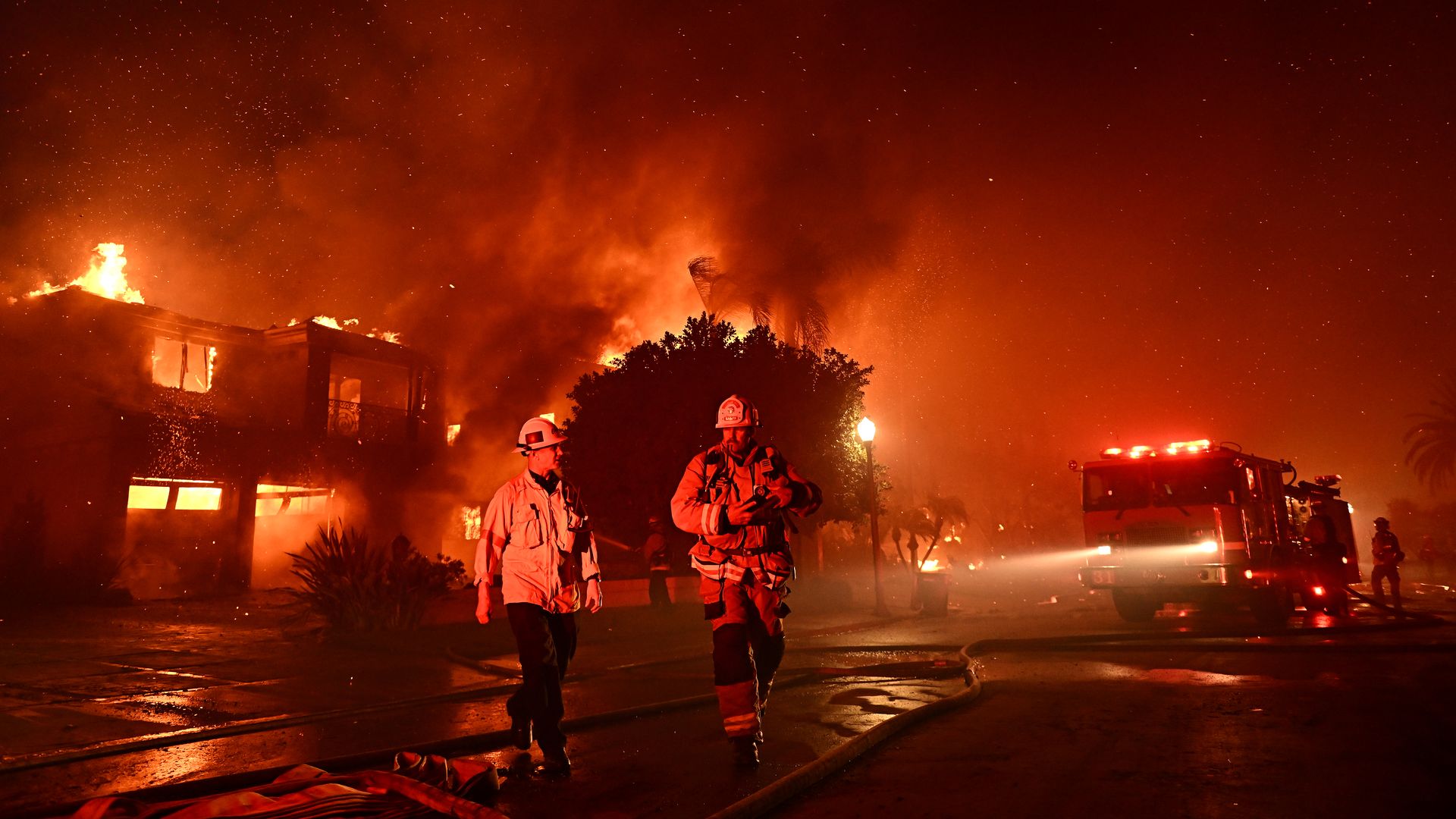 State Farm says it's no longer accepting homeowner insurance applications in California due to "historic increases in construction costs outpacing inflation" and "rapidly growing catastrophe exposure" to extreme weather events like wildfires.
Why it matters: Multiple studies show climate change is influencing the frequency and severity of extreme weather events, increasing the risk of wildfires and also the proportion of storms that reach major hurricane status of Category 3 or above.
With more severe and frequent severe weather events and extreme weather swings, the resilience of homeowners and communities is on the line and how lenders, insurance companies and others incorporate escalating risks is a key issue, per Axios' Andrew Freedman.
Zoom in: State Farm, the top home insurance firm in California, stopped accepting new sales Saturday. The American International Group announced last year it was pulling policies in the state amid wildfire risk concerns.
California Insurance Commissioner Ricardo Lara moved to protect homeowners by introducing insurance pricing regulations, including a one-year moratorium preventing homeowner insurance cancellations and non-renewals in some fire-affected counties.
Zoom out: It's not just California. Some insurers pulled out of Louisiana and Florida last year after forecasters warned of "another active Atlantic hurricane season," per Bloomberg.
Florida is facing an insurance crisis ahead of the official start of the hurricane season on June 1, when property insurance companies in the state to get their reinsurance in place, Axios Miami's Deirdra Funcheon reports. Some companies have gone insolvent and rates have skyrocketed.
By the numbers: There were nearly 12,000 disasters attributable to extreme weather and climate-related events during the 1970-2021 period — costing $4.3 trillion and rising, according to updated United Nations analysis out last week.
In California, Cal Fire reports 7,490 wildfires razed 362,455 acres, killing nine people and destroying or damaging 876 structures.
What they're saying: "We take seriously our responsibility to manage risk. We recognize the Governor's administration, legislators, and the California Department of Insurance (CDI) for their wildfire loss mitigation efforts," State Farm said in a statement Friday that emphasized existing customers wouldn't be affected by the decision.
"We pledge to work constructively with the CDI and policymakers to help build market capacity in California. However, it's necessary to take these actions now to improve the company's financial strength."
Meanwhile, CDI spokesperson Michael Soller, the Californian deputy insurance commissioner, said in an emailed statement Sunday night that while insurance companies prioritize their short-term financial goals, the long-term goal of the Department of Insurance is protecting consumers.
"The factors driving State Farm's decision are beyond our control, including climate change, reinsurance costs affecting the entire insurance industry, and global inflation," Soller said.
"We have been here before after major wildfires. What's different is the actions that we are taking with the first-ever insurance discount program for wildfire safety and unprecedented wildfire mitigation investments from the Legislature and Governor."
The bottom line: "Home insurance is a key way that people manage risk of climate-related hazards," said Noah Diffenbaugh, a climate scientist and professor at Stanford University to the Washington Post Sunday.
"And we're seeing that these events can be very costly both at the individual level," he added. "And clearly can be very costly for insurance companies."
Go deeper