McCarthy and Biden's big test on the debt ceiling deal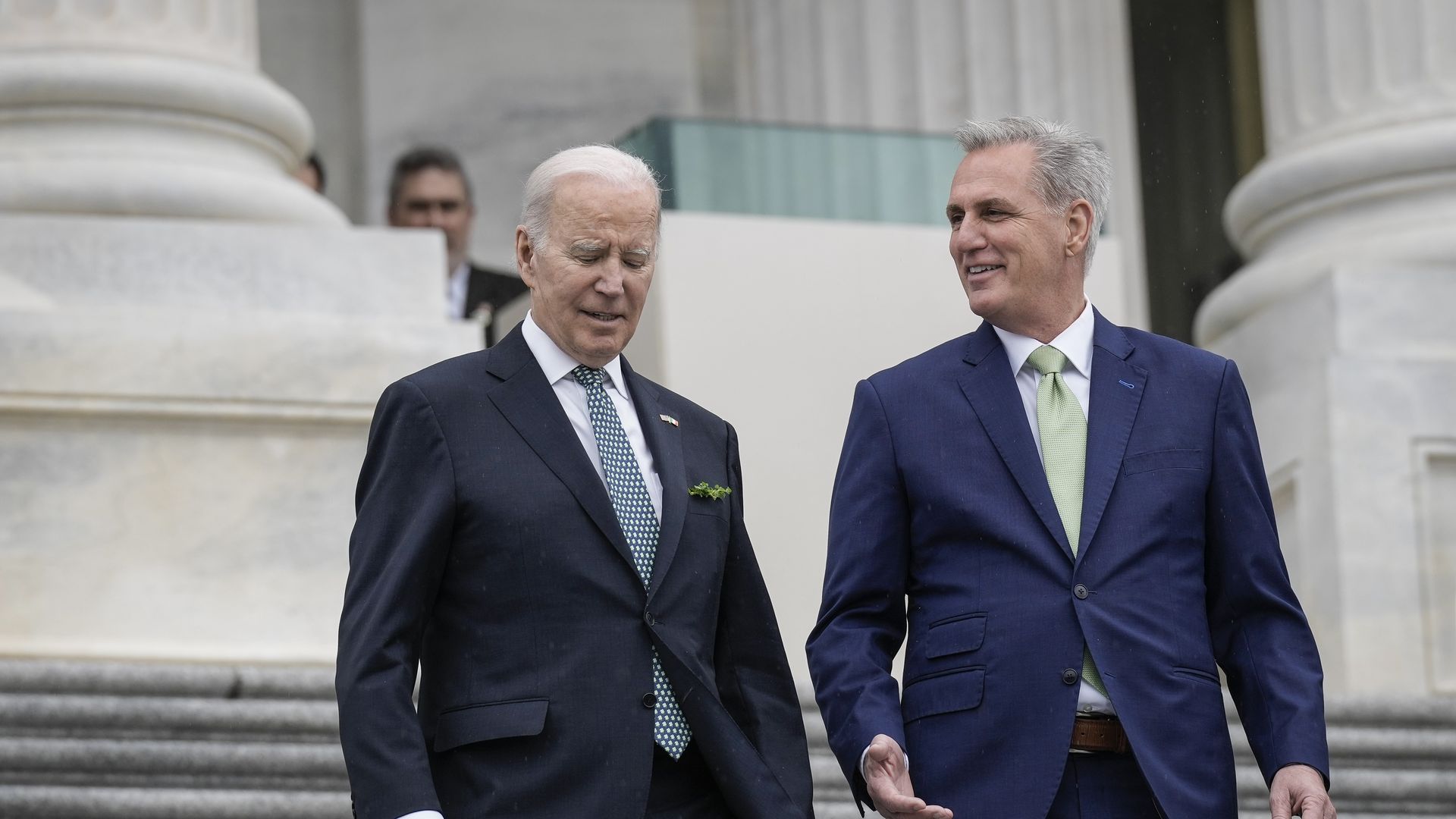 House Speaker Kevin McCarthy and President Biden finally have their debt ceiling deal. Now comes the hard part: Rushing it through an uneasy Congress in just one week, before the government's projected default on June 5.
Why it matters: The stakes are especially high for McCarthy (R-Calif.), whose survival as speaker could be at stake if he can't contain the anger of right-wing Republicans who already are panning the compromise.
A source close to the House GOP leadership told Axios that perhaps 60 conservative Republicans won't vote for it. That means McCarthy could need votes from nearly that many Democrats to get the plan through the divided House.
Biden will have to deliver those votes despite wariness among progressives about some aspects of the deal — and a broader frustration among Democrats that the White House is already losing the public relations battle over it.
State of play: Like any compromise, the Biden-McCarthy deal has some wins and losses for both sides.
It raises the debt ceiling until 2025 and keeps non-defense discretionary spending steady, which Democrats see as victories.
Republicans wanted, and got, new work requirements for people who are on welfare, a boost in defense spending, clawbacks of unspent COVID aid and some IRS funding.
Another significant GOP win is what's not in the deal: tax increases or any other revenue-raisers.
Zoom in: On a Saturday night call to brief House Republicans 0n the deal, McCarthy called it a total win for Republicans and said no concessions were made to Democrats.
His deputies rushed to sell that framing. "There are no real wins for Democrats other than the debt ceiling is being raised," Rep. Stephanie Bice (R-Okla.) told Axios in an interview.
Some conservative Republicans weren't buying it: Freedom Caucus members Bob Good (R-Va.), Lauren Boebert (R-Colo.), Ralph Norman (R-S.C.) and Dan Bishop (R-N.C.) all made clear they won't vote for the bill.
"Bulls***," is how one senior conservative source described the deal.
But Rep. Dusty Johnson (R-S.D.) said he talked with three dozen House members across the GOP's ideological spectrum late Saturday — including "among the most conservative" — and, "I think they understand what a significant win this is."
Between the lines: McCarthy can likely afford to lose dozens of conservatives' support when the House votes on the plan later this week. What he can't do, however, is anger those members so much they trigger a motion to oust him.
Under rules McCarthy agreed to in January to secure enough conservative GOP votes to be elected speaker, just one House member can bring a "motion to vacate," and force a vote to remove the speaker.
So far, no one has threatened that, but the rhetoric was heated Saturday.
"If Speaker's negotiators bring back in substance a clean debt limit increase," Bishop tweeted Saturday morning before the deal was struck, "[I]t's war."
The other side: Some Democrats, already fuming about being excluded from the negotiating table, are distressed that the White House isn't doing enough to give them cover to vote for the bill.
The latest source of concern: That the White House is waiting until nearly a day after McCarthy outlined the plan to Republicans before briefing congressional Democrats.
"The White House has a communication problem," one Democratic House member said. "McCarthy's on the phone telling his Republicans, 'The Democrats didn't get anything,' and [the White House] has got to get out there and start selling ... People are not happy."
Progressives are worried about the work requirements and energy permitting changes in the deal, according to two House Democrats.
A Democratic source told Axios that the White House has been circulating materials and talking points about the deal, and making calls to Democratic leaders and members of Congress.
What we're watching: Several Republicans told Axios that their key concerns on the final vote count — rather than GOP defections — are Democratic ones.
This story was updated to include information about the White House's outreach to Congress.
Go deeper