Lifeguard shortage drags on for third summer in a row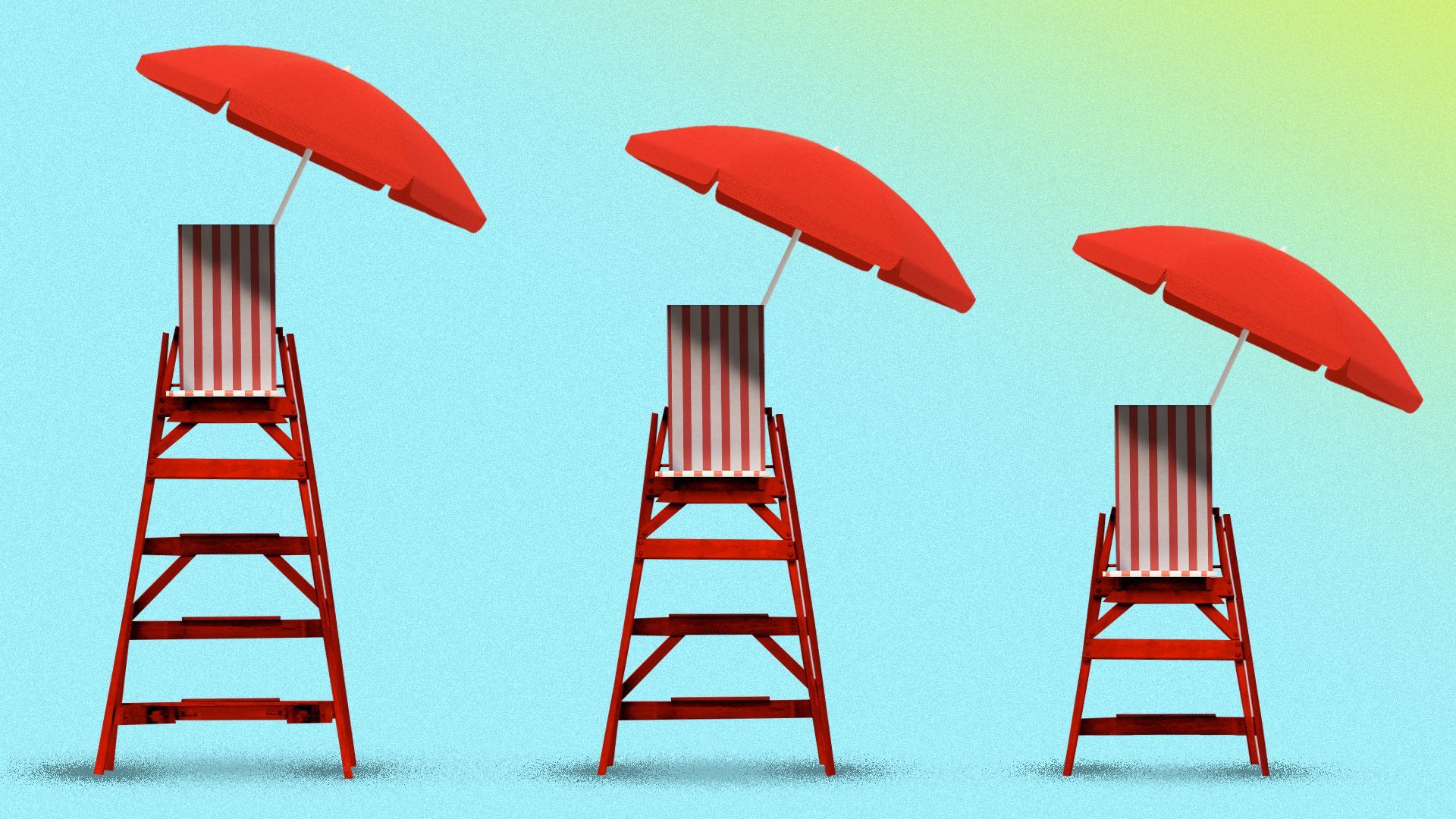 A national lifeguard shortage will keep thousands of pools across the country closed or operating with reduced hours for the third summer in a row.
Why it matters: Memorial Day weekend is considered the official start of swimming season. Experts tell Axios they worry the shortage will mean a higher chance of drownings and pool injuries.
About a third of more than 309,000 public pools are affected by the shortage, per estimates from the American Lifeguard Association.
This doesn't include beaches, water parks and other venues, which also may have to trim hours, stay closed or operate with "no lifeguard on duty signs."
What's happening: The main problem is the pandemic "wiped the slate of certified lifeguards completely clean," Bernard J. Fisher II, director of health and safety at the lifeguard association, told Axios.
The recertification of existing lifeguards, which is required every two years, could also contribute to this year's shortage.
Adam Katchmarchi, executive director of the National Drowning Prevention Alliance, said what scares him is some facilities will choose to operate when they don't have enough safety staff, which will put their patrons more at risk.
He also thinks a number of commercial pools will shut down if they can't get enough lifeguards.
"One of the biggest risks is we're losing some of our safer swimming environments for families over the summer," Katchmarchi said.
The pandemic reversed longtime drowning trends, Katchmarchi said, which had been going down each year until 2020.
Nonfatal drowning injuries that were pool- or spa-related spiked 17% in 2021, a 2022 U.S. Consumer Product Safety Commission report found. Hospitals reported treating 6,800 injuries of children under 15, compared to 5,800 injuries in 2020.
"Unfortunately, we can't say until we get probably five to six years' worth of data that a new trend has been established, but all signs point that our drowning numbers are remaining steady post-COVID at this higher rate," Katchmarchi said.
State of play: Cities and states have been working to provide incentives to get a new crop of lifeguards.
Colorado Gov. Jared Polis recently announced a new lifeguard training program that allocates more than $250,000 in grants to local governments to boost staffing at public pools. Each city is eligible for up to $20,000, Alayna Alvarez reports for Axios Denver.
A lifeguard hiring spree in Indianapolis, Indiana with $500 signing bonuses, has brought the lifeguards on staff to 170, up from 81 a year ago, Axios' James Briggs reports.
Philadelphia's lifeguard bonuses will be distributed at the end of the summer and the city also is offering college credit to Temple University students who become certified and work as city lifeguards.
The city of Phoenix says it is providing $3,000 in incentive pay with $500 on the first paycheck and the remaining $2,500 as a one-time payment at the end of the 2023 pool season.
In Texas, Austin Parks and Recreation Department officials have beefed up the pay structure for lifeguards, who can earn a minimum of $20 an hour in addition to bonus payouts.
George Gorman Jr., regional director of New York State Office of Parks, Recreation and Historic Preservation, told Axios that Gov. Kathy Hochul increasing the pay for lifeguards is expected to help dramatically.
Meanwhile, Seattle is closing three beaches and two pools for the summer because of a staffing shortage, Seattle Parks and Recreation spokesperson Rachel Schulkin told Axios' Melissa Santos and David Chiu.
Zoom out: The lifeguard shortage has also led to canceled swim lessons because there's not enough staff available, Fisher said.
"This is becoming a snowball effect. We're canceling the swimming classes and we're going to increase drownings because of it," Fisher said. "We're not going to have individuals strong enough swimmers to become lifeguards down the road."
More from Axios:
Go deeper