Party leaders sell divergent realities on debt ceiling deal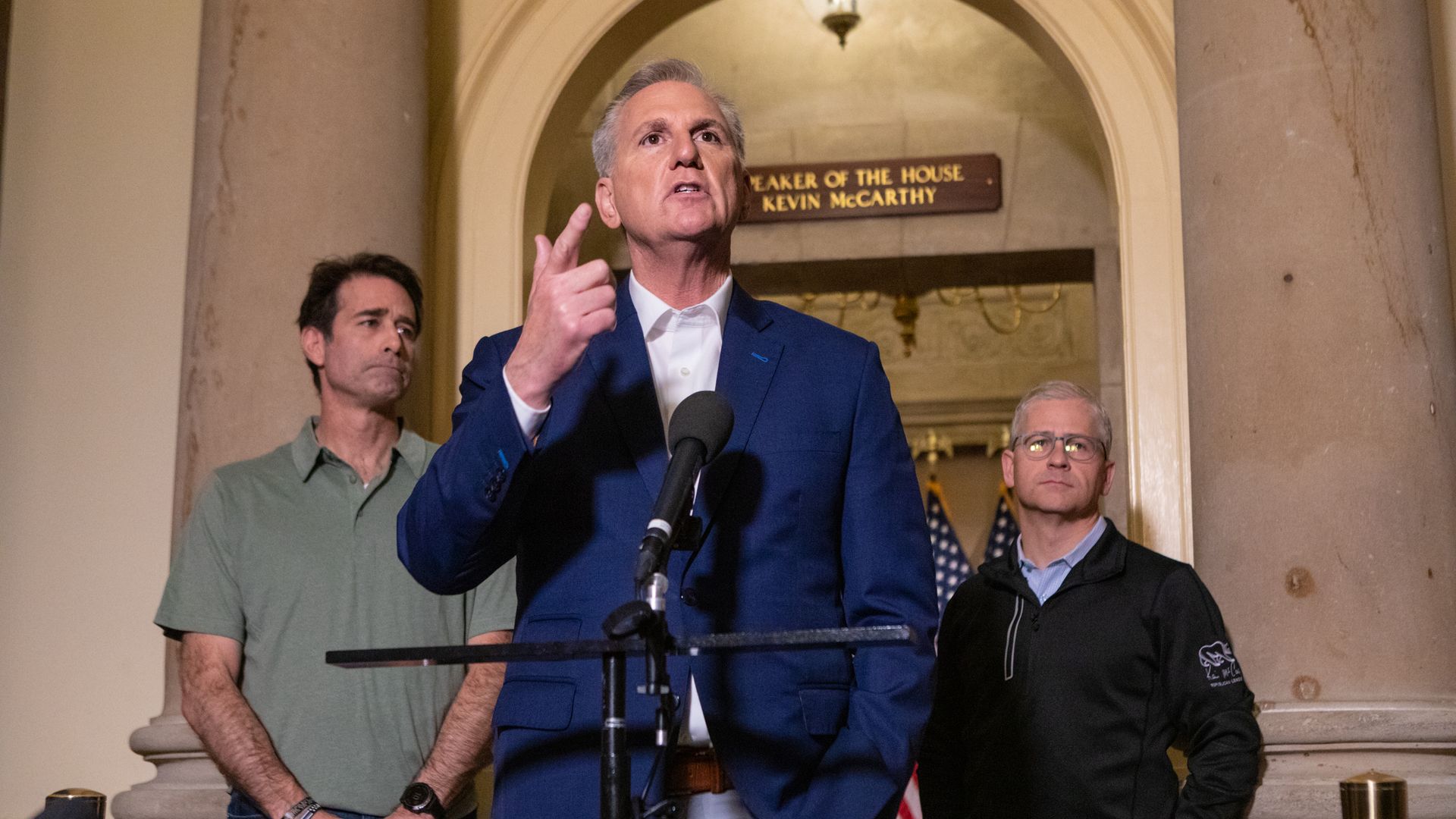 The White House and House GOP are each performing careful balancing acts as they race to sell their debt ceiling deal to lawmakers as a decisive victory — without alienating the other side.
Why it matters: The bill will almost certainly require substantial support from members in both parties to pass and avert a potentially catastrophic default on U.S. debt by June 5.
The deal announced Saturday night marked a huge breakthrough after months of brinkmanship — but party leaders still have to sell the bill to skeptical members and the public.
"Everyone's trying to thread the needle to get to 218," said one House Democrat. "Either side bragging too much about their wins scares people and costs votes."
Driving the news: After telling his members on a Saturday night conference call that he made zero concessions to Democrats, House Speaker Kevin McCarthy (R-Calif.) doubled down in a "Fox News Sunday" interview.
"Right now, the Democrats are very upset," McCarthy said. House Democratic leader "Hakeem [Jeffries] told me, there's nothing in the bill for them. There's not one thing in the bill for Democrats."
That was news to Jeffries, who said in a CBS News "Face the Nation" interview: "I have no idea what he's talking about, particularly because I have not been able to review the actual legislative text."
By the time he briefed the press at the Capitol later Sunday, McCarthy was singing a very different tune.
"It is not everything everybody wanted, but I think it is a very positive bill," he told reporters.
Asked whether he could get Democratic votes for a bill he cast as a total GOP victory, McCarthy said: "We raised the debt ceiling, we negotiated in good faith with the president. ... There's a lot in here for both sides."
Zoom in: The two parties might as well be in other worlds when it comes to characterizing details of the deal.
The GOP's one-pager on the bill, for example, says it caps 2024 non-defense spending at 2022 levels, but White House briefing materials say the deal keeps spending "roughly flat" with 2023 levels.
Even where there's agreement, the spin can be vertigo-inducing: The GOP boasts that the deal "restart[s] student loan repayments," but the White House contextualizes that it simply "codifies an end to the pause — which the administration had planned to end on September 1."
The other side: Democrats have taken a more behind-the-scenes approach than McCarthy. The White House called congressional allies individually and sent briefing materials on Saturday night but is waiting until 5pm ET on Sunday to hold a virtual briefing.
The approach seems to be working for some. Rep. Susan Wild (D-Pa.), who raised concerns about the bill at a closed-door meeting last week, told Axios that, after speaking with White House adviser Mitch Landrieu, there's nothing she sees as a "deal breaker."
Rep. Jared Moskowitz (D-Fla.) characterized the fact that the bill raises the debt ceiling into 2025 as a "huge win" for Biden, but conceded McCarthy has "worked the public relations of this, in my opinion, to great effect."
Both said they are waiting to see the final text before deciding how they will vote.
Yes, but: Reps. Pramila Jayapal (D-Wash.), the chair of the Congressional Progressive Caucus, and Jim Himes (D-Conn.), the former chair of the center-left New Democrat Coalition, both raised concerns about the deal on the Sunday shows.
Many Democrats "are looking for reassurance" from the White House briefing, Rep. Debbie Dingell (D-Mich.) told Axios.
Members of the House Freedom Caucus also appeared to be livid, and several outside conservative groups came out swinging against the deal on Sunday.
What to watch: In addition to the briefing, Democrats will have an in-person caucus meeting next week and "multiple opportunities to review and discuss the legislation with the Biden administration," according to a letter Jeffries circulated Sunday.
McCarthy said he plans to brief Senate Republicans — some of whom have also voiced serious concerns about the deal — on a Sunday call.
The bottom line: "Both sides are obviously going to sell it as a win for them," said Moskowitz. "That's how this works."
Go deeper