Target pulls some Pride Month items after customer backlash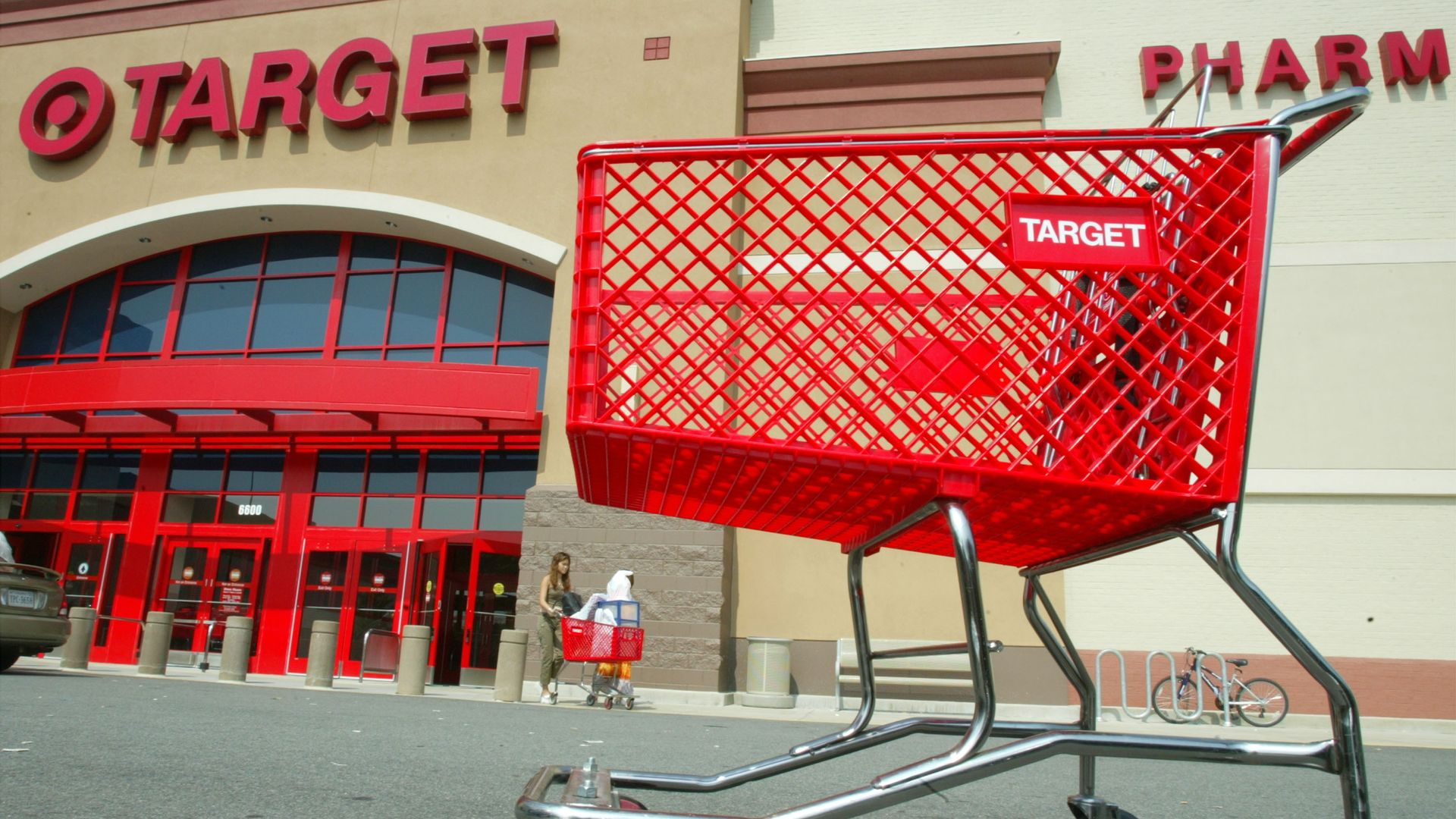 Target is making changes to its Pride Month 2023 collection after customer backlash including some violent confrontations between staff and customers over select LGBTQ+ items.
Why it matters: Other major brands such as Disney and Budweiser have become embroiled in LGBTQ issues as anti-LGBTQ legislation takes effect across the U.S.
Driving the news: The Minneapolis-based retailer confirmed to Axios that since introducing its collection in May, stores have "experienced threats impacting our team members' sense of safety and well-being while at work."
Target said it has offered an assortment of merchandise, which includes clothing, to mark June's annual Pride for more than a decade.
The company has moved its typical front-of-store Pride merchandise display to the back in some Southern locations in response to customer backlash, the company confirmed to the AP.
Pride displays have been knocked down in some stores, and shoppers have put threatening posts on social media with videos taken in stores, the Wall Street Journal reported.
Target has not said what items are being pulled, and a spokesperson told WSJ that is still evaluating which items to remove.
A transgender-friendly swimsuit that online commenters incorrectly believed was also for children has drawn a lot of the criticism. The "tuck-friendly" bathing suit is only offered in adult sizes.
Meanwhile, several of the videos on social media, which include misleading statements about the collection, call for shoppers to boycott Target.
What they're saying: "Given these volatile circumstances, we are making adjustments to our plans, including removing items that have been at the center of the most significant confrontational behavior," Target said in a statement.
"Our focus now is on moving forward with our continuing commitment to the LGBTQIA+ community and standing with them as we celebrate Pride Month and throughout the year," the company said.
LGBTQ groups spoke out against Target making changes and removing items.
Sarah Kate Ellis, president and CEO of GLAAD, said in a statement that "Anti-LGBTQ violence and hate should not be winning in America, but it will continue to until corporate leaders step up as heroes for their LGBTQ employees and consumers and do not cave to fringe activists calling for censorship."
"Target should not be responding so easily to criticism and threats from the likes of the Proud Boys," Human Rights Campaign president Kelley Robinson said in a statement. "Target should put the products back on the shelves and ensure their Pride displays are visible on the floors, not pushed into the proverbial closet. That's what the bullies want."
Separately, some lawmakers condemned Target's decision.
Rep. Angie Craig (D-Minn.) said it is "disappointing to see Target give in to threats and harassment from those who do not want to see Pride celebrated in their community. It is important that we do everything we can to keep employees safe in their workplace, but giving in to bullies only emboldens their behavior."
California Gov. Gavin Newsom slammed the decision in a tweet saying this "isn't just a couple stores in the South. There is a systematic attack on the gay community happening across the country. Wake up America. This doesn't stop here. You're black? You're Asian? You're Jewish? You're a woman? You're next."
The big picture: Pride Month is considered a time of celebration of the LGBTQ community and a recognition that the fight for equality continues.
It honors the 1969 Stonewall Uprising, which is credited with galvanizing the modern gay rights movement.
Context: The Walt Disney Company and Budweiser have both faced some backlash over recent moves on LGBTQ issues.
Disney took a large reputation hit with Republicans in voicing opposition to Florida GOP Gov. Ron DeSantis' so-called "Don't Say Gay" bill last year that its overall reputation score in this year's Axios Harris Poll 100 was severely impacted.
Conservative groups and country music stars called for a boycott of the beer brand after it partnered with Dylan Mulvaney, a transgender advocate and TikTok star.
Many Americans lack fully developed views on LGBTQ issues and sexual identity as more states enact laws restricting access to transgender health care, per the Axios-Ipsos American Health Index.
Of note: Pride organizers in a number of Florida towns have canceled events slated for next month, after DeSantis (R) signed several anti-LGBTQ bills into law.
Editor's note: This story was updated with statements from GLAAD, the Human Rights Campaign, California Gov. Gavin Newsom and Rep. Angie Craig.
More from Axios:
Go deeper