Some states encourage hospital mergers while feds cast wary eye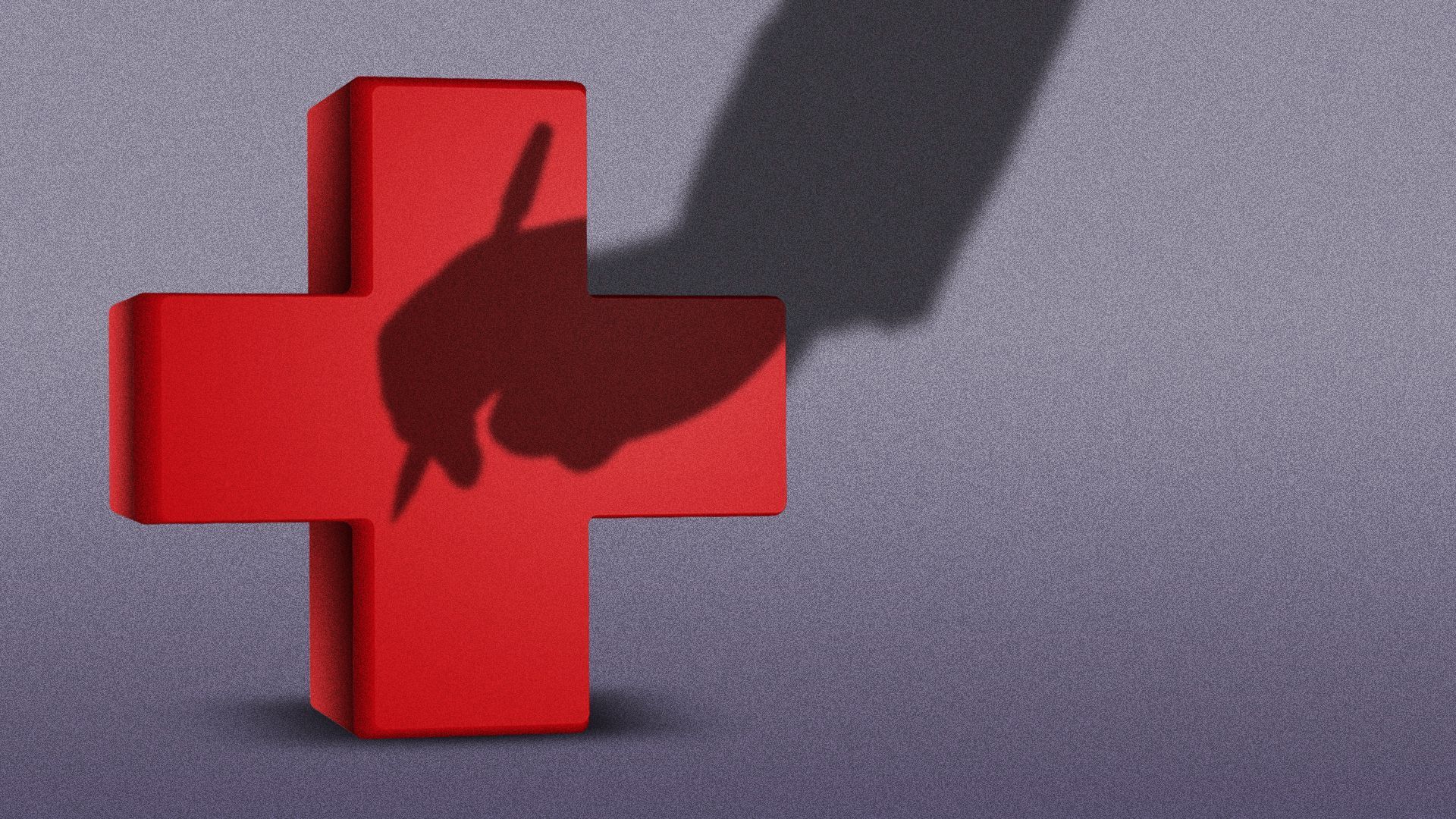 As federal policymakers step up oversight of hospital mergers, more states are taking steps to encourage consolidation in the industry — or to have the final say on whether such moves are anti-competitive.
Why it matters: The policies are a sign of the power some hospital lobbies continue to wield in statehouses, where they've argued mergers are a way to expand the patient base and keep otherwise unprofitable facilities open.
Driving the news: North Carolina lawmakers are considering legislation that will exempt the University of North Carolina's health system from federal and state antitrust law. A state Senate budget proposal would do the same for the East Carolina University health system.
Earlier this year, Mississippi passed a new law that exempts all hospital acquisitions and mergers from state antitrust law. It also classifies community hospitals as government entities, which makes them immune from antitrust enforcement.
Maine, South Carolina, Tennessee, Texas, Virginia and West Virginia have so-called certificate of public advantage, or COPA, laws that let state officials green-light mergers if they determine likely benefits outweigh disadvantages from reduced competition, per the Federal Trade Commission.
These state laws are in direct conflict with efforts in Congress like the bipartisan Stop Anticompetitive Healthcare Act, which would allow the Federal Trade Commission to intervene in mergers and deals made by nonprofit hospital systems.
Yes, but: State sovereignty is in play in these discussions, especially around the question of whether states have the authority to exempt hospitals from federal antitrust scrutiny.
Mississippi lawmakers decided their state "can best be served by community hospitals having the legal, financial and operational flexibility to take full advantage of opportunities and challenges presented by the evolving health care environment," the new law states.
Allowing rural facilities to consolidate or merge with other hospitals is preferable to hospitals closing, policymakers decided.
"It's trying to address and solve a problem it has as a state and using tools it believes will solve a problem," Diane Hazel, a member of the Foley & Lardner Antitrust Practice Group, told Axios.
A similar dynamic is playing out in Louisiana, where officials are accusing the FTC of meddling in a $150 million deal in which Louisiana Children's Medical Center would buy three hospitals from HCA Healthcare, according to Reuters.
The intrigue: Mergers and acquisitions may not be the best way to solve unprofitable hospitals' challenges, experts say.
Research shows that acquisitions can keep rural facilities open, but that facilities usually wind up cutting services that community members rely on. Mergers can also slow wage growth for health care workers.
There are other ways for rural hospitals to be paid more by health plans or have access to more capital, said Harold Miller, president of the Center for Healthcare Quality and Payment Reform.
In some states, rural hospitals have joined together to create collaboratives to share staff or contract together, per a new Commonwealth Fund report.
In Washington state, the Rural Collaborative of 24 public hospital districts negotiate contracts together with vendors and health plans, giving them better bargaining power, though it's largely possible due to a state law that enables rural facilities to do this.
Zoom out: Some states are attempting to take more aggressive approaches to regulating competition in the health care market, with mixed results.
Trinity Health walked away from a deal to acquire a hospital in central California after the state attorney general, who regulates nonprofit mergers in the state, imposed conditions, like price caps and language services, for acquiring the facility, Cal Matters reported.
Last week, health care worker unions in Pennsylvania filed a complaint to the Department of Justice against the University of Pittsburgh Medical Center for what they claim is "monopolization" of the state's health care system.
What we're watching: The North Carolina House of Representatives still is weighing the proposed changes to hospital antitrust policy.
Rep. Larry Potts, senior chairman of the House health committee, told Axios he's heard some hospitals and other members express concerns about the bill.
His committee hasn't yet discussed the legislation, and Potts said he doesn't yet know which way he's leaning.
Maya Goldman contributed to this article.
Go deeper