Ron DeSantis declares 2024 candidacy in glitchy Twitter Spaces event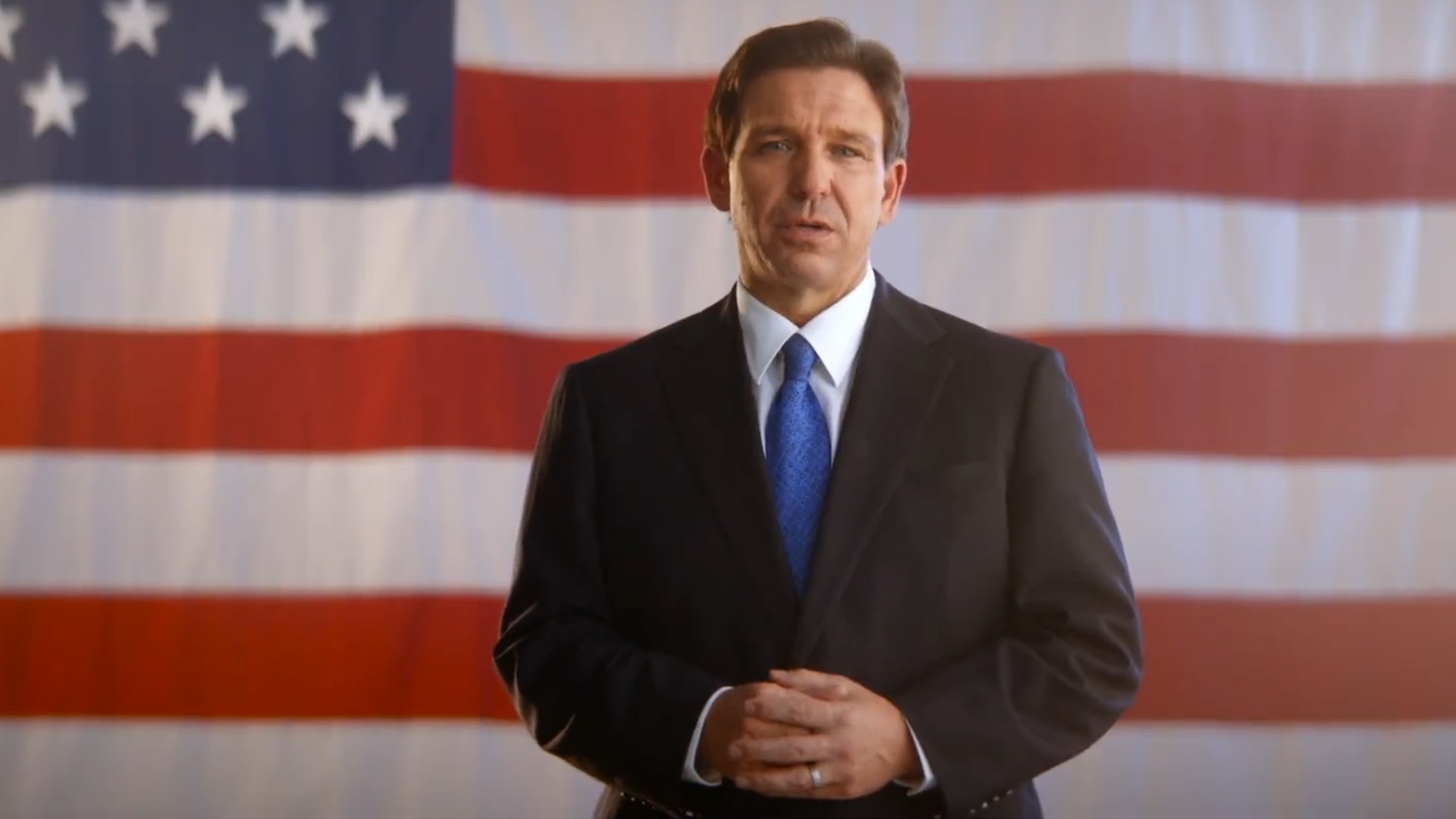 Florida Gov. Ron DeSantis officially filed paperwork Wednesday to seek the Republican nomination in the 2024 presidential election and announced his candidacy via Twitter.
Why it matters: DeSantis — widely seen as former President Trump's most serious challenger — made a name for himself challenging COVID protocols and pursuing an aggressive conservative agenda on race, gender and education in the state of Florida after easily winning re-election in 2022.
State of play: He formally announced his run Wednesday evening, notably during a Twitter Spaces event with Elon Musk instead of on Fox News — after months of speculation about his ambitions.
The Twitter Spaces event got off to a rough start with an over 20-minute delay after the first link crashed. A second Twitter Spaces was started, but it was interspersed with occasionally dropped audio or disrupted connections for listeners.
DeSantis will use the various moves he's made in Florida — like fighting Disney, banning critical race theory, restricting discussions of sexual orientation and gender identity in classrooms, removing a "Soros-prosecutor," and opposing China — as a proposed "blueprint" for conservative policy across the country.
Editor's note: Coverage has concluded for this liveblog.
Florida Gov. Ron DeSantis' campaign announcement makes him the seventh Republican to formally enter the 2024 presidential race.
The big picture: Former President Trump and President Biden have both announced their 2024 bids, setting up a potential rematch of 2020. A number of Republicans are still expected to enter the contest.
Read more about the candidates who have formally entered the 2024 race — and who may still announce.
Asked how he would carry out his agenda if elected, DeSantis touted his accomplishments as Florida's governor.
"Even my worst critics in Florida will acknowledge — when I tell people I'm going to do something … I've thought it through and I know that I am going to follow through," he said.
"At the end of the day, this whole business that we're in is about producing results. I don't care about fanfare," he said.
"I am going to make sure that I'm leaning into issues and making an impact and we have done that in the state of Florida and I bring that exact attitude up to 1600 Pennsylvania Avenue."
DeSantis signed a series of laws in May further expanding his efforts to restrict LGBTQ+ rights in Florida.
Why it matters: Deemed a "slate of hate" by activists, the laws affect aspects of daily life for some LGBTQ+ people while advancing DeSantis' push to lean into cultural divides over gender identity and sexual orientation.
Driving the news: The laws limit the use of preferred pronouns in public schools, prohibit trans people from using public bathrooms that don't align with their assigned sex at birth and target drag shows.
Another measure bans certain gender-affirming care for minors and also puts into place new restrictions for trans adults.
Go deeper: DeSantis attacks Florida LGBTQ+ community with "slate of hate" laws; What states are restricting transgender health care
Report by Ivana Saric.
Casey DeSantis, the governor's wife of nearly 14 years, has been a steadfast and instrumental figure in his political ascent.
The big picture: As the first lady of Florida, Casey DeSantis has championed causes related to cancer research, mental health and education, according to a biography on the governor's office website.
Casey DeSantis graduated from the College of Charleston in South Carolina with a degree in economics. She previously worked as a local broadcast journalist.
Worth noting: Insiders have highlighted her role as an influential adviser to the governor, in addition to her appearances in campaign videos and at events.
She has also been credited with helping soften and humanize his image by virtue of her own warmth and social acumen.
Report by Ivana Saric.
DeSantis said "spiking crime," and education issues are expected to be central parts of his campaign.
"We chose facts over fear, education over indoctrination," DeSantis said.
DeSantis also took several indirect jabs at former President Trump, though he didn't call him by name, saying: "Governing is not entertainment. It's not about building a brand or virtue signaling."
When asked why DeSantis decided to make his campaign announcement on Twitter, the Florida governor highlighted his experience as governor during the pandemic, which emerged as a central point during the Twitter Spaces. He said that federal agencies during COVID had "impulses [that] were authoritarian."
DeSantis has more than $100 million across his state re-election account, Friends of Ron DeSantis, and the federal pro-DeSantis super PAC, Never Back Down, which has raised $33 million by itself, a person familiar told Axios.
The federal super PAC has spent millions running TV ads and sending swing state voters multi-page flyers.
Those flyers detailed DeSantis' military service, a so-called DeSantis playbook, and a cartoon of DeSantis punching a man with Mickey Mouse whiskers, in an apparent reference to the Disney character.
After Trump's town hall with CNN earlier in May, the DeSantis-aligned PAC accused Trump of being "stuck in the past," pointing out the focus on the 2020 election, the Jan. 6 Capitol attack and promise to pardon "people who harmed police officers.
Venture capitalist David Sacks is moderating the Twitter Spaces session with Musk and DeSantis.
Why it matters: Sacks, 50, an entrepreneur who was the founding COO of PayPal, is among private equity and venture capital heads who recently have edged toward the political spotlight, Axios' Dan Primack reports
After his PayPal stint from 1999 to 2002, Sacks went on to found social networking service Yammer in 2008 and co-founded the venture capital firm Craft Ventures in 2017, among other businesses.
The big picture: His agreement to serve as moderator in the session was intriguing, as he is expected to be joining the board of Rumble, a Twitter competitor.
Yes, but: Sacks and Musk have had a close business relationship for years.
He was among the close friends and colleagues that Musk brought in to assess changes at Twitter shortly after buying the social media company for $44 billion.
Sacks has also had a long-standing relationship with investor Peter Thiel, with whom he co-authored a book called "The Diversity Myth: Multiculturalism and Political Intolerance on Campus" in 1996.
In 2016, Sacks apologized for comments he made about rape and diversity within the book.
Report by Jacob Knutson.
After nearly 20 minutes of tech disruptions, DeSantis announced on Twitter Spaces that he is running for president "to lead our great American comeback."
"Look, we know our country is going in the wrong direction, we see it with our eyes and we feel it in our bones," he said.
The Twitter Spaces event where DeSantis was expected to announce his campaign has been marred by numerous technology issues, including audio echoes and sound cutting out.
The event, scheduled to begin at 6pm ET, had not been able to start by 6:15pm, as more than 500,000 people were logged on to listen.
Context: Twitter Spaces has been marred with issues during high-profile events before, but by 6:20pm the audio event had been relaunched and then dropped at least twice.
DeSantis' campaign, however, used the wait to encourage people to donate.
A second Twitter Spaces event was launched from Musk's account around 6:25pm and appeared to be working.
DeSantis launched his campaign announcement video, called "Our Great American Comeback," Wednesday night minutes ahead of his conversation with Elon Musk.
What he's saying: "We need the courage to lead and the strength to win," DeSantis said in the video, which touts his legislative accomplishments in Florida.
"We chose facts over fear, education over indoctrination, law and order over rioting and disorder. We held the line when freedom hung in the balance," he said.
It wasn't long ago that DeSantis filmed a campaign ad chock full of admiration for Trump. Now, the relationship between Florida's governor and the former president could not be more taut.
Zoom in: The feud between two of the most popular Republicans in the country shows no signs of abating — however, up until now, it's mostly been one-sided attacks from Trump.
Trump's frustration with the governor grew as the latter's popularity soared, worsened by DeSantis' repeated refusal to rule out running against him in 2024.
The former president has called DeSantis an ingrate with a "dull personality," bashed him on his past positions on reining in Social Security spending, and accused the governor of "grooming."
The other side: DeSantis took direct shots at the competence and character of Trump during an interview with "Piers Morgan Uncensored."
"[T]he way we run the government, I think, is no daily drama," DeSantis said, adding that a president's character should reflect that of the founding fathers.
DeSantis also blasted the former president's ongoing legal troubles. "Look, I don't know what goes into paying hush money to a porn star to secure silence over some type of alleged affair," he said.
Former President Trump, who has launched attacks against DeSantis before he formally entered the 2024 race, took to Truth Social to "personally congratulate" the Florida governor for entering the contest on Wednesday.
What he's saying: "Hopefully he will get the full experience of being attacked by the Marxists, Communists, and Radical Left Lunatics of our Country, without which he will never know the kind of job he is doing," Trump wrote.
DeSantis' presidential campaign will likely rely on the far-right cultural agenda that he has test driven in his home state as a "blueprint" for the nation.
Why it matters: DeSantis' dive into the Republican nominating contest has been tailored to try to scrape enough support from Trump's MAGA base to win the GOP nomination.
Read more about his plan to Make America Florida.
DeSantis signed a measure Wednesday the same day he signed FEC paperwork that allows him to run for president without vacating his statewide office.
Why it matters: The move clears the path for him to launch his campaign.
Driving the news: The Florida House of Representatives approved the measure, part of broader elections legislation, last month with a 76-34 vote after it cleared the state Senate.
Florida State Sen. Travis Hutson (R) introduced the amendment to the bill that would allow DeSantis to launch a White House bid without resigning as governor.
Go deeper: Florida GOP lawmakers pave the way for DeSantis '24
DeSantis' yearslong feud with the Walt Disney Company has been riddled with twists in recent months — including dueling lawsuits and Disney's cancellation of a slated roughly $1 billion project in Orlando.
How we got here: Disney in March 2022 criticized Florida's so-called Don't Say Gay bill that DeSantis signed into law. DeSantis soon after revoked the special status of Reedy Creek, a municipal district operated by Disney, and later appointed a board of allies to oversee the district.
Read our timeline on what's going on with DeSantis and Disney.
Democrats issued statements rebuking DeSantis quickly after his FEC filing, saying his candidacy "turns up the volume on an already messy Republican primary." Here's a sampling:
DNC Chair Jaime Harrison: "Ron DeSantis has pushed an extreme MAGA agenda focused on ripping Floridians' freedoms away and now he wants to take that agenda nationwide."
Nikki Fried, Florida's Democratic Party chair, condemned DeSantis' "extreme MAGA agenda," citing some of his legislation targeting gender, education and abortion, vowing to "fight tooth and nail" against his bid.
Florida state Rep. Angie Nixon slammed DeSantis' legislation that has "relentlessly attacked our freedoms" and said that he "threatens our ability to live our lives free from tyranny and oppression."
State Sen. Shevrin Jones said DeSantis "mounted an all-out assault on Floridians' most fundamental rights and freedoms," adding that he is "regulating our bodies, bedrooms and bookshelves."
"This man does not embody the characteristics we need in a president. He's a temperamental bully, who punches down on those who dare to disagree with him," state House Minority Leader Fentrice Driskell said in a statement.
DeSantis' use of Twitter to announce his 2024 campaign signals that Elon Musk has displaced Rupert Murdoch and Fox News as the king of conservative media in recent weeks, Axios' Sara Fischer and Mike Allen report.
Why it matters: Fox News used to be the place where conservatives went to break news. But the right-wing ecosystem has turned on the network, leaving Twitter as the center of media gravity for the Republican Party just as the 2024 election heats up.
Go deeper: Musk moves in on Murdoch
DeSantis filed paperwork Wednesday afternoon declaring his 2024 candidacy with the Federal Election Commission. While he is still expected to formally announce his bid, the FEC filing allows him to begin legally fundraising.
Zoom out: Another GOP presidential contender, Sen. Tim Scott (R-S.C.), filed paperwork on May 19 for a campaign before a formal announcement. Trump filed paperwork the same night he launched his presidential campaign at Mar-a-Lago in November.
DeSantis notched endorsements this month from Florida's top two Republican legislative leaders as well as New Hampshire state representatives.
The big picture: A GOP endorsement battle in the 2024 contest is already well underway, particularly heated between the Florida governor and Trump in the Sunshine State.
The ex-president has earned the support of dozens of members of Florida's congressional delegation.
This month, a pro-DeSantis PAC rolled out endorsements from dozens of Iowa state legislators — more than any GOP candidate received in 2016, in the state that traditionally holds the first GOP presidential nominating contest.
Between the lines: The endorsement battle reached a crescendo last week after confusion over whether some of the New Hampshire endorsements switched to Trump — and then switched back to DeSantis again.
Here's where Republican endorsements for candidates who aren't Trump stand.
Customers at Flanagan's Irish Pub — one of Gov. Ron DeSantis' favorite diners in his hometown, Dunedin, Florida — were divided on his presidential aspirations, per Axios' Tampa Bay reporter Yacob Reyes.
Driving the news: Some patrons Axios spoke with Wednesday said the governor ought to forgo his pursuit of the GOP nomination and instead angle to be Trump's vice president. Others said they wanted him to stay out of the 2024 race altogether.
"This place has changed so much that it wouldn't reflect him now," Justin Taylor, a 30-year-old Dunedin resident, told Axios. "If DeSantis wants my vote, he needs to fix housing."
"I don't want him to run," said Sally Malinowicz, who moved to the state because of the governor's policies. "I want him to stay in Florida."
Between the lines: DeSantis grew up in Dunedin, a small city in the Tampa Bay metro area. In his new book, "The Courage to Be Free," the governor said he identified with the Midwest more.
"I was geographically raised in Tampa Bay, but culturally my upbringing reflected the working-class communities in western Pennsylvania and northeast Ohio," DeSantis wrote.
Still, he recalled playing baseball for the city's Little League team and reminisced about arriving at Yale in full Florida garb: a T-shirt, jean shorts and flip-flops.
While DeSantis doesn't have the same kind of baggage as Trump, he'll still have to navigate forces that reshaped the Republican Party over the past seven years.
To be competitive, DeSantis will have to differentiate himself with Trump to woo those ready to move on from the former president, without alienating Trump's base.
Meanwhile, the former president has a lot to answer for: his role in the Jan. 6 insurrection, his indictment in New York and multiple other criminal investigations.
What to watch: DeSantis faced early criticism for his lack of interpersonal skills, and Trump rolled out 10 endorsements from Florida congressional Republicans while DeSantis was visiting D.C.
Polling has consistently shown DeSantis in second in the GOP primary but competitive head-to-head with President Biden in the general election.
Go deeper