Exclusive: The new fault lines on energy permitting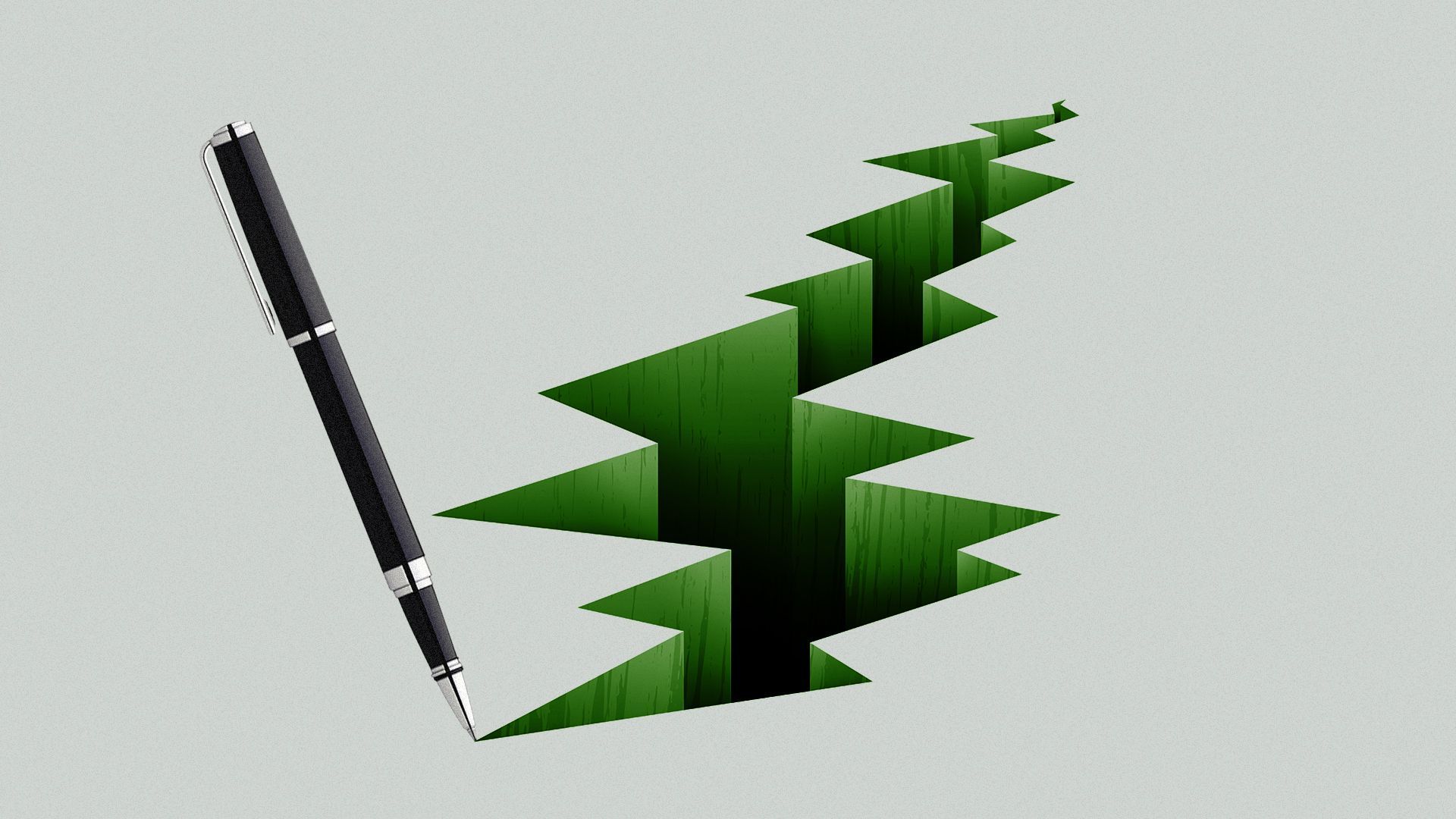 A letter obtained by Axios highlights how energy permitting talks on Capitol Hill are straining ties between green activists and the renewables industry, despite shared climate goals.
Driving the news: Dozens of groups want the American Clean Power Association (ACP) — a key industry group — to oppose policies they say would weaken protections from "dangerous" fossil fuel projects.
People living in poverty and communities of color have "long been the sacrifice zones" adjacent to pollution from coal-fired power, oil refineries and more, the letter to ACP states.
It's from an array of local and regional groups, and some nationally-oriented ones, like Greenpeace and the Climate Reality Project.
What they're saying: "Are the marginal gains you'll see from this assault on environmental laws worth the price of throwing frontline communities under the bus?"
Why it matters: Zero-carbon power advocates say easier permitting of transmission and climate-friendly energy is crucial to meeting U.S. emissions goals.
The big picture: Any deal in this Congress would likely need to ease the path for fossil infrastructure like pipelines, drilling leases, and liquified natural gas projects.
Activists fear GOP-backed provisions, like new deadlines under the National Environmental Policy Act and limiting court challenges.
Permitting is also a part of the ongoing debt ceiling negotiations.
The intrigue: This dynamic has frontline and grassroots groups worried about ACP's posture.
The letter accuses clean energy companies and trade groups of "giving cover" to pro-fossil lawmakers whose plans give "crumbs" to renewables while greatly aiding oil, gas and coal interests.
Of note: The letter does not include many large groups aligned with mainstream Democrats, like the League of Conservation Voters and Center for American Progress.
Catch up fast: ACP had nice things to say about permitting provisions of the House GOP's energy bill.
The group was disappointed when Sen. Joe Manchin's (D-W.Va.) bill — which many activists opposed — stalled last year.
ACP joined other renewables groups in a letter on permitting that also included oil, mining and chemical industry groups.
Yes, but: ACP on Thursday praised a new plan from Senate environment committee chairman Tom Carper (D-Del.) that's focused on renewables, transmission and climate-related infrastructure.
What we're watching: The relationship between activists and the renewables industry as it grows increasingly mainstream and reaches across the aisle.
The other side: ACP spokesman Jason Ryan said permitting is "critical" to the transition to climate-friendly energy.
But he added: "[W]e agree that permitting reform cannot come at the expense of our nation's bedrock environmental laws" or "sacrifice critical environmental protections."
"We appreciate the opportunity to engage with the signatories and look forward to meeting with them in the near future," he said in response to the letter.
The bottom line: Coalition politics ain't easy.
Go deeper