Montana first U.S. state to ban TikTok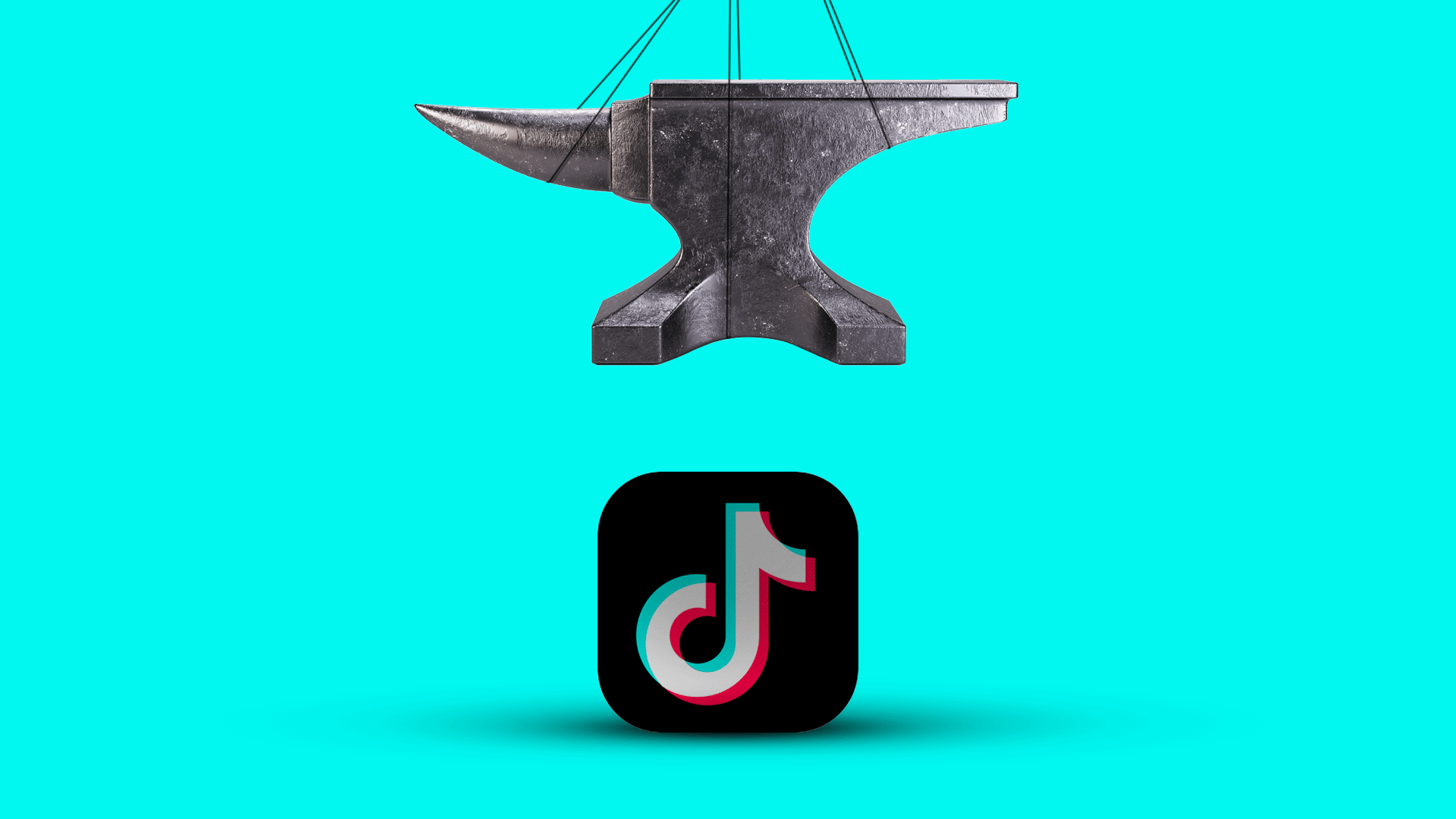 Montana Gov. Greg Gianforte (R) signed into law Wednesday a bill banning TikTok statewide, effective Jan. 1, 2024.
Why it matters: A growing number of Republican-led states have issued TikTok bans on government-issued devices after the FBI warned of possible threats to national security posed by the Chinese-owned social media platform, but Montana is the first state to impose a total ban on the app.
A TikTok spokesperson said in an emailed statement Wednesday evening that the ban is an infringement of First Amendment rights.
Thought bubble, via Axios' Dan Primack: This is a major escalation. It's one thing to ban a popular social media app on government devices. Quite another to ban for all residents.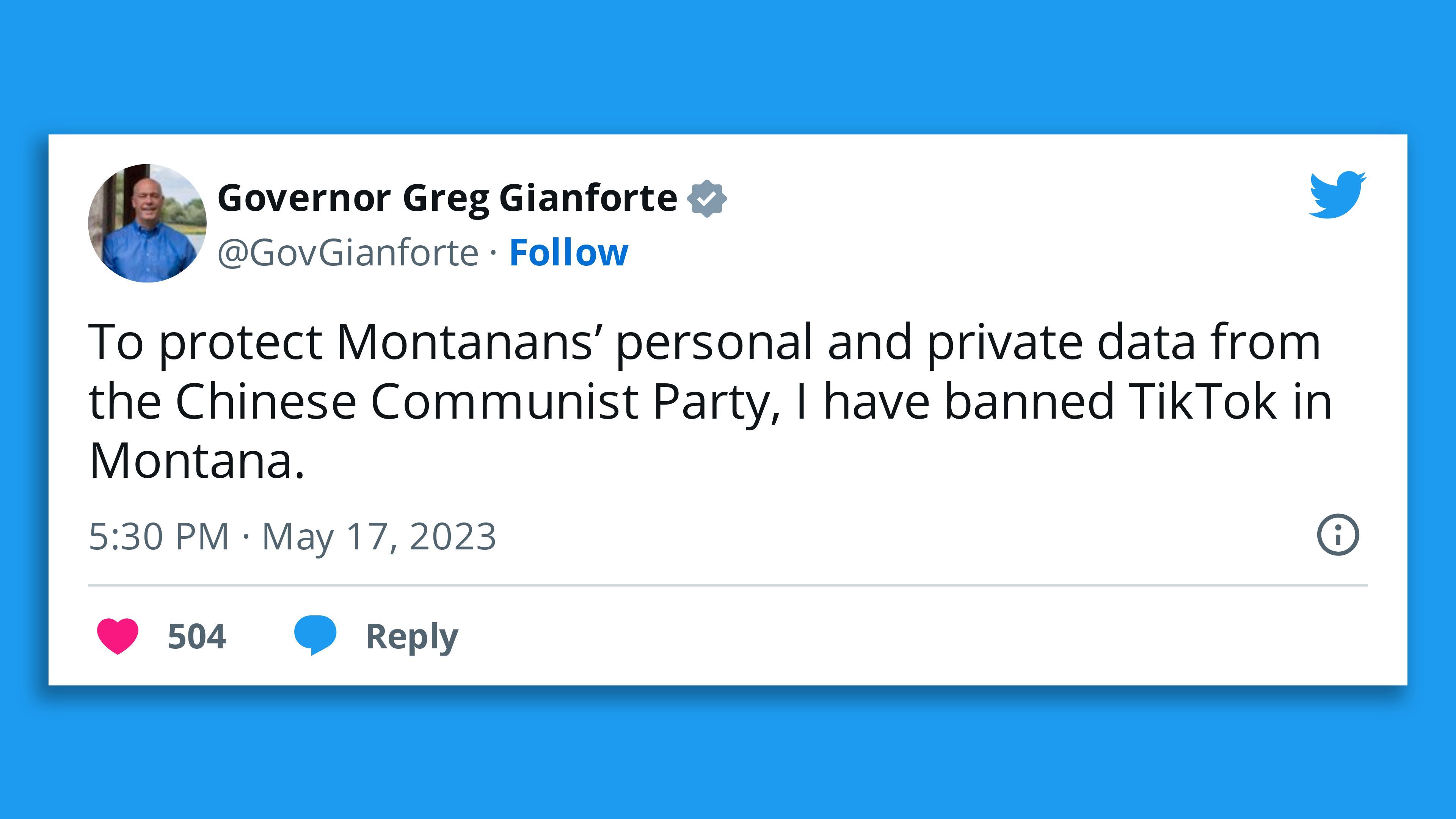 Zoom out: Beijing has said there's no evidence that TikTok threatens any country's national security. TikTok CEO Shou Zi Chew testified before Congress in March that the app's parent company ByteDance is not an agent of China's ruling Communist Party.
But the U.S., the EU, Canada, and several other nations have in recent months moved to impose bans and other restrictions on the app in relation to official government devices.
The Biden administration has warned TikTok that it faces a ban in the U.S. if ByteDance does not sell its stake in the U.S. version of the app.
What we're watching: The Montana Department of Justice will be responsible for investigating any potential violations of the ban, according to the bill, which was passed by the state's legislature last month.
The legislation "would prohibit the operation of TikTok in Montana by the company and users, internet service providers from offering TikTok, and mobile application stores from providing the option to download the application," per a statement from the state attorney general's office.
"Internet service providers and companies that violate the ban would face a $10,000 fine per day for each violation," while residents would not be fined.
Zoom in: Montana Attorney General Austin Knudsen's press secretary Emily Flower said in an emailed statement Thursday that state officials expect impacted entities to comply with the law.
"If we receive reports otherwise, the Montana Department of Justice will investigate and hold offending entities accountable in accordance with the law. Geofencing technology exists and is already in use across the gaming industry, which the Department of Justice also regulates," Flower said.
"A basic internet search will show you companies that provide geolocation compliance."
Flower did not immediately respond to a question about the potential problem of people using VPNs to bypass the ban.
What they're saying: "Governor Gianforte has signed a bill that infringes on the First Amendment rights of the people of Montana by unlawfully banning TikTok," the TikTok spokesperson said.
"We want to reassure Montanans that they can continue using TikTok to express themselves, earn a living, and find community as we continue working to defend the rights of our users inside and outside of Montana."
Gianforte's press secretary, Kaitlin Price, said in an emailed statement: "While the Chinese Communist Party may try to hide their nefarious spying and collection of individuals' personal, private, sensitive information under the banner of our First Amendment, the governor has an obligation to protect Montanans and their individual privacy right, as guaranteed by the Montana Constitution, from the Chinese Communist Party's serious, grave threats."
Go deeper: The political realities that make a national TikTok ban tricky
Editor's note: This article has been updated with new details throughout.
Go deeper: Listen to the Axios Today podcast, where host Niala Boodhoo talks about why Montana has become the first state to completely ban TikTok.
Go deeper