OpenAI CEO in "historic" move calls for regulation before Congress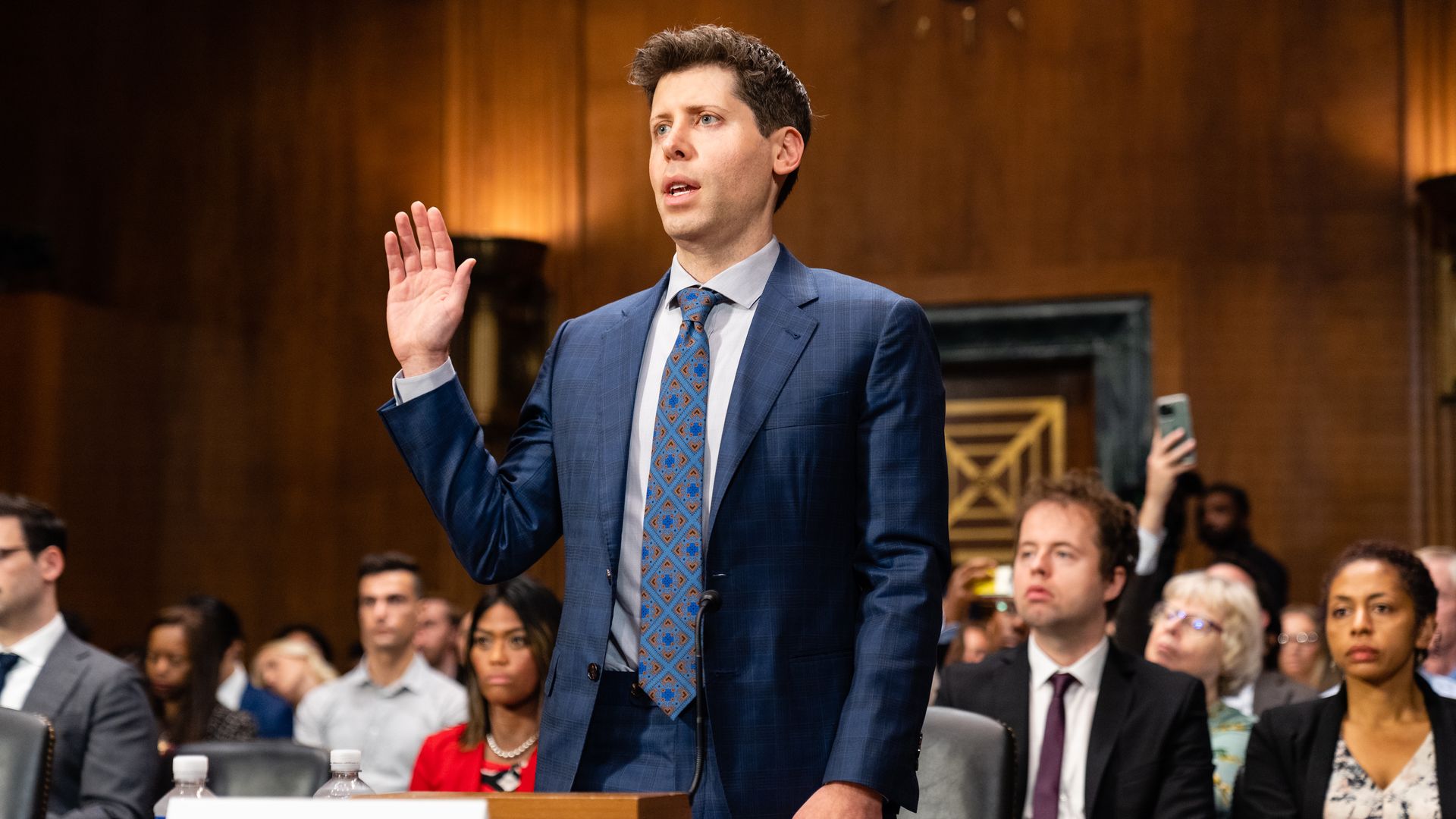 Lawmakers aired fears Tuesday about the potential misuse of generative AI, peppering OpenAI CEO Sam Altman with questions as he repeatedly said he'd welcome legislation in the space.
Driving the news: OpenAI's generative AI product ChatGPT sparked the latest AI craze. The likelihood that lawmakers will unite and act on AI regulation, before the technology rapidly develops, remains slim.
Our thought bubble: Altman, testifying in Congress two weeks after his appearance at a White House AI summit, was thoughtful and exacting in his responses to senators, even when members got a little combative.
He struck a balance between explaining how ChatGPT works and why OpenAI has released it for public use in partnership with Microsoft while urging Congress to work with companies like his to figure out rules and guardrails.
Altman, who dined with around 60 lawmakers in the Capitol the night before his testimony, appeared to take cues from social media CEOs who have appeared before Congress over the years, going from lauded American entrepreneurs to villains.
"My worst fear is we cause significant harm to the world," he said.
What they're saying: "This is your chance, folks, to tell us how to get this right. Please use it," said Sen. John Kennedy (R-La). "Talk in plain English and tell us what rules to implement."
Multiple members said Congress failed to take early action on social media regulation — a mistake they're determined not to repeat with AI.
"The result is predators on the internet, toxic content, exploiting children, creating dangers for them. Congress failed to meet the moment on social media. Now we have the obligation to do it on AI before the threats and the risks become real," said Sen. Richard Blumenthal (D-Conn).
Section 230 of the Communications Decency Act, which largely shields tech platforms like Meta and YouTube for what its users post, also came up.
A few lawmakers pressed Altman on how he thinks systems like ChatGPT should be considered liable for harm.
Meanwhile, Altman argued that generative AI is different and requires a separate policy response. He called it a "tool" for users that cannot do full jobs on its own, merely tasks.
Altman called for a government agency that would promulgate rules around licensing for certain tiers of AI systems "above a crucial threshold of capabilities."
Asked by Kennedy if he'd be qualified to head such an agency, Altman joked that he loved his current job.
Sen. Dick Durbin (D-Ill.) called it "historic" that a company was coming to Congress pleading for regulation.
Details: Among the worries raised by lawmakers about generative AI:
Election misinformation
Job disruption
Weaknesses in non-English languages
Copyright and licensing
Dangerous and harmful content
Impersonation of public and private figures.
IBM's Montgomery said it was important to regulate risks, not tech itself.
"This cannot be the era of move fast and break things," she said.
What's next: Members of Congress will continue to have hearings on AI, with Delaware Sen. Chris Coons (D) previewing one in July that will look specifically at copyright and patents.
Go deeper: Listen to the Axios Today podcast, where host Niala Boodhoo and Ashley Gold dig deeper into OpenAI CEO's testimony before the Senate Judiciary committee regarding generative AI.
Go deeper