Scoop: Inside the Biden split with NY Mayor Eric Adams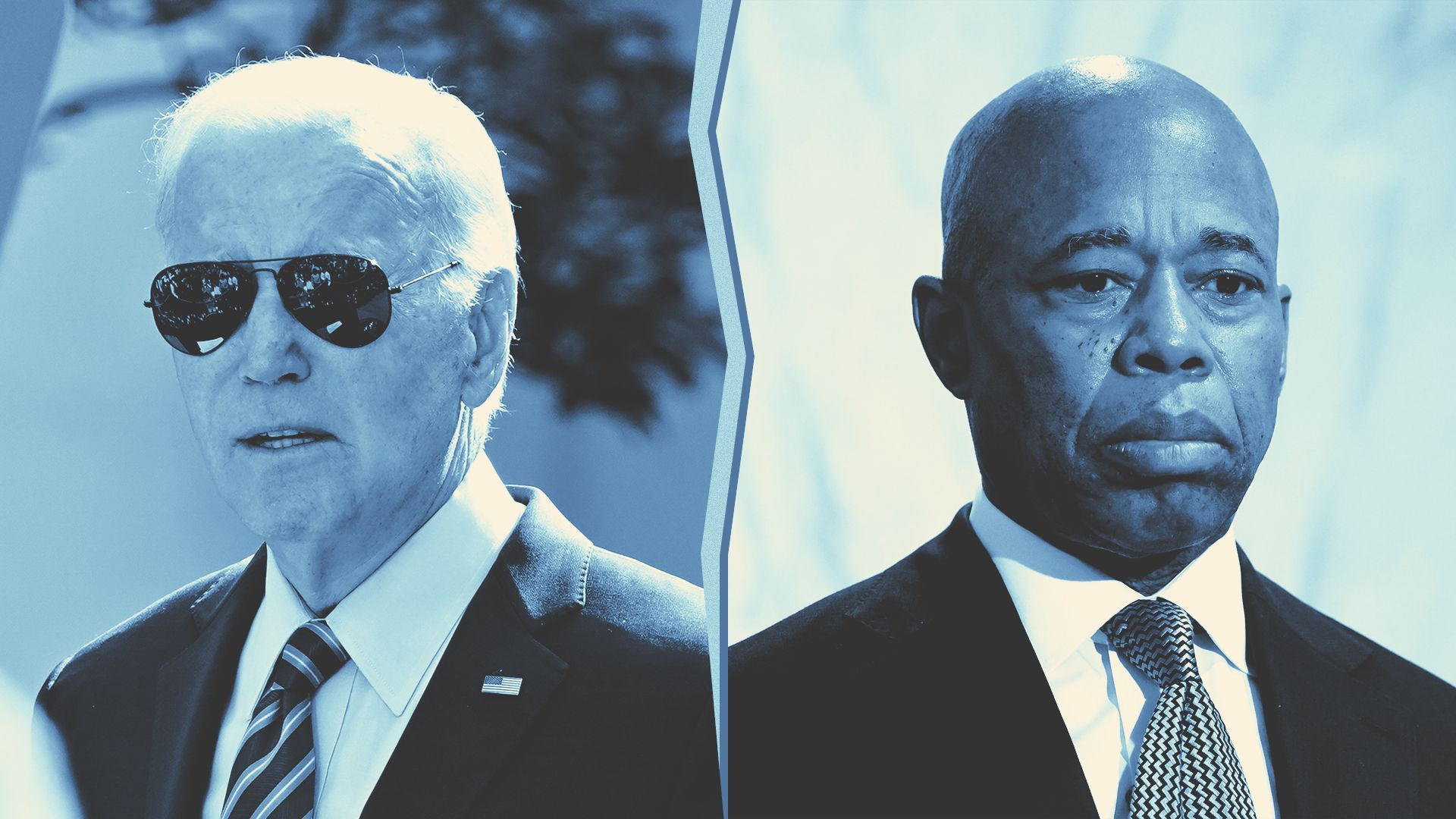 New York Mayor Eric Adams, the highest profile Black mayor in the country, has gotten so crossways with the White House that he was dropped from Biden's 2024 campaign advisory board before it was announced last week.
Why it matters: The rebuke reflects a new low in relations between President Biden and the mayor, who was set to be a key surrogate for the campaign. They're fighting over immigration and crime — and Adams' willingness to publicly criticize the administration.
The big picture: This isn't merely personal. It's part of a potential crisis for the campaign: Many Democratic state and city officials quietly agree with Adams and are happy he is taking flack on their behalf.
They're running out of patience with the administration — especially over what they see as a lack of financial support or imminent solutions for dealing with the massive migration across the Southwest border.
One senior official in a Democrat-led state said the White House has been too defensive toward Adams' critiques. "Adams is right to be upset, and I think it's a massive mistake to be dismissive of him," the Democrat said.
One person familiar with the relationship equated it to a fighting couple who don't want to hold hands in public.
What's happening: Adams has bluntly criticized the White House's handling of the recent surge of migrants crossing the U.S. border. Thousands of migrants — including many bussed in from border states by Republican governors — have arrived in New York City, which guarantees services to migrants that many other cities do not.
"The president and the White House have failed this city," Adams said in April, a line many Republicans and conservatives have used to attack the Biden administration.
Migration is exacerbating a budget crunch in New York, affecting hotel vacancies and bringing unwelcome headlines for Adams. One New York Post headline last week from Orange County, outside the city, read: "Homeless vets are being booted from NY hotels to make room for migrants."
The White House is limited in what it can do without backing from the divided Congress, and the administration has had little engagement with the GOP on immigration changes.
The intrigue: Biden's incoming campaign manager, Julie Chávez Rodríguez, has been the White House's point person on the Adams relationship as it has deteriorated.
She privately has fumed to her colleagues about Adams' stinging rhetoric and public critiques of the administration, according to people familiar with her comments.
Presented with this reporting, a White House colleague said: "Of course calls in which electeds you admire criticize the administration can be frustrating, but she's a pro who always deals with it respectfully and constructively."
Adams' bravado occasionally has frustrated White House aides. Even before he won the general election in New York in 2021, Adams declared himself the new "face of the Democratic Party."
One close Adams ally, Jeff Rodus, recently told some Albany Democrats that Biden might replace Vice President Kamala Harris with Adams on the 2024 ticket.
Rodus, who recently left his job as chief of staff to Adams' first deputy mayor, told Axios that he wasn't saying that the swap would happen but said, "There were some thoughts about it." He declined to comment further.
After Axios contacted the mayor's office about his quote days later, Rodus wrote to Axios: "I have no connection to the president's campaign, have no inside knowledge of their thinking, and the suggestion I would be making those kinds of statements is absurd."
A person familiar with the White House's thinking told Axios that no one except Harris has ever been considered for the vice presidential spot.
In a statement, Adams' press secretary Fabien Levy told Axios: "To be clear, no one here at City Hall or on the mayor's political operation has ever spoken about the mayor joining President Biden's ticket. There is no truth to that. If anyone said that, they would be speaking on their own with absolutely no authority or insight into what is happening."
Between the lines: Top Democrats are trying to repair the Biden-Adams relationship, thinking that the mayor continuing to hammer Biden throughout the 2024 campaign would be a drag on the president — and a boon to Republicans.
"I'm trying to get them to sort it out," the Rev. Al Sharpton told Axios.
"I would hope [the White House] sees the value of Eric, the mayor of the largest city, a Black mayor, not all the way left, not all the way right," Sharpton added, noting that Adams also would benefit from a healthy White House relationship.
Howard Wolfson, a top aide to former New York Mayor Michael Bloomberg, told Axios that "both sides have a vested interest in resolving this."
What's next: After the Biden campaign left him off their list of surrogates, Adams told reporters last week: "I don't know what their plans are, but let's be clear, Biden is my guy. I want Biden to be the next president, be re-elected."
Biden campaign spokesperson Kevin Munoz told Axios: "President Biden counts Mayor Adams as a friend and partner. He looks forward to working with the mayor on issues impacting New Yorkers and to win the presidency again in 2024."
One Adams administration official added: "The mayor compartmentalizes things, and that's what's going on here. He thinks the president is doing a really good job and will strongly support him in any way he can, but he is upset about the way he is handling the asylum-seeker crisis."
White House deputy press secretary Andrew Bates told Axios: "President Biden and his team are proud of their collaborative relationship with Mayor Adams, and Julie appreciates their discussions on a wide range of issues."
Go deeper