Republicans skeptical of Schumer plan on China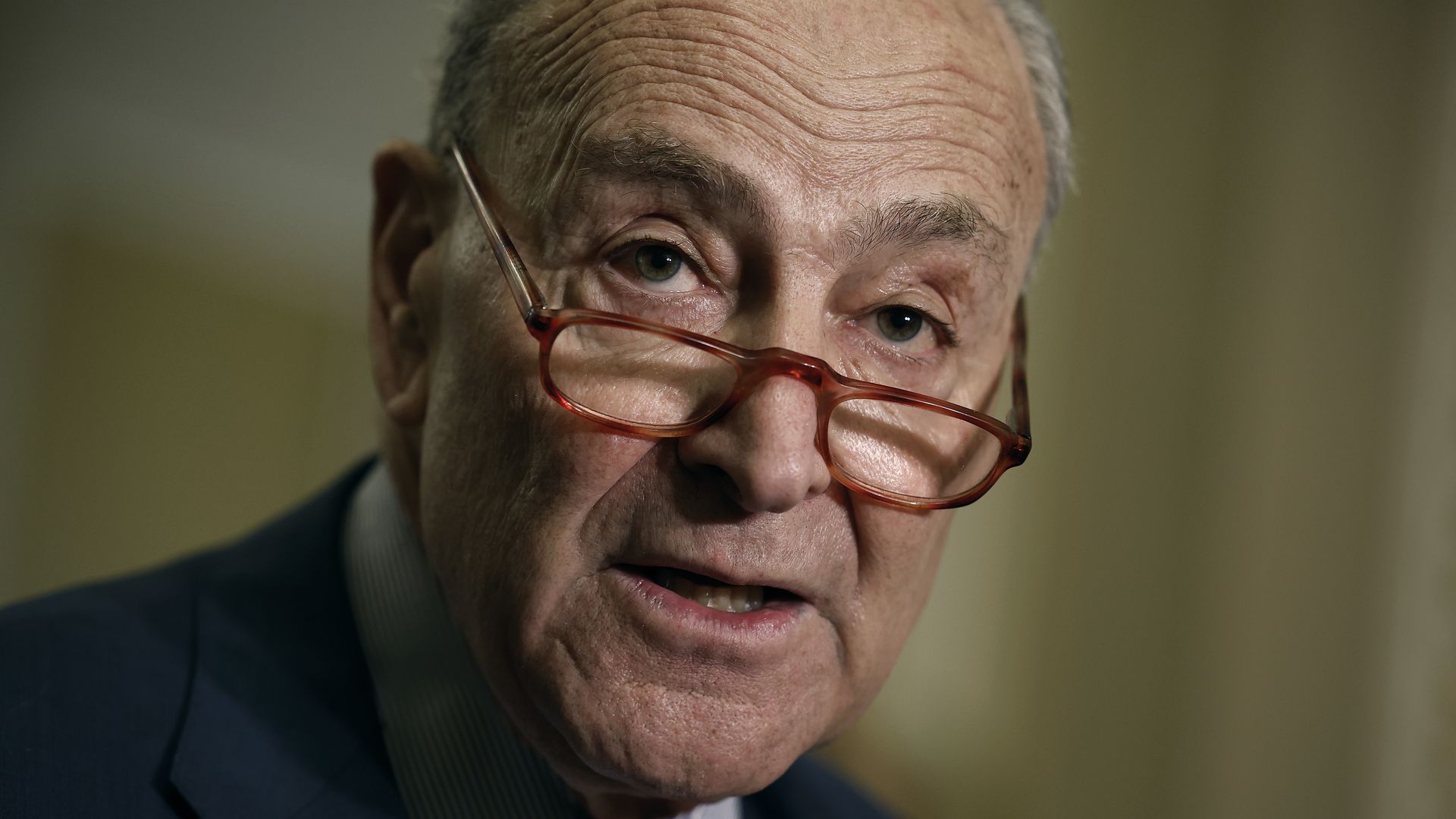 Senate Majority Leader Chuck Schumer (D-N.Y.) says he wants Republicans to help Democrats craft an ambitious plan to help the U.S. fight off competition from China — but so far, his calls for bipartisanship are falling flat.
Why it matters: Schumer is seeking to build on a $280 billion technology plan Congress passed last year to boost domestic chip-making. It won bipartisan support, but this year Republicans are balking at spending more on new initiatives as they focus on cutting the federal budget.
Zoom in: Over the next several months, Schumer wants to put together a "China Competition 2.0" plan to limit China's ability to develop leading technologies, possibly by imposing new sanctions and strengthening export laws.
Schumer also wants to find ways to deter China from starting a conflict with Taiwan, and limit what U.S. companies can invest in the Chinese government's and Chinese companies' technology development projects.
"The United States cannot sit idly by as the Chinese government continues to lie, cheat, and steal its way to global dominance. Time is not on our side," Schumer said in introducing his plan last week.
Yes, but: Senate Republicans generally agree on the need to keep China in check as a matter of national and economic security, but they're wary about the details and costs of Schumer's initiative — and say they haven't been included in Democrats' discussions.
"If Senate Democrats are serious about this effort, they should be reaching out to Republicans instead of holding partisan press conferences," Sen. Marco Rubio (R-Fla.) said.
A senior aide for a Republican leader said Schumer's initial plan doesn't address some of the issues that concern GOP lawmakers most, such as technology theft.
Some Republicans also oppose the way last year's legislation, the Chips and Science Act, is bing implemented.
For example, Republicans have blasted the Biden administration for requiring manufacturers who apply for Chips and Science funding to provide child-care services to low-income households.
And then there's the question of how much the new legislation would cost.
"It would be challenging," Senate Minority Whip John Thune (R-S.D.) told Reuters about whether Republicans would back Schumer's initiative.
Thune cited the GOP's "concerns about too much spending and the impact it's had on inflation, the way the deficits exploded and ballooned."
What we're watching: Schumer has told leading Senate Democrats he wants to begin hearings on a new China bill in the coming months.
Go deeper